In this webinar, learn how to deliver documentation that is factual, and accurate. You will learn how to avert problematic employment situations and turnover, unveil problematic managers and lessen employment claims through proper documentation.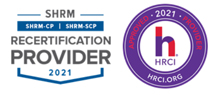 Course "The Importance of Documentation for Supervisors and Managers" has been pre-approved by SHRM as eligible for 1.5 credits and HRCI as eligible for 1.5 credits towards a participant's recertification upon full completion.
The use of this seal is not an endorsement by the HR Certification Institute of the quality of the program.
Why Should You Attend:
From a business perspective, training management employees how to write documentation and how to use the tools of employee development is undoubtedly the easiest and cheapest thing an employer can do to stave off unwarranted employment claims and to avoid losing valuable employees.
From an HR perspective, training managers of the basics of HR compliance can help to defend against a whole host of unwarranted employment claims, including those that often begin from miscommunication, misinformation, and mismanagement.
Even routine situations handled badly can blow up into suspicious explanations, hurt feelings, lowered productivity and worst of all, loss of talented employees.
Badly worded documentation and suspiciously timed administration is at a minimum problematic and at worst, hard to justify in employment claims. Inconsistent documentation, which may be just bad management practices, can cause employment claims from suspicious employees. Considering that writing ill-suited documentation and administering inconsistent discipline is generally carried out by managers who practice a host of other bad management habits; taken together the factors create a situation akin to a compliance powder keg waiting to explode.
Documenting employee problems is both the best way to avoid AND cause compliance problems in the workplace. What starts out as sound management practices, upon execution by untrained persons or those with an "agenda" can have disastrous effects for the company. Delivered properly, good documentation – timely, factual, accurate and objective; can be beneficial in supporting employment decisions, counseling employees, turning around difficult situations and if need be, even supporting terminations. Good documentation can help avert problematic employment situations and turnover, unveil problematic managers and lessen employment claims.
Bad documentation can support employment claims and disengage talented employees to the point you lose those whom you don't want to lose. Worst of all, accepting bad documentation allows unethical situations, bad managers (and their protégés) and demotivational employment practices to thrive; disengaging and driving out talent, all the while creating an unsafe psychological environment that lowers productivity, stifles creativity, hampers innovation and only supports unsound management practices.
Using unsound documentation to generate documentation or sometimes even to cover up unsound management practices can turn a bad situation into a costly one in terms of both people and the business.
Areas Covered in the Webinar:
Managing from Day One – Using the 4 tools of a manager; coaching, performance reviews, performance improvement plans and discipline.
The 12 elements of quality documentation.
The 12 elements of problematic documentation.
Avoiding questionable timing.
Words and phrases to avoid. What to do instead.
Having the hard conversations and what to do when those conversations don't go as planned.
What to do if someone is struggling doing their job for whatever the reason – having a process.
What to do when an employee complains they are being managed or disciplined unfairly.
Who Will Benefit:
Managers, Branch Managers, Store Managers, HR Generalists, HR Managers, Plant Managers, Management, Business Owners
Instructor Profile:

Teri Morning
Founder and President, Hindsight Human Resources
Teri Morning, MBA, MS, specializes in solving company "people problems." She is the founder and president of Hindsight Human Resources. www.Hindsightcloud.com. Teri also sources HR software solutions for incident tracking, employee relations, safety (Incident Tracker), compensation (Compease) and performance management (Performance Pro). Twenty+ years human resource and training experience in a variety of fields, including retail, distribution, architectural, engineering, consulting, manufacturing (union), public sector and both profit and non-profit companies. She has enjoyed consulting with employers on their problems and trained managers and employees for over 20 years, meeting and working with employees from all types of businesses. In addition to a MBA, Teri has a Master's degree in human resource development with a specialization in conflict management. She was certified by the state of Indiana in mediation skills, and is currently certified in project management and it management and qualified as a Myers Briggs practitioner. She has held the PHR, SPHR, SPHR-CA and SHRM-SCP certifications.