NLRB Effects on Social Media, Non-Union Employers and Other Changes
This NLRA compliance webinar will discuss the fundamentals of NLRA and review how recent decisions of the National Labor Relations Board (NLRB) affects both non-union and union employers.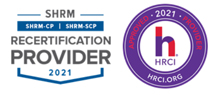 Course "NLRB Effects on Social Media, Non-Union Employers and Other Changes" has been pre-approved by SHRM as eligible for 1 credits and HRCI as eligible for 1 credits towards a participant's recertification upon full completion.
The use of this seal is not an endorsement by the HR Certification Institute of the quality of the program.
Why Should You Attend:
NLRA for non-union employers is the Act as enforced by the National Labor Relations Board (NLRB) gives employees the right to act together to try to improve their pay and working conditions or fix job-related problems, even if they aren't in a union. This acting together, or in a "concerted" way may produce activities that even if the employer doesn't like the action(s), the activity may have protections under the NLRA.
Employees also have the right to share information (work related) and decide collectively if they want a union to bargain on their behalf with their employer.This right to share work related information between them can often apply even when employees are not even attempting to organize a union.

Attend this webinar to understand how recent decisions of the National Labor Relations Board affects your organization, even if your company does not have an employee union. The presenter will also discuss changes that affect all employers in areas such as social media usage, workplace investigations and employee access to his/her workplace when off duty.
Areas Covered in the Webinar:
What is the National Labor Relations Act and how does it apply to both non-union (and union) employers.
What is Protected Concerted Activity and why should a non-union employer care?

Surprising things you may be doing that you don't know may be considered a violation.
What's the difference between "labor" and "management".

How do you tell who is "labor" and who is "management".
How unions are organized.

How recent decisions of the National Labor Relations Board affect non-union employers.
Why these recent decisions are important to all employers including non-union employers.

Social media
Investigations
Access of employee to the workplace when off duty
Who will Benefit:
This webinar will provide valuable assistance to all personnel in:
Plant Managers and upper management
Small business owners
HR Generalists and HR Associates
Safety Managers and Associates
Regulatory Compliance Managers and Associates
Instructor Profile:

Teri Morning
President and Chief Everything Officer, Teri Morning Enterprises
Teri Morning, MBA, MS, SPHR, SPHR-CA, is the president of her own HR consulting firm and is a partner in a new investigatory software firm, HindsightHR. Ms. Morning has over 15 years' of human resource and training experience in a variety of professional fields, including retail, distribution, finance, architectural, engineering, consulting, manufacturing (union), public sector and both profit and non-profit company structures.
She has consulted with employers on their problems and trained managers and employees for over 10 years, meeting and working with employees from all types of businesses. In addition to an MBA, she has a master's degree in human resource development with a specialization in conflict management. Ms. Morning was certified by the State of Indiana in mediation skills, is qualified as a Myers-Briggs practitioner, and is a member of SHRM, holding the dual certification of a SHRM Senior Professional in Human Resources (SHRM-CSP) and as a HRCI Certified, Senior Professional in Human Resources – California (SPHR-CA). She recently completed certifications in project management and IT management.
Refund Policy
Registrants may cancel up to two working days prior to the course start date and will receive a letter of credit to be used towards a future course up to one year from date of issuance. ComplianceOnline would process/provide refund if the Live Webinar has been cancelled. The attendee could choose between the recorded version of the webinar or refund for any cancelled webinar. Refunds will not be given to participants who do not show up for the webinar. On-Demand Recordings can be requested in exchange.
Webinar may be cancelled due to lack of enrolment or unavoidable factors. Registrants will be notified 24hours in advance if a cancellation occurs. Substitutions can happen any time.
If you have any concern about the content of the webinar and not satisfied please contact us at below email or by call mentioning your feedback for resolution of the matter.
We respect feedback/opinions of our customers which enables us to improve our products and services. To contact us please email [email protected] call +1-888-717-2436 (Toll Free).
Product Reviews
This product hasn't received any reviews yet. Be the first to review this product! Write review