Resilience Spotlight: Leading the World in Building Resilience
Date: Thursday, October 22, 2020 | 10:15 AM - 11 AM PDT | 45 Minutes
Panelist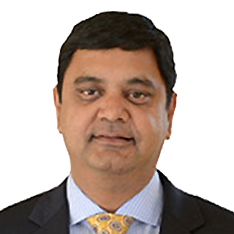 Gunjan Sinha
Executive Chairman
MetricStream and Co-Founder
Gunjan Sinha is a visionary, entrepreneur, and business leader. He currently serves as the executive chairman of MetricStream. He is probably still best known as the founder of WhoWhere?- an internet search engine which he sold to Lycos in 1998. He is also the co-founder and board member of the customer engagement software company, eGain (NASDAQ: EGAN). Throughout his career, he has been an active investor and board member in numerous successful Silicon Valley start-ups and venture funds.
Gunjan is a strong believer in social entrepreneurship, having helped create Child Family Health International, a United Nations recognized public non-profit, to transform global health education. From 2010 to 2017, Gunjan became the founding board member of the US India Endowment Board - started by the US State Department along with the Office of Science and Technology at the White House – an endowment fund that supports innovation and commercialization of science and technology for social good in the US and India.
Gunjan is passionate about social innovation, diversity, inclusiveness, and global risk management. He envisions a world that brings the power of socially conscious innovations to better disrupt its risks, and create opportunities for all.
COVID-19 has revealed that now more than ever, resilience, which is a key tenet of GRC, has emerged as a crucial factor in terms of deciding which business will survive and thrive.
As the independent global leader in GRC, MetricStream has in-depth knowledge and experience that can help companies build resilience in these difficult times. We have recently launched a program called Resilience Spotlight - a movement for the future - which invites all key players in the GRC community to participate for mutual benefit and the greater good.
As you are associated with us through ComplianceOnline, we invite you to a webinar with our Executive Chairman, Gunjan Sinha, a prominent and highly respected GRC thought leader.
This webinar will cover:
Gunjan's view on the current crisis through a GRC lens and how COVID-19 has changed our perspective of risk
How some companies are building resilience and what are the areas where help is required
What is Resilience Spotlight and how you can be part of this movement for the future
REGISTER TO VIEW THIS LIVE WEBINAR
Please fill mandatory fields *
Dear User, Thanks for your info. Our customer representative will contact you shortly.
An Error Occured while processing your data. Please try filling the form using your Corporate Email Id