9 Rules for Compliant OSHA Documentation and Communication Practices
---
Reduce chances of OSHA citations and B,fines by ensuring compliant OSHA documentation and communication practices.

Documentation - specifically recordkeeping - and proper communication are two cornerstones of the OSHA compliance process that all employers have to follow in order to maintain a safe workplace for their employees. This article discusses why proper documentation and communication practices are necessary for employers to avoid unnecessary penalties and the ways in which they can ensure OSHA compliance.

What is OSHA recordkeeping?

OSHA recordkeeping standards require employers to report work-related injuries, illnesses and fatalities. While reporting of these events is a regulatory requirement, it does not mean that the employer or employee is at fault for the injury/illness/fatality. Nor does it mean that the business is in violation of OSHA standards.

What is the Hazard Communication Standard?

OSHA's Hazard Communication Standard (which was updated in March 2012) requires employers to provide employees information about hazards through:
a written hazard communication program
labels and any other form of warning
safety data sheets
training
While the previous version of the standard required employers to only communicate the potential hazards of chemicals, the updated rule now requires the classification of potential hazards of chemicals and the communication of this information to employees.
When should an event be reported?
Generally, according to OSHA regulations, an event should be recorded when it results in the employee:
Being hospitalized or dying
Taking days away from work
Being restricted from doing certain types of work or being transferred to a new or different job due to illness or injury
Losing consciousness
Requiring medical treatment beyond normal first aid
Being diagnosed with any injury or illness by a physician or licensed health care provider. The injury or illness need not result in
hospitalization, days away from work, restricted work or medical treatment that goes beyond normal first aid.
6 Rules for Compliant Recordkeeping
The recent huge fines levied on companies for non-compliant recordkeeping highlight the need for businesses to be aware of six highly important rules that can help them get their documentation practices in order. They are:
Only Work-Related Cases Should be Recorded

It's important for employers to remember that only work-related cases should be recorded. But what defines a "work related case"?

A case is considered work related if the cause of the injury or illness is an event in the work environment. A significant aggravation of a previously existing condition by an event in the work environment is also a work-related case that should be recorded.

The "work environment" includes:
The area where the employees work
The equipment and materials they use to satisfy their job requirements
Each OSHA Form Has Its Own Specific Requirements
Three types of OSHA forms are used in OSHA recordkeeping and documentation. The table below lists each form and its requirements:
Form
Requirements
OSHA Form 301 (Injury and Illness Incident Report)

Is the form used for the first report of the incident
Companies may have this form designed to their own specifications
Has to be filled within 7 calendar days of receiving information of the recordable event
Helps in determining what type of incident occurred and its details
Filling in the form means that further investigation of the incident may be needed

OSHA Form 300 (Log of Work-Related Injuries and Illnesses)

The specific details of the injury or illness and the body part affected must be included
If the injury or illness progresses, intensifying in seriousness, the log should be updated
In classifying the event, the most serious outcome must be selected in the log
Should be clearly marked whether the event resulted in an injury or illness

OSHA Form 300A (Summary of Work-Related Injuries and Illnesses)

This is an annual summary
It should be based on the OSHA 300 log
It should be reviewed and certified by the highest-ranking company executive at the site
This summary should be posted for three months (February 1 to April 30)
The summary should be posted in a location where all employees can see/ read it
Keep Information about Privacy Concern Cases in OSHA Forms Private
This is a critical rule to remember when it comes to respecting the confidentiality of information about employees involved in privacy concern cases.
A privacy concern case could be any of the following:
When filling OSHA forms for privacy concern cases, remember that you must:

Injury/illness to intimate body part or the reproductive system
Injury or illness resulting from sexual assault
Mental illnesses
HIV infection, hepatitis, or tuberculosis
Needlestick injuries and cuts from sharp objects that are contaminated with another person's blood or other potentially infectious
material
Other illnesses regarding which the employee voluntarily requests
that his or her name not be entered on the log.

Not enter the name of the employee in the OSHA 300 Log
Enter "privacy case" in the space normally reserved for the
employee's name
Keep a separate, confidential list of the case numbers and
employee names for your privacy concern cases so you can update
the cases and provide the information to the government if asked to do so
Maintain Proper Documentation for Multiple Business Establishments
If a company has multiple locations, then the following recordkeeping practices must be implemented:
Maintain a separate OSHA Form 300 for each establishment that is expected to be operational for more than a year
For all short-term establishments, one OSHA Form 300 will be sufficient
Records for all establishments may be kept at headquarters or any other central location
Link each employee with one specific location
Always Use Accurate Terminology When Recording Events
Given that what is recorded in OSHA documentation is full of medical terminology, it is important that accurate terminology is used. For example, if an accident occurs and the doctor or nurse treats the employee and puts on an ace bandage or elastic bandage, it is important to ensure that the correct terminology is used when recording the event. It would be incorrect, in this case, to say that a splint was used - a splint is intended for immobilization and is quite different from an ace bandage.
If incorrect terminology is used, it would raise red flags, especially during an OSHA inspection, creating unnecessary trouble for the company. So always make sure to get medical terminology right - getting a term wrong could either make a case seem more or less severe than it actually is.
Retain OSHA Records for the Appropriate Period and Update Regularly
The retention of OSHA records and regularly updating them is an important factor in OSHA compliance and a key best practice. It is critical to remember that:
All OSHA forms should be retained for five years following the year they cover
The OSHA Form 300 should be regularly updated in this five-year period
There's no need to update the other two forms, OSHA Form 300A and OSHA Form 301
3 Rules for Hazard Communication Compliance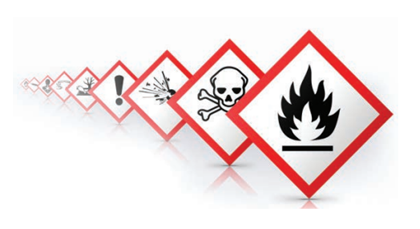 Hazard Communication Labels Should Contain All Relevant Information

One of the key components in hazard communication are labels. These should include:

Symbols in the form of pictograms.

These should convey hazard information that affect physical
well-being and the environment
This information should be assigned to a GHS hazard class
and category

Signal words

Words such as "Danger" and "Warning" that are used to
emphasize the severity of the hazard
These too should be assigned to a GHS hazard class and category

Hazard statements

These standard phrases should be assigned to a GHS hazard class
and category

Besides symbols, signal words and hazard statements, labels should also include:

Precautionary statements and pictograms
Product identifier or ingredient disclosure
Identification of the supplier
Any other relevant supplemental information



Use Pictograms as Mandated by the Hazard Communication Standard

The Standard requires that labels include pictograms to alert users of the chemical hazards to which they may be exposed. Each pictogram:
Consists of a symbol on a white background framed within a red border and represents a distinct hazard
On the label is determined by the chemical hazard classification
Pictograms must be used in all labels and Safety Data Sheets as another means of communicating information about hazards of chemicals.
Below are the pictograms and related hazards included in the Standard:
Keep Safety Data Sheets in a Specific, Uniform Format
Safety Data Sheets or SDS are a critical part of the hazard communication practice that disseminate information to employees about dangerous chemicals. They have to be assembled in a specific, uniform format. The SDS should include the below components in the same order:
Product and Company Information
Hazards Identification
Product Composition or Information on ingredients
First-Aid Measures
Firefighting Measures
Accidental Release Measures
Handling and Storage
Exposure Controls/ Personal Protection

Product and Company Information
Hazards Identification
Product Composition or Information on ingredients
First-Aid Measures
Firefighting Measures
Accidental Release Measures
Handling and Storage
Exposure Controls/ Personal Protection
Proper Documentation and Hazard Communication - Crucial for OSHA Compliance
The increasing number of citations and fines levied by OSHA year on year serve to highlight the importance of the critical role that documentation and hazard communication play in achieving compliance with safety standards. Businesses are now realizing that compliance with these requirements not only ensure they are safe from OSHA's censure, but can improve the morale in the workplace as well. A safe workplace environment, one where accountability is practiced in the form of proper recordkeeping and where awareness of hazards and dangers is high, keeps employees happy and in turn, boosts productivity.
How can OSHA compliance training help?
The areas highlighted above are just a small part of the wide range of OSHA compliant practices and processes. Subjects such as OSHA compliance are multi-faceted and complex and can be better understood after attending a training course such as the ones offered by ComplianceOnline. Our courses are available as live webinars, training recordings and in-person seminars. We also offer customized training courses developed in conjunction with organizations that wish to train large groups of their employees.
We offer training in other areas of OSHA compliance such as handling OSHA inspections, laboratory safety and Cal/OSHA standards.
If you need customized training courses or specialist OSHA consulting services, please contact us through email [email protected] or call us at this
toll-free number: +1-888-717-2436.