cGMP and GLP Regulations and Inspections for Quality Control Labs - An overview
---
A large number of quality control related 483s and warning letters in recent years demonstrate that regulated companies are having problems with the implementation of regulations for quality control laboratories. FDA and other agencies have held inspections of QC laboratories in the highest emphasis because the drug products and APIs (Active Pharmaceutical Ingredient) are released to the market after testing and approval without any further check. This article provides the regulatory background and informs you of what the inspectors will check during inspections.
In addition to reading this article, a demonstration of how quality control and quality assurance personnel can monitor industry practices to stay "current" with FDA requirements (cGMPs and GLPs) will be helpful. The seminar Quality Control Laboratory Compliance - cGMPs and GLPs takes a deep dive into the topic.

GMP requirements for Quality control laboratories B'211.160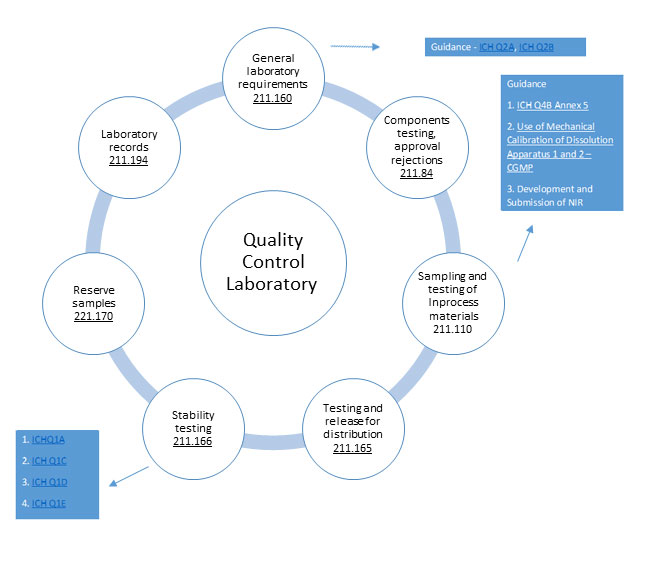 'General requirements:
Scientifically sound and appropriate specs
Establish written specs, sampling, procedures
Conformity to written specifications
Calibration of instruments
Conformance to appropriate standards of identity, strength, quality, & purity
Test results documented at the time of performance
Appropriate procedures for the acceptance of components, in-process materials, and drug products
Methods must be documented and approved
Testing and Approval or Rejection of Components:
Hold back from use each lot of component, drug product containers, and closures until the lot has been sampled, tested, or examined and released for use
The Representative sample consists of a number of units that are drawn based on rational criteria such as random sampling and intended to assure that the sample accurately portrays the material being sampled.
At least one specific identity test is conducted on the component by the manufacturer at the time of receipt.
The manufacturer establishes the reliability of the supplier's analysis by validating the supplier's test results at appropriate intervals.
Sampling and Testing of In-process Materials and Drug Products:
Written procedures shall be established and followed for inprocess testing
In-process materials shall be tested for identity, strength, quality, and purity, and approved or rejected by the QU
Testing of samples shall assure that the drug product and in process material conform to specifications
Testing and Release for Distribution:
Documented accuracy, sensitivity, specificity, and reproducibility of test methods
Test each batch for conformance to specifications
Follow written sampling and testing plans
Document testing methods and number of units/batch
Drug Product Stability Testing:
Written stability testing program
Full shelf-life studies for determining the expiration date
Combination of accelerated studies and basic stability
Conducted on samples from representative batches
Sample size and test intervals based on statistical criteria
Reserve samples:
Reserve samples from representative sample lots or batches
Stored under conditions consistent with product labeling
Results of the examination shall be recorded and maintained with other stability data on the drug product
Investigate any evidence of reserve sample deterioration
Laboratory Records:
A description of the sample
The location of the method validation data
A description of the suitability of the method
Record of the sample weight including all test data obtained
A statement that test methods are accurate, reliable, and followed'
GLP regulations (21CFR part 58)
GLP regulations are published is CFR part 58 and apply to
Non-clinical laboratory studies that support or are intended to support application for research or marketing permits for the following products:
food and color additives
human and animal drugs
medical devices for human use
biological products
electronic products
(58.3)
"In vitro or in vivo experiments in which test articles are studied prospectively in test systems under laboratory conditions to determine their safety. The term does not include studies utilizing human subjects or clinical studies or field trials in animals.
The term does not include basic exploratory studies carried out to determine whether a test article has any potential utility or to determine the physical or chemical characteristics of a test article."
Elements of GLP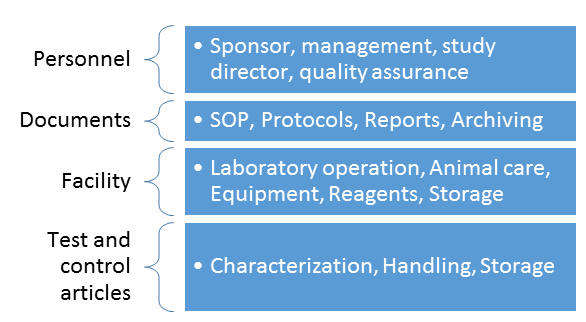 Management Responsibilities (58.31):
Before initiating the study, designate a Study Director
Ensure there is a Quality Assurance Unit
Ensure that the test and control article have been appropriately tested for identity, strength, purity, stability and uniformity, as applicable
Authorize significant changes in SOPs
Ensure that any deviation from GLP regulations reported by the quality assurance unit are communicated to the Study Director and corrective actions are taken and documented
Study Director:
"For each non-clinical laboratory study, a scientist or other professional of appropriate education, training and experience, or combination thereof, shall be identified as Study Director".
Quality assurance unit:
"A testing facility shall have a Quality Assurance unit which shall be responsible for monitoring each study to assure management that the facilities, equipment, personnel, methods, practices, records, and controls are in conformance with the regulations.
For any given study, the Quality Assurance unit shall be entirely separate from and independent of the personnel engaged in the direction and conduct of the study."
Testing Facility:
"A testing facility shall have standard operating procedures in writing setting forth non-clinical laboratory study methods that Management is satisfied are adequate to insure the quality and integrity of the data generated in the course of a study.
"Each laboratory area shall have immediately available laboratory manuals and standard operating procedures relative to the laboratory procedures being performed. Published literature may be used as a supplement to standard operating procedures."
"A historical file of standard operating procedures, and all revisions thereof, including the dates of such revisions, shall be maintained."
What the Inspectors will check during pharmaceutical quality control laboratory Inspections
General:
General information - The contact person (name, phone No, email)
Test activities - Whether licensed by a competent national authority, whether Regularly inspected by a competent national authority
Contract testing - Whether licensed by a competent national authority, Evaluation / Re-evaluation of the contract laboratory by the customer (contract giver)
General:
General information - Whether document is available, are the key personnel, reporting lines, whether responsibilities and release criteria
Ensuring suppliers quality - Whether there is a clearly defined quality assessment policy, whether audits, qualification/evaluation made.
Self-inspection - How and by whom was it performed? How is it reported? How are corrective measures implemented? Is the schedule available and adhered to?
Trending - Assess trends, whether SOP exists, who and how are the trends evaluated?
Change control - How are the changes documented, controlled and managed?
Risk management - Risk management method/approach
Documentation:
General information - System description whether defined in writing, (format, numbering system, approval criteria, distribution, return, interval for revision etc.), what is the archiving process and how is it managed, whether SOP consists the authorization for copying, identification of copies from official and controlled documents
Laboratory documentation
Specifications (SPECs), Do SOPs for sampling, testing, equipment handling and other laboratory processes exist, are they complete, adequate? The archiving of previous SOPs
Test instructions, analytical procedures, methods
Test records/test batch protocols
Log books
Raw data /e.g. chromatograms, spectra, results), out prints
Data traceability
Procedure, record on receipt and usage of materials, standards
Sample tracking
Analytical raw data traceability
Electronic documentation/ computerized systems
Same requirements whether paper or electronic
Personnel
General - Number of employees (total), specified to positions and different testing
QC Manager and deputy (other key personnel)
Training - Training system, program, documentation, evaluation of the effectiveness of the training
Facility and equipment
Facility - Location of the QC laboratories, Facility design, rooms separation, Temperature, humidity, ventilation and recording systems/alarms, Storage areas, labelling
Equipment- Instrumentation, Assembly, Calibration, Labelling, Log books.
Equipment validation: Qualification, Design qualification, Installation qualifications, Operational qualifications, Performance qualifications
Cleaning - system of cleaning and sanitization, validation, documentation, time limits, equipment used cleaning. Cleaning personnel information, SOPs
Maintenance - System, preventive maintenance, SOPs, documentation
Materials and supplies
Materials - Laboratory reagents, standards, Reference substances, Handling of highly toxic, hazardous and sensitizing materials, poisons
Water and water systems -water system quality, sampling, testing
Sampling and samples
Sampling - General policy, sampling, Place of sampling for raw materials, Starting/packaging materials sampling, Intermediates sampling, air sampling system, water sampling system, procedures, records, retained samples, re-sampling
Samples - Handling, retained samples, samples tracking
Personnel for sampling - trained staff?
Testing
General- QC system, Flow sheets, Methods, Contract testing, Re-testing
Testing of raw materials - Testing methods/equipment, testing in the processing areas
Testing of intermediates - System, sampling
Testing of final products - System, sampling, samples handling
Stability testing - System, ongoing, facility, equipment
Validation of test methods - Policy, Validation process, Validation data, Method transfer
Results and release of test results
Handling of test results - Transfer of raw data, Laboratory Management System, Summary of raw data, Evaluation of test results, Trending
Out of Specification (OOS) test results - System/OOS, Laboratory errors, Process/Procedure related errors, Evaluation of OOS results, Test results invalidation, and corrective action
Failures- Retesting and Resampling - Company's procedure
Release of test results/ analytical reports/ certification - Process release of test results, Feedback to batch release, Preparation of Analytical report, Preparation and release of Certificate of analysis
Attend the seminar Quality Control Laboratory Compliance - cGMPs and GLPs to examine the fundamental requirements for all QC laboratories subject to FDA inspection, recent trends from FDA inspection reports and enforcement actions.
Ms. Thomas has over two decades of cGMP hands-on industry experience in both pharmaceutical and medical device manufacturing operations. Her experience covers all Quality Systems; as well as, all areas of validation; including, process/product validation, facilities validation, CSV and 21 CFR Part 11, test method validation, equipment/automated processes and cleaning validation. Utilizing strategic thinking, risk-based approaches, and Lean principles, she has demonstrated success in steering and managing complex projects within the pharmaceutical and medical device industries.