Cleanroom Questions Answered
---
If you are involved in the manufacturing, processing, testing, and release of sterile and non-sterile products, you need to understand the basic concepts of microbiology, microbiological and contamination control practices, cleanroom design, routine testing, qualification/validation, and use of cleanrooms and the sterilization processes within your industry.






ComplianceOnline's seminar 'Cleanroom, Microbiology and Sterility Assurance Practices' provides insights about various key elements of sterility assurance and contamination control such as cleanroom regulations, classification, sources and types of particles, design requirements, validation/qualification, operations, environmental monitoring program requirements, excursion investigations, datatrending, microbiological processes/methodology, and cleanroom cleaning/disinfection.

The following section provides answers to some basic cleanroom questions.

What is a cleanroom?

The FDA defines a cleanroom as an isolated environment, that is strictly controlled with respect to
Airborne particles of viable and non-viable nature
Temperature
Humidity
Air pressure
Air flow
Air motion
Lighting
How is the level of contamination in a cleanroom measured?
A cleanroom has a controlled level of contamination that is specified by the number of particles per cubic meter at specified particle size.
What are the common cleanroom design flaws?
Inefficient placement - a design that doesn't support your processes
Maze-like walkways
Poor ventilation
Unable to maintain temperature -too hot, stuffy or freezing cold
What are the key cleanroom design considerations?
Stakeholder consultations
Specification of the correct grade
Power requirements
Clearance space between the ceiling and walls of your cleanroom and the ceiling and walls of your manufacturing facility for necessary services
Cold tracking - the movement of temperate along a conductive material
Interior isolation
Personnel and workflow
Static electricity and humidity control
Capital cost vs running cost
SOPs to ensure that the cleanroom is effectively operated to maintain air quality
Authorities and regulatory compliance
Future expansion
What are some gaps in cleanroom design that could pose a significant risk to the cleanroom's long-term compliance even if the design was not in conflict with the GMP standard or regulation?
Cleanroom surface issues
Rivets presented as a lump of silicon over the top or a hole directly into a stagnant, uncontrolled part of the facility
Mushroom bolts
Grey electrical conduit running down the wall
Windows with a sloping sill
Completely sealed cleanroom doors
Bad silicon sealant application
Insufficient light
Too much light
Things that poke into cleanroom environments
Internally insulated ducting
What are the sources of cleanroom contamination?
Personnel
Equipment
Tools - Everyday tools, such as regular household or industrial cleaning products (brooms, mops, dusters) and writing supplies (pen, pencils, paper).
Raw materials/ Products
Air in the facility
The water used in the manufacturing process
Static electric charge
What are cleanroom classifications?
Clean rooms are classified according to the cleanliness level of the air inside them. There are many classification types that govern cleanroom cleanliness, but the key system was laid out by the International Standards Organization. ISO classifications apply to all cleanroom industries and applications. This standard includes the cleanroom classes in this standard include: ISO 1, ISO 2, ISO 3, ISO 4, ISO 5, ISO 6, ISO 7, ISO 8 and ISO 9. ISO 1 is the highest classification according to ISO 14644-1.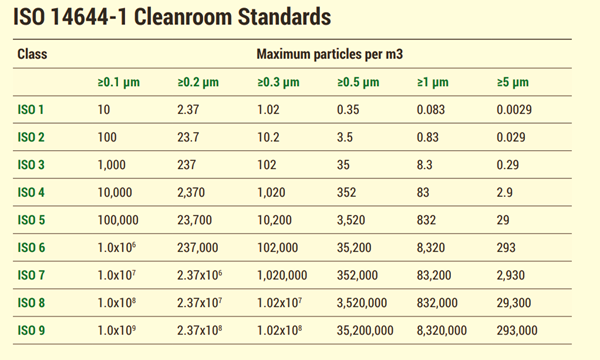 Standards are regulations like USP or ASTM International standards are organized by industry-specific requirements.
What factors determine the level of cleanroom you need?
Different factors determine a cleanroom that meets your needs:
Government regulations
Industry standards
Customer requirements
Ease of cleaning
Restriction of access
Particulates
Temperature
Humidity
Microorganism
Where to find cleanroom guidelines?
WHO GMP Guidelines (International)

WHO Technical Report Series, No. 902, 2002

Annex 6: Good manufacturing practices for sterile pharmaceutical products

WHO Technical Report Series, No. 961, 2011

Annex 5: WHO guidelines on good manufacturing practices for heating, ventilation and air-conditioning systems for non-sterile pharmaceutical dosage forms
Annex 6: WHO good manufacturing practices for sterile pharmaceutical products

EEC GMP Guidelines (EU, Partly international)
US FDA cGMP Guidelines (USA, International)
ISPE Guidelines (International)
PDA Technical Report 13 (Revised): "Fundamentals of an Environmental Monitoring Program" (USA)
Where to find cleanroom regulations?
DIN EN 12599 (EU, International)
Volume 4 EU "Guidelines to Good Manufacturing Practice Medicinal Products for Human and Veterinary Use, Annex 1: Manufacture of Sterile Medicinal Products" (EU).
PIC/S GMP Guide (Part I: Basic Requirements For Medicinal Products)
PIC/S Guide To Good Manufacturing Practice For Medicinal Products - Annexes
USP <1116> "Microbiological Control and Monitoring of Aseptic Processing Environments" (USA)
21 CFR (Parts 210, 211, 600-680) - cGMP regulations
What are the ISO Standards for Cleanrooms?
ISO 14698 Standards (3 Parts):

ISO 14698-1 "Biocontamination: Control General Principles"
ISO 14698-2 "Biocontamination: Evaluation & Interpretation of Data"
ISO 14698-3 "Biocontamination: Methodology for Measuring Efficiency of Cleaning Inert Surfaces"

ISO 14644 Standards (8 Parts):

ISO 14644-1 "Classification of Air Cleanliness"
ISO 14644-2 "Clean room Testing for Compliance"
ISO 14644-3 "Methods for Evaluating &Measuring Clean rooms & Associated Controlled Environment"
ISO 14644-4 "Clean room Design & Construction"
ISO 14644-5 "Clean room Operations"
ISO 14644-6 "Terms, Definitions & Units"
ISO 14644-7 "Enhanced Clean Devices"
ISO 14644-8 "Molecular Contamination"
How to maintain a cleanroom?
Ensure that the amount of contamination that escapes from your manufacturing operations is at the minimal level
Do not provide cleanroom access to anyone who is not trained - People are the largest sources of contamination
Regularly clean the cleanroom according to strictly controlled procedures
Regularly maintain all equipment
Regularly monitor filters and airflows and ensure frequent recertification of the cleanroom
What are the best practices for handwashing in cleanroom?
Although the use of gloves in a cleanroom is a standard practice, those who wear gloves are less likely to wash or clean their hands before donning them. So, make sure of good hand hygiene to avoid the vulnerability of cleanroom to bacteria or potential introduction or transfer of microbes such as fungus and viruses.