FDA Inspection Management - Pre-during and Post-inspection information
---
You receive a written notice from the FDA stating that your facility will be inspected. Shortly thereafter, an FDA investigator arrives at your door for inspection. Are you ready?
Whenever FDA sends a written notice for inspection and presents credentials, the Regulated Company should cooperate with FDA in a timely manner. Refusals, denials, or limiting of inspection, or refusal to permit entry of inspection allows FDA to deem a product to be adulterated. If the product is deemed as adulterated, the firm is prohibited from introducing an adulterated product into interstate commerce. Legal remedies include civil money penalties, seizure, injunction and/or prosecution. Administrative remedies include import detention and / or recall. It's better to prevent such problems than face the costly consequences.
Common deficiencies identified in the FDA inspections include:
Non-compliance with CGMPs
Not knowing answers to investigator's questions
Incomplete documentation
Unpreparedness for the inspection
In view of the preceding, it is best to be equipped with the knowledge required to face inspections. While this article sheds some light into the topic, the seminar 'Managing Your FDA Inspection: Before, During and After' will detail what you should do to survive an FDA inspection with the least possible pain.
Why FDA Inspections?
Inspections enable FDA to carry out its mission of protecting public health by 'ensuring the safety, efficacy, and security of human and veterinary drugs, biological products, and medical devices, by ensuring the safety of the nation's food supply, cosmetics, and products that emit radiation.'
FDA inspections help speed up innovations that make medical products more effective, safer, and more affordable.
FDA inspections play a major role in the Nation's counterterrorism capability by 'ensuring the security of the food supply and by fostering the development of medical products to respond to deliberate and naturally emerging public health threats.'
Who will Inspect?
Consumer safety officers from the Office of the Regulatory affairs (ORS) perform the inspections. They are also known as investigators. These investigators are trained professionals for a particular FDA-regulated commodity. Upon arrival at your plant, the investigator will present credentials and "Notice of Inspection" (FDA Form 482). For international programs (OIP), Investigators inspect in locations in which FDA has a foreign office. Sometimes ORA investigators are accompanied by experts from a relevant FDA product center. Be informed that the FDA's office of Criminal investigation does not take part in regulatory inspections.
Preparing for the Inspection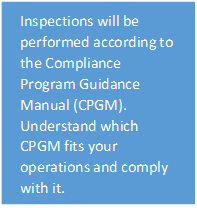 Inspections will be performed according to the Compliance Program Guidance Manual (CPGM). You should choose the manual that fits your operations. By going through the manual you will understand what the FDA will do, why they do, what is required for compliance, what evidence is gathered and so on. While most inspections are focused on manufacturing, other compliance programs may be covered too. You can access these manuals by searching the internet with the keyword FDA CPGM.
The type of inspection determines the specifics of preparation. Inspection-ready companies usually have procedures in place for responding to FDA inspection. For example, having in place a responsible personnel as lead to interact with the investigator, specifying where the documents should be reviewed, which technical expert will consult if an issue arises are some of the important preparatory tasks.
There are 4 types of inspections: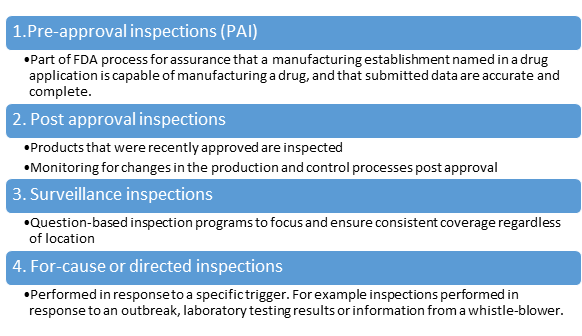 During the Inspection
The type of product and the size and complexity of the facility determines the inspections. For instance, in medical device inspections, FDA mainly inspects for compliance with quality systems. In drug manufacturing facility inspections six systems are examined for regulatory compliance, implementation of FSMA or with the Hazard analysis critical control point rules that apply to seafood, and juice.
Quality
Production
Facilities and Equipment
Laboratory controls
Materials
Packaging and labeling
Basically, in any type of inspection, the investigators will inspect records and processes such as:
Standard operating procedures for recalls
Laboratory test results
Whether the production staff are trained and equipped to follow procedures
Whether the facility is sterile
Whether there is ongoing monitoring
Whether corrective actions are taken
The Investigators will usually converse with staff, gather proof, sometimes ask for product samples or environmental samples and may even take pictures.
During the inspection, a staff/s should accompany the investigator and answer questions posed or provide the required information. It is crucial to listen well, take notes of what's asked for and provide it in a timely manner.
Post the Inspection
Make a careful review of the findings immediately

The investigator generally makes a summary of any problems detected. If there is a disagreement with the problems that the investigator rises, discuss it with the investigator on the spot. In the exit interview, the investigator will discuss observations and significant findings on Form 483. During this time, you may discuss noted infractions with the investigator and ask clarifying questions. If an issue is solved during the course of the inspection, make sure it is appropriately made note of in the exit interview.

A 483 will in due course become a public document in the Freedom of Information Act (FOIA). In order to protect trade secrets, request to delete the trade secrets from the inspection report if it is required for FOIA inquiry. Usually, the FDA honors such requests.

Respond in writing within 15 days to FDA

To avoid escalation to a warning letter, the FDA expects a response to the observations cited in Form 483 within 15 days. Your timely response affirms to the FDA that you are serious about solving the issues.

Make an effective corrective and preventive actions (CAPAs) plan and be consistent about how to resolve issues.

Make an effective corrective and preventive actions (CAPAs) plan and be consistent about how to resolve issues.

Beyond the response

If supporting documentation is not yet available, provide the projected timelines, stick to the timeline and follow with the subsequent documentation.

Although you are free to discuss matters with the District to ensure corrective action plan, remember that the FDA agents are not consultants. You are ultimately responsible to ensure you meet the expectations.

If you receive an establishment inspection report (EIR) that summarizes the FDA findings, you know that the issues have been resolved.
Attend the webinar Managing Your FDA Inspection: Before, During and After' to understand the details about inspectional techniques to avoid making new problems for yourself during the inspection. You can save yourself a lot of corporate misery if you know what to do before, during and after an inspection. The seminar instructor Casper Uldriks is an "Ex-FDA Official" who has spent 32 years in FDA. He currently trains FDA personnel and counsels clients on wide range of topics, including: FDA inspections; import operations; advertising and promotion; corrective and preventive actions; medical device reporting and corporate reorganization to improve conformance to the FDA's requirements.