How to build a RoHS and REACH compliance program
---
Any manufacturers or importers placing the electrical and electronic equipment (EEE) have a shared responsibility of compliance with ROHS directive and REACH regulations. Also, the distributors including retailers are responsible for compliance. Before understanding how to build a RoHS and REACH compliance program, it is important to know the directive and the regulation.

RoHS Directive
RoHS stands for restriction of hazardous substances (RoHS). The RoHS is an EU legislation that came into force in February 2003. It restricts the use of hazardous substances in EEE. It also restricts promoting the collection and recycling of such equipment.
The following hazardous substances should be substituted by safer alternatives under the RoHS directive:
Categories of equipment that need RoHS compliance are
Large household appliances
Small household appliances
IT and telecommunications equipment
Consumer equipment
Lighting equipment
Electrical and electronic tools (with the exception of large-scale stationary industrial tools)
Toys, leisure and sports equipment
Automatic dispensers
The aim is to:
Increase the recycling and/or re-use of EEE
To increase the amount of waste EEE that is appropriately treated
To reduce the volume that goes into disposal
RoHS 2 entered into force on 21st July 2011. The provisions of RoHS 2 will also apply for the types of EEE5 from the dates mentioned below: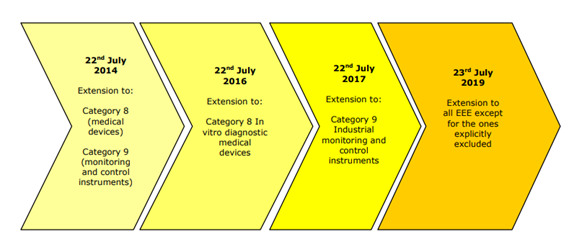 Manufacturers must evaluate and verify their EEE maintain the limits specified in the RoHS directive. They need to self-certify the production controls and complete a Declaration of conformity which should be supported by a technical file to demonstrate compliance.
The authorities within each member states will conduct market surveillance and check products for RoHS compliance. If the product is noncompliant, proof of due diligence will be asked to ensure 'reasonable steps'to comply. There are 2 approaches to comply:
Obtain from suppliers their declarations of compliance for materials, components and other parts

If you are an equipment producer, obtain materials declaration from your suppliers. At a minimum, it should state that the materials, parts or components materials, parts or components may be used to produce compliant equipment.

You should ensure that the six restricted substances are tracked throughout the supply chain. For example, laptop manufacturer should obtain declarations and selected analysis on each individual components and subassemblies either in paper or electronic format as shown below:
TRACKING MATERIALS DECLARATION THROUGHOUT THE SUPPLY CHAIN
Selected analysis

If you are an equipment manufacturer, occasionally, you may have to carry out analysis to determine if a restricted substance is present due to the following reasons:

Some materials may relatively have a high risk of containing a restricted substance.
Chances of significant variation between different batches exist. So an equipment manufacturer using multiple batches must know this.

The analysis can be done using 2 approaches:

Routine screening
More accurate analysis when Pb, Cd, or Hg are found at borderline concentrations. Analysis methods depend on the material.

REACH regulation and Compliance

REACH stands for Registration, Evaluation, Authorisation & restriction of Chemicals. The REACH EU regulation in force since 1st June 2007, applies to substances manufactured or imported into the EU in quantities of 1 tonne or more per year. The restricted list is found in Annex 17. There are 69 valid entries on REACH Annex XVII (updated on 17 Oct 2018) on the list of SVHCs available for restricted use.

The aim of REACH is to:

'To provide a high level of protection of human health and the environment from the use of chemicals.
To make the people who place chemicals on the market (manufacturers and importers responsible for understanding and managing the risks associated with their use.)
To allow the free movement of substances on the EU market.
To enhance innovation in and the competitiveness of the EU chemicals industry.
To promote the use of alternative methods for the assessment of the hazardous properties of substances e.g. quantitative structure-activity relationships (QSAR) and read across.- HSE website

Who is responsible for compliance?

Manufacturers of substances
Importers who buy chemicals, raw materials from outside the EEA
Distributors who store and distribute chemicals and/or finished products
The representative who represents a non-EEA company selling chemicals and/or goods to the EEA
Manufacturer outside the EEA
Trader of very hazardous chemicals
Biocides supplier or user
The user of chemicals who mixes and uses them in industrial or professional activities

For each role, the requirements are here.

The body that enforces REACH regulations in the EU is the European Chemicals Agency (ECHA). All those who need to comply must register their chemical substance with ECHA.
The Health Board is the competent authority and surveillance coordinator with respect to Regulations (EC) Nos 1907/2006 (REACH)
Where necessary, the Health Board may conduct various laboratory tests in respect of the restrictions on the manufacture, placing on the market and use of certain dangerous substances, preparations and articles laid down in Annex XVII to the REACH Regulation (incl. dimethylfumarate, nickel, Cr(6), phthalates, toluene, benzene, cadmium, etc.).
If you are an equipment producer, during the negotiation phase, obtain CAS number (Chemical Abstract Substance number - individual identification of chemical substance) of the substance from your suppliers.
Check all incoming contracts for REACH Contractual Clauses and substance CAS number.

Attend the seminar REACH and RoHS Compliance: Protecting Revenues with Advanced Compliance to gain a deeper understanding of the specifics of REACH and RoHS regulations, examine case studies and learn from the mistakes of others. The seminar will draw out key developments and key dates (if applicable) with particular emphasis on requirements for US firms.

The course instructor Ms. Eisenhardt has over 20 years of experience in IT and Compliance Software Development, her former roles include: Executive Director of Environmental Programs, at Fair Factories Clearinghouse; Environmental Compliance Manager and Design for Environment programs at EMC Corporation; and Director of Product Management at PTC Corporation for Windchill Product Analytics - an environmental compliance software.