How to Stay Abreast in Regulatory Affairs
---
Regulations are ever-changing and rapidly increasing. Regulatory reforms are made at an unprecedented pace.
Across industries, the federal agencies issue nearly 8,000 regulations per year (source: regulations.gov).
Between its inception in January 2017 and its final day on Jan. 3, the GOP-led 115th Congress enacted 442 public laws, the most since the 110th Congress (2007-09).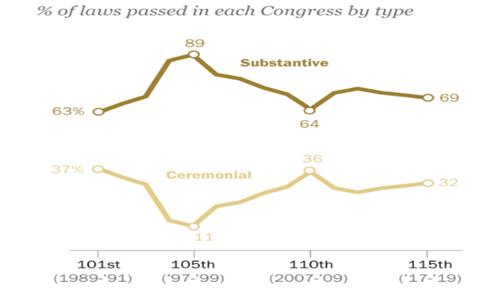 (source: Pew Research Center.)
Failing to comply with the applicable regulations can result in enormous fines and penalties. For example, as per the EU's General Data Protection Regulation GDPR, companies that market, collect, use, or store consumers' personal data must ensure its security or incur penalties of up to €20 million or 4% of annual global turnover - whichever is greatest. Being aware of what GDPR is, whom it affects, and what principal obligations it places on businesses is critical.
If your company is required to comply with so many regulations, it can be overwhelming to keep up with the requirements. Company leaders, compliance professionals, and other employees alike must have a good understanding of the regulations. Also, learning how to create a regulatory intelligence strategy and process that monitors changes will prove to be invaluable to your company.
This article provides tips to help you stay up-to-date with the regulatory requirements.
Develop the habit of scanning websites that offer regulatory information

Many websites provide regulatory material. Scanning them daily can help you stay up-to-date on global regulatory changes relevant to your industry. Some sources of regulatory information include U.S. Food and Drug Administration (FDA), Federal Register, and Drug Information Association, Centers for Medicaid and Medicare (CMS), Department of Labor, OSHA and more.

Subscribe to compliance newsletters

Subscribing to newsletters help you stay in the loop with regulatory information delivered straight to your inbox. Get into the habit of reading them every day. Apart from the sites specified in the preceding paragraph, subscribe also to newsletters that provide regulatory insights from various sources.

Attend training programs, webinars, and seminars

Training programs, webinars, and seminars are a great way to stay updated without having to spend a lot of time and effort on your end. For example, the panel of hosts at ComplianceOnline include Ex-FDA officials and experienced consultants in compliance management. By attending compliance training programs, you will be learning firsthand from subject matter experts. Compliance training can help you alert to the needs of the rapidly changing regulatory landscape.

Join Compliance industry associations and discussion boards

Industry associations and compliance community websites offer many opportunities to keep track of regulatory shifts. The Compliance Community is a great place to get your questions answered by multiple renowned experts.

Implement Governance, Risk, and Compliance Management (GRC)Software

By implementing cloud-based enterprise GRC platforms that aggregate regulatory content from a multitude of sources, you can keep track of curated content based on predefined rules and keywords.

Partner with experts or trusted advisors

Partner with experts who can provide you regulatory information as they evolve. For example, compliance experts teach laws in various fields such as drugs and chemicals, life sciences, healthcare, Food and Dietary supplements, Accounting and taxation and more.

'When thinking about the next five years, executives believe changing regulation will impact their organizations the most '- Forbes Insights. Whatever channel you choose to learn, it is important to stay ahead by keeping yourself up-to-date.