Overcoming Concerns about FDA Inspections
---
The FDA inspects regulated companies to determine if they are in compliance with applicable laws and regulations such as Food, Drug and Cosmetic Act and related Acts. Many professionals who are involved facing the FDA inspections are concerned before, during and after inspections. This is because of a lack of proper know-how, non-compliance with CGMPs, incomplete documentation, unpreparedness or other reasons.
This article provides an overview of FDA inspections to help you overcome your concerns. The A-Z of GMP Inspections, Guaranteeing a Pass the First Time through an FDA Inspection is here.
Those manufacturers or processors of FDA-regulated products inspected include
Drug manufacturers
Device manufacturers
Blood banks
Food processing facilities
Dairy farms
Animal feed processors
Compounding pharmacies relevant to FDA inspects
Facilities that conduct studies in humans
Laboratories that conduct studies in animals (when used to support FDA approval of medical products)
Understanding the different types of Inspections
FDA conducts four major types of inspections namely pre-approval inspections, post-approval inspections, surveillance inspections, and for-cause or directed inspections.
Pre-approval inspection program (7346.832):
'The Food, Drug, and Cosmetic Act provides that FDA may approve an NDA or an ANDA only if the methods used in, and the facilities and controls used for, the manufacture, processing, packing, and testing of the drug are found adequate to ensure and preserve its identity, strength, quality, and purity.' §§ 505(d) and 505(j)(4)(A) (21 U.S.C. §§ 355(d)(3) and 355(j)(4)(A))
The FDA conducts the pre-approval inspection (PAI) to determine if the manufacturing firm named in the drug application has the capability to manufacture a drug, and if the data submitted to the FDA are complete and accurate.
In the PAI, the investigator who performs the inspection will check
Your firm's readiness for commercial manufacturing including investigations/trends, material handling, contamination, procedures, and process feasibility.
Your firm's conformance to the application
The integrity of the data
Post-approval inspection program (7346.843):
Post-approval inspections are inspections of products marketed under a recently approved application. In these inspections, the investigators will check to assure
If any changes in the manufacturing and process control are compliant with CGMP regulations
If all the changes are documented in supplemental applications or annual reports as required by 21 CFR 314.70.
The program covers aspects of quality including process validation, component supplier qualification, and stability.
Surveillance inspections (7356.002):
Surveillance inspections are conducted to ensure compliance with CGMP requirements using a six system inspection model as shown in the following figure.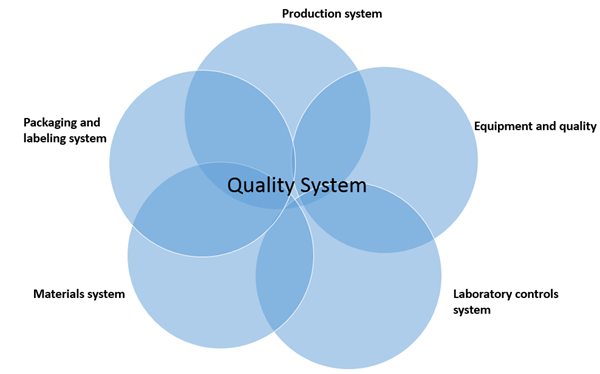 Depending on the purpose of the inspection, and the past history of the firm, 2 or more systems are covered, with mandatory coverage of the quality system.
The investigator is authorized to
Examine any part of the facility
Examine the methods employed in actual operations
Interrogate any person in the firm, staff, management personnel etc.
Tour the facility and collect or ask for samples (form FDA 484)
Go through OOS, lab errors, complaints, returned goods to access how robust the manufacturing is
For-cause or directed inspections
For-cause inspections are compliance inspections conducted to investigate a specific issue that has been reported to the FDA. The inspection might be in response to a recall, MDR, NDA field alert report, consumer or employee complaints. Although a for-cause or directed inspection will center on the specific issue, it could branch out to cover unrelated areas of the company's operations. Usually initiated by CDRH, ORA, or regional directive, these inspections are typically more detailed than the routine inspections.
During this inspection, the investigator may
Ask for an examination of Site records (source documents) to be compared with FDA data. Records can include paper or electronic formats. They may be examined for data integrity compliance - accuracy and storage.
Interview the principal investigator and/or research team members
FDA terminology related to Inspections
FDA Form 482 - Notice of Inspection
FDA Form 483 - Inspection observations - if deviations are cited
FDA Form 1572 - Investigator statement
EIR - Establishment Inspection Report
Attend the webinar 'Managing Your FDA Inspection: Before, During and After' to understand the details about inspectional techniques to avoid making new problems for yourself during the inspection. You can save yourself a lot of corporate misery if you know what to do before, during and after an inspection.
The seminar instructor Casper Uldriks is an "Ex-FDA Official" who has spent 32 years in FDA. He currently trains FDA personnel and counsels clients on wide range of topics, including FDA inspections; import operations; advertising and promotion; corrective and preventive actions; medical device reporting and corporate reorganization to improve conformance to the FDA's requirements.