Overcoming the common issues in sterility testing failures with the quality systems approach
---
Before releasing a medical product, the product should undergo sterility testing. This test is a microbiological test to determine whether the product is sterile to be sold or released. If the product fails the sterility test, it can hold up the product release for months and can cost a lot of money. It is therefore extremely critical to understand the steps to follow when performing a sterility test as well as be prepared for an investigation plan when a test result is positive.
Companies that have a product for release usually will have a distribution schedule in place. Devising an investigation plan can help companies stick to their scheduled release plans by expediting the investigative procedure. It is best to write standard operating procedures detailing your plan to handle positives when they do occur.
This article points out to the regulatory guidelines, identifies common sterility investigational problems and provides direction for conducting the test failure investigation.
Regulatory guidelines sterility testing and investigation of sterility positives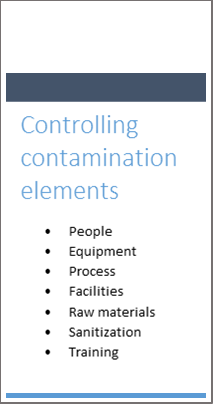 ICH - Q7A 4.42 "Appropriate measures should be established and implemented to prevent cross-contamination from personnel, materials, or packaging moving from one dedicated area to another".
21 CFR 211.192 C. Investigation of Sterility Positives..."After considering all relevant factors concerning the mfg. of the product and testing of the samples, the comprehensive written investigation should include specific conclusions and identify corrective actions. The investigation's persuasive evidence of the origin of the contamination should be based on the following:
Identification (speciation) of the organism in the sterility test
Record of laboratory tests and deviations'
Common Investigational Issues
Failure to identify the root cause of the issue. Example: The microorganism is identified but what caused the problem isn't
Lack of data to support the conclusions drawn. Often they are based on assumptions.
Failure to complete the investigations in a timely manner.
Failure to implement corrective or preventive actions
Lack of verifications that corrective action was effective
Conducting the sterility test failure investigation
The areas of investigation of a sterility test failure include man, machine, material, method, and measurement.
Out of specification
Quarantine the batch in question and perform a thorough investigation reviewing the production activities and laboratory processes within the company
Establish scope and impact:

This is an important step in coming to a verifiable conclusion. It is crucial to identify if there are other contaminated batches by taking into consideration batches that have used the same filing line, suite, sterilizers, air handling system, or formulation methods. The risk assessment, rationale, and scientific justification should be rigorously documented at this initial stage.

Manufacturing and filling process:

Although the nature of the organisms identified in the sterility testing may point out to the next steps of the investigation, make sure to have a broad scope beyond the tested batch, including historical results. The holding times, sterilization records, aseptically filled products operators and review of the bioburden testing of disinfectants must be taken into consideration during this part of the process.

The laboratory:

As a preparatory investigation

Review company's product line
Review any CAPA investigations
Review the company's Quality assurance/Quality control charts
Review the design of the facility, and traffic flow drawings
Review the list of sterility failures and any retests
Review past inspections and audits

Laboratory investigation

The physical space and appearance
Whether reasonably staffed
Whether of calibration of all equipment is current
Whether logs and maintenance logs are current
Review all media plates/tubes incubated
Any ongoing projects
Whether re-agents /solutions are properly labeled
Review storage records
Review of the media
Media sterilization record
The history of the supplier
The growth promotion testing
Storage of ATCC cultures
Negative controls
Environment monitoring resulting including critical testing environment, non-critical, and support areas
Equipment supporting the test environment
Inspection of autoclave
Review autoclave instrumentation and validation reports
Identification of the microbial contamination Viable Vs Non-viable
Whether contaminate was captured on growth media?
Settling plates
Liquid broth
RODAC plates
RCS
Swabs
The microscopic examination
A positive Grams stain generally relates to soil or dirt contamination
A negative Grams stain generally relates to a water source contamination
It is important to documents all additional steps taken till this stage. If there are no conclusive results found after the above preliminary investigation, a second stage sterility testing may be required.
Must-have investigational documents
A clear statement for the investigation
Summary of the sequence of the manufacturing process
A clear documentation of all the results that are reviewed
A historical document of past failures if any
Description of the corrective actions
A list of all the evaluated batches
A review of all environmental monitoring data and raw materials
An example table of contents for a sterility Investigation report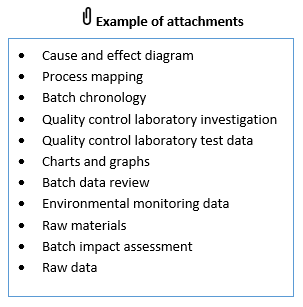 Attend the webinar Performing an Effective, Robust and Compliant Sterility Failure Investigation: How to Avoid Common Mistakes. It will highlight the mistakes often made when corrective and preventative actions are not clearly identified and applied during a manufactured product sterility test failure investigation because an ineffective investigational procedure and tool were used to conduct a sterility test failure investigation. The webinar will also illustrate how avoiding such common mistakes will ensure that these types of products meet the sterility requirements USP <71> and other regulatory guidelines applicable to finished products, bulk drug substance, raw materials or excipients.
The speaker Charity Ogunsanya has over 26 years of extensive experience within the Pharmaceutical, Biotechnology, Biologics, Cell-Therapy, Diagnostics, Research and Development, Radio-pharmaceutical, Contract Manufacturing Organization (CMO) and Medical Device companies.
She has been a sought-after expert and have been consistently hired after several competitive efforts by major fortune 100 companies to assume key roles specifically related to remediation and difficult Quality and Compliance related deficiencies associated with FDA's Consent Decree, FDA's Warning Letters and difficult regulatory bodies inspectional findings which is always achieved with a successful outcome.