Overview of Clinical Data Management and the Regulatory requirements
---
To gain approval for new drugs, Drug companies must ensure that the clinical data they generate is trustworthy. Clinical data management (CDM) is an important phase in clinical research that leads to the generation of high-quality, reliable, and statistically sound data from clinical trials. Clinical data management includes the entry, verification, validation and quality control of data gathered from clinical trials. A range of computer applications, database systems that support the collection, cleaning and management of clinical data are used in clinical data management.

The concerned personnel in FDA regulated companies must acquire deep knowledge about Clinical data management to use the tools needed to assure a CDM plan that holds up when the inevitable deviations from protocol occur. Learning how to handle missing data can help them bolster the statistical power of the test and convince the scientific the scientific community of their research. It is also important to understand how to leverage the vendor and other external resources to apply the best industry practices and avoid potential pitfalls when validating a clinical trial system.
This article provides an overview of CDM, discusses the relevant regulatory requirements and guides you to resources that help you succeed with CDM.
Clinical Data Management - An overview
Data with reference to CDM is the patient information that is collected during a clinical trial.
Clinical data management includes every aspect of processing of clinical data. The outcome of CDM must be a database that is accurate, secure, reliable, and ready for analysis. The timeline involves the time from data entry to analysis.
The objectives of CDM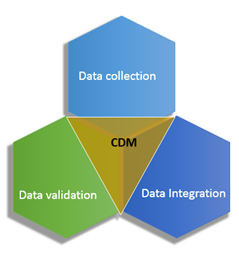 CDM has three main objectives.
Data Collection - Paper, electronic and remote data capture
Data Integration - The integration of all data into a single DB to ensure consistence and correctness.
System/Data validation - This is done via User acceptance testing (UAT), Quality Control (QC) and programming through edit check programs and manual review.
CDM activities include:
Data management plan
Study set up
Training
Data collection
Data processing
Monitoring of data and its safety
Audit trail
Database (DB) closure
Security and confidentiality
Data archive
Data management plan:
The data management plan (DMP) is a living document throughout the life-cycle of the study addressing the updates or changes performed during the course of the study. It should be created for each study should start early during the setup of the study. It should specify
What work is to be performed?
Who is responsible for the work?
What guidelines and SOPs should be complied with?
What is the expected output of the product?
All responsible staff should review and reach a consensus with the DMP to ensure consistency of the process.
Study setup:
It must include:

Trial DB setup:
All data should must be entered and setup in the computer system within a structured DB.
Validation checks:
It must include
Checks for missing values
Range checks
Logically inconsistent checks
Protocol violation checks
Checks for duplicates
Training:
Training must be consistent across all materials and be delivered consistently.
Data collection:
It includes Clinical data capture at study sites via paper CRFs and EDC systems. The primary modes of data capture are
Offline
Online
Combination of offline and online methods
Data processing:
It must include
Data receipt - Data receipt may be received through fax, regular mail, express mail, private couriers, hand delivery, web entries.
CRFs tracking - Both mandatory and optional CRFs must be tracked
Data review - CRFs must be reviewed manually and query sheets should be reviewed for data errors.
Data coding - Methods include manual and automated coding
Data entry:

Single-pass entry: with manual review and without manual review
Double pass entry has two types

Blind verification involves two people entering data independently. In records where discrepancies are found between the two, a third person resolves the record based on the verification records that failed data entry verification
Double entry with interactive verification: Two people enter data and the 2nd DE operator resolves discrepancies between 1st and 2nd entry while being aware of the previous values
Optical character recognition (OCR)

Data validation - must be performed at the time of data entry and should also be run on batches of data. They include pre-defined validation rules to detect like missing details, outliers, inconsistencies, protocol etc.
Query management
Monitoring data
Progress reports
Interim analysis
Site monitoring visits
Training and re-training staff
Auditing
Adverse Event Reporting
Data Safety Monitoring Board
Audit Trails:
An audit trail (also called audit log) is a security-relevant chronological record, set of records, and/or destination and source of records that provide documentary evidence of the sequence of activities that have affected at any time a specific operation, procedure, or event. (IA glossary).
Audit trials may include documents, computer files, and other records that are examined during an audit to demonstrate how the records are handled by a company. Computer generated time-stamped audit trails are used to give credence and providence to electronic records and signatures.
Database closure:
Before closure it must be ensured that all data have been processed, Quality level has been evaluated and appropriate study personnel has been notified. After closure, edit permissions must be removed.
Database storage:
Must be secure, efficient and must have controlled access. Measures should be taken to minimize data corruption via accidental or intentional manipulation
Data archive:
Original study documents, raw data files, Final data files, Discrepancy management logs, Database design specifications, DB closure documentation, and Procedural variation documentation should be archived in secure and stable areas.
---------
Closed systems: Closed systems are those systems where a company can verify the identity of all users prior to granting access to electronic records and electronic signatures (ERES) system.
Open systems: Open systems are those systems where a company cannot verify the identity of all users prior to granting access to an ERES system. Digital signatures are needed in addition to electronic signatures.
Procedural requirements: The indenting to use ERES must inform the FDA about it. The company must verify the record and the identity before granting signature access to a user. The user should be trained not to share their e-signature with anyone else.
--------
Understanding the regulations
In the mid-1990s, when companies increased adaption of computerized electronic keeping, they were met with a whirlwind of challenges in maintaining the integrity and robustness of electronic records. To streamline the management of electronic records, the CFR Part 11 regulations were created in 1997.
21 is the chapter of US Federal law - Food, Drug & Cosmetics Act circa 1906
CFR is the code of regulation - US Federal Government law
Part 11 is that part which deals with electronic records and electronic signatures.
Part 11 applies to all FDA regulated industries including all Drug and Medical Device Manufacturers that sell into the United States and use electronic records and electronic signatures. The U.S. Federal Regulation requires companies to ensure that the electronic records they deal with are trustworthy.
The Part 11 covers:

Electronic Recordkeeping:
Any quality or production record held in electronic format. These include batch records, training records, customer complaint records and more. Just as quality and production paper records are legal documents that can be submitted for legal proceedings, electronic records too can be used as equivalents. Just as tampering or altering a paper record is considered as fraud, the tampering or altering of electronic records is equivalent to forging a paper record and is considered as fraud.
Electronic Signatures:
Any approval of a quality or production record that is committed electronically. The electronic signature comprises of two parts.
Publically known identifier, typically a user name to identify the user uniquely and trace their job role and training record to verify their level of authority and competence
Known only to the owner of the eSignature typically a password or biometric data to ensure that it the right person is signing
Electronic Submissions:
NDAs, 510(k)s, PMAs etc.
Attend the seminar Clinical Data Management (CDM) to learn how to set up processes for smoother data monitoring and auditing. The seminar will present examples of CRF's and required documentation. Data collection and preparation techniques will also be demonstrated. This seminar is based on FDA E6 GCP Guidelines which are the basis of effective data quality management. Even if your research is not FDA regulated, the information you learn in this course will help to ensure a robust data collection and management plan.
The speaker Elaine Eisenbeisz is a private practice statistician and owner of Omega Statistics, a statistical consulting firm based in Southern California. Elaine has over 30 years of experience in creating data and information solutions for industries ranging from governmental agencies and corporations, to start-up companies and individual researchers. Elaine has designed the methodology for numerous studies in the clinical, biotech, and health care fields. She currently is an investigator on approximately 10 proton therapy clinical trials for Proton Collaborative Group, based in Illinois. She also designs and analyzes studies as a contract statistician for nutriceutical and fitness studies with QPS, a CRO based in Delaware. Elaine has also worked as a contract statistician with numerous private researchers and biotech start-ups as well as with larger companies such as Allergan and Rio Tinto Minerals. Not only is Elaine well versed in statistical methodology and analysis, she works well with project teams. Throughout her tenure as a private practice statistician, she has published work with researchers and colleagues in peer-reviewed journals.