Quality Control Laboratory Compliance - Documentation and Record-Keeping explained
---
Paper and electronic laboratory documents are a crucial part of your daily operations. It is important to manage them well with a good system. This article is designed to help you gain an understanding of proper documentation and record-keeping for the successful performance.

The difference between documentation and records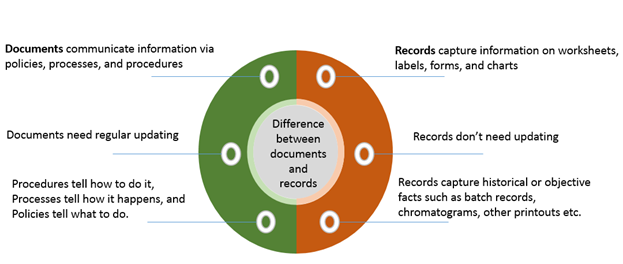 The importance of laboratory documents
Documents provide essential guidelines for the laboratory in the form of a quality manual, SOPs and reference material. They are required part of the laboratory quality standards. They reflect the laboratory's organization and quality management. Laboratories maintain documents and records to find information when it is needed. Verbal instructions often go unheard, or are misunderstood, quickly forgotten, or difficult to follow.
To examine the fundamental requirements for all QC laboratories subject to FDA inspection, recent trends from FDA inspection reports and enforcement actions, attend the seminar Quality Control Laboratory Compliance - cGMPs and GLPs.
The importance of laboratory records
Records are management tools that help in the continuous management of the quality system. They also help track samples throughout the process and identify problems. They indicate how your staff has been operating. Poor record keeping is often an indication of poor performance and disorganization. Records help in decision making.
Laboratory documents
Important laboratory documents include the Quality manual, SOPs, controlled documents, personnel files, Instrument files, equipment maintenance, calibration and verification, quality control, temperature and humidity logs, test tracking system, proficiency testing, and quality assessment. They are briefly outlined below:
Quality manual

It is a roadmap for meeting the quality systems requirement
It is an indication of the management's commitment to quality
There should be only one official version of Quality control manual
Should be improved on an ongoing basis
Should be read and accepted by everyone
Should be in clear language
Should provide uniformity in testing over time, and from one person to the next

Outline of a quality manual

Introduction
Organization and management
Quality policy 4. Personnel (staff education and training )
Document control, including records, maintenance and archiving
Accommodation and environment
Instruments, reagents, consumables management
Safety
Research and development (optional)
Pre-examination procedures
Examination procedures
Post-examination procedures
Quality control
Laboratory information system
Handling of complaints - occurrence management
Communications and other interactions
Preventive and corrective action, internal audit
Ethics

SOPs

Should contain step by step instructions on how to perform a test
Should be consistent, accurate and of high quality
Should be easily understood by new staff
Should be reviewed and approved by management
Should be updated regularly
Should not drown the details
SOP for Routine inspection, cleaning, maintenance, testing, and calibration.

Controlled documents

SOPs, texts, articles, reference books, equipment service manuals, regulations, and standards
Have a system in place for organizing, approval, and revision
Maintain a master log that describes the documents in circulation
Should be accessible at the point of use
Should have an archiving system

Personnel files

education, experience, training, and continuing education

Instrument Files

Instrument name
The model number and serial number
Purchase date
Manufacturer and/or supplier contact information
Technical service contact information
Repair service contact information
Warranty information
Preventive maintenance and repair services performed by company representatives
Verification of performance specifications, if applicable

Equipment Maintenance
Calibration and Calibration Verification
Quality Control (QC)

quality control results
Graph quantitative results for visual evaluation of shifts and trends over time
Recognized problems and corrective actions to address them

Temperature and Humidity Logs

Must be monitored and recorded daily

Test Tracking System

Test requisitions
Testing records
Test reports

Proficiency Testing (PT)

A copy of the PT enrollment order form
The instructions that come with the samples
All worksheets and instrument printouts of testing
A copy of the final completed result form that you send to the PT provider, including the signed attestation statement
The reviewed PT score report, including the CMS summary page
Documentation of investigations and corrective actions for any PT failure

Quality Assessment (QA)
Laboratory records that should be kept
Section 211.67(c)- maintenance, cleaning, sanitizing, and inspection as specified in B'B' 211.180 and 211.182.
Section 211.68(a)- calibration checks, inspections, and computer or related system programs for automatic, mechanical, and electronic equipment.
Section 211.68(b)- All appropriate controls must be exercised over all computers or related systems and control data systems to assure that changes in master production and control records or other records are instituted only by authorized persons.
Section 211.105(b)-Major equipment must be identified by a distinctive identification number or code that must be recorded in the batch production record to show the specific equipment used in the manufacture of each batch of a drug product.
Section 211.160(a) - The establishment of any specifications, standards, sampling plans, test procedures, or other laboratory control mechanisms, including any change in such specifications, standards, sampling plans, test procedures, or other laboratory control mechanisms, must be drafted by the appropriate organizational unit and reviewed and approved by the quality control unit. These requirements must be followed and documented at the time of performance. Any deviation from the written specifications, standards, sampling plans, test procedures, or other laboratory control mechanisms must be recorded and justified.
Section 211.194-Describes laboratory records that must be retained.
Section 211.182-Specifies requirements for equipment cleaning records and the use log.
Current Good Laboratory Practices (cGLPs)
21 CFR Part 58) - Good laboratory practice for nonclinical laboratory studies
40 CFR Part 160 FIFRA - Protection of environment, Good laboratory practice standards
Regulations and statutes - records retention and document controls
21 CFR Part 11 Electronic Records; Electronic Signatures
(the European version of this regulation is Annex 11).
Part 11 FAQ on retention of paper versus electronic records
Electronic-records/signatures must be equivalent to paper records/sigs
Procedures and controls must include:

Systems validation
Protection of records throughout the retention period
Limited systems access
Time-stamped audit trails
Systems, Authority, and Device checks
Personnel who have adequate training & experience
Control over system documentation
Documentation best practices, storage and retention
Whether electronic or paper, documents must be clear, concise, user-friendly, explicit, accurate, and up-to-date.
Draft documents must be compliant with established standards
Update documents and maintain records regularly
Use the most current version
Document preparation and control process includes the following in sequence

Prepare
Review
Revise
Approve
Distribute

Retain things you might forget
Documents should permit the complete reconstruction of a study
Properly head all pages, tables, columns; identify units Properly head all pages, tables, columns; identify units Describe Statistical & Calculation Procedures used Describe Statistical & Calculation Procedures used Sign, Date, and File automated printouts

Storage

Store documents in an orderly manner
Laboratory director, the laboratory consultant, inspectors, and accreditation agency surveyors should be able to promptly retrieve documents
Ensure that all documentation is maintained for the proper length of time.
Most documents and records generated in the laboratory must be available for two years
Some must be stored for a longer time period
Attend the seminar Quality Control Laboratory Compliance - cGMPs and GLPs to examine the fundamental requirements for all QC laboratories subject to FDA inspection, recent trends from FDA inspection reports and enforcement actions.
Ms. Thomas has over two decades of cGMP hands-on industry experience in both pharmaceutical and medical device manufacturing operations. Her experience covers all Quality Systems; as well as, all areas of validation; including, process/product validation, facilities validation, CSV and 21 CFR Part 11, test method validation, equipment/automated processes and cleaning validation. Utilizing strategic thinking, risk-based approaches, and Lean principles, she has demonstrated success in steering and managing complex projects within the pharmaceutical and medical device industries.