RoHS and REACH - Compliance Requirements and Differences between the two
---
If you are a manufacturer, importer, or a distributor, of electrical and electronic equipment (EEE) placing products on the UK market, understanding ROHS and REACH compliance is vital. Compliance protects your products from stop shipments and fines. It helps meet the requirements of customers and governments globally. It also minimizes waste, scrap, and rework, enhances the brand and fosters your alignment with suppliers.
What are the compliance RoHS and REACH requirements? What are the differences between them? What steps should you take to comply? This article explains.

Understanding RoHS
RoHS stands for Restriction of Hazardous Substances. It is an 'EU legislation restricting the use of hazardous substances in EEE and promoting the collection and recycling of such equipment.' The directive which is in force since 2003, also supports effective recovery, reuse, and recycling of products. The energy-consuming products are regulated to control the level of hazardous substances they contain:

The first six applied to the original RoHS while the last four were added under RoHS 3.
Concerned Equipment
Large household appliances (LHA)
Small household appliances (SHA)
IT and telecommunications equipment
Consumer equipment
Lighting equipment
Electrical and electronic tools
Toys, leisure, and sports equipment
Medical devices
Monitoring and control instruments
Products that are deemed specifically out of the scope of the ROHS directive are:
Products for military use or designed to be sent into space
Products designed to be sent into space
Equipment specifically designed and is to be installed as part of another type of equipment
Large-scale industrial tools and fixed installations
Large-scale stationary industrial tools
Means of transport (apart from certain two-wheeled electric vehicles)
Non-road mobile machinery for professional use
Products for research and development available on a business-to-business basis
Active implantable medical devices
RoHS Compliance:
To comply with RoHs, all products you place on the UK market must:
Have a current declaration of the technical file
Have a declaration of conformity
Be marked relevantly
Display the CE label
Use the following checklist to determine if your products are RoHS compliant:
Do my components and subassemblies of EEE contain less than the maximum prescribed levels of lead (Pb), mercury (Hg), cadmium (Cd), hexavalent chromium (CrVI), polybrominated biphenyls (PBB), polybrominated diphenyl ethers (PBDE), and four different phthalates (DEHP, BBP, BBP, DIBP)?
Do I evaluate and self-certify my production controls with reference to the measures detailed in the regulations?
Do my products have a Declaration of conformity supported by a technical file that shows compliance?
Are the Declaration of conformity readily available to be provided to the Office for Product Safety and Standards (Safety & Standards) if asked for?
Am I aware that the Declaration of conformity and technical file must be retained for 10 years after the EEE is first placed on the UK market?
Do my individual products have a type, batch or serial number showing the manufacturer's name, address and registered trade name or mark?
Do my products display the CE label?
If I am an importer placing EEE on the UK market under my name or trademark, does the product comply with all the obligations on the manufacturers?
If I am a distributor, does the EEE I distribute marked appropriately and display the CE label?
If I am a distributor who modifies the product before distribution, does it comply with all the obligations on manufacturers?
What to do if the product is discovered or suspected to be non-compliant?
Specific steps must be taken:
Notify Market Surveillance Authority (MSAs). The RoHS notification guidance and form for completion is here.
Notify the supply chain

Manufacturers and importers must notify their distributors
Importers must notify the manufacturer
Distributors must notify the importer or manufacturers as relevant

Take action to remediate the problem

Quarantine the product
Fix the non-conformity
Suspend it from being made available to the supply chain and end users
Recall it from end users

Keep a register of non-conformities and maintain it for 10 years
Useful resources
RoHS Regulations 2012 - The Restriction of the Use of Certain Hazardous Substances in Electrical and Electronic Equipment Regulations 2012 RoHS guidance RoHS (European Commission)
Understanding REACH
REACH stands for Registration, Evaluation, Authorisation, and Restriction of Chemicals. It is a regulation of the European Union.
Regulation number 1907/2006
Concerns chemicals and their safe use
Has a defined process that must be followed for risk and chemical management
New substances are added to the candidate list every 6-9 month
Proposed SVHCs (Substance of very high concern) are put to a 45-day public comment
What is covered?
Human and veterinary medicines
Food and foodstuff additives
Plant protection products and biocides
Other substances that have tailored provisions as long as they are used in specified conditions
Isolated intermediates
Substances used for research and development
Restricted list
Companies must ensure restricted substances in products do not exceed REACH thresholds
69 valid entries on REACH Annex XVII (updated on 17 Oct 2018) on the list of SVHCs available for restricted use
Additional hazardous substances on REACH annex XVII include:
Azocolourants and Azodyes (entry 43)
Polycyclic-aromatic hydrocarbons (PAHs) (entry 50)
Perfluorooctane sulfonic acid and its derivatives (PFOS) (entry 53, deleted in 2010 and subject to EU POPs regulation now.)
Pthalates (entry 51 and 52)
Cadmium and its compounds (entry 23)
Nickel and its compounds (entry 27)
Lead and its compounds (entry 63)
Mercury and its compounds (entry
Chromium VI compounds (entry 47)
Arsenic compounds (entry 19)
CMR 1A/1B substances listed in the annex VI of CLP regulation (28, 29, 30)
Nonylphenol and nonylphenol ethoxylates (entry 46)
Organostannic compounds (entry 20)
Hazardous solvents (benzene, cyclohexane,triclorobenzene, chloroform, etc);
Bisphenol A (entry 66, added in Dec 2016)
decaBDE (entry 67, added in Feb 2017)
PFOA, its salts and PFOA-related substances (entry 68, added in June 2017)
D4 and D5 (entry 70, added in Jan 2018)
Methanol (entry 69, added in April 2018)
1-methyl-2-pyrrolidone(NMP) (entry 71, added in April 2018)
CMR substance in textile and footwear (entry 72, added in Oct 2018)
Who is responsible for compliance?
Manufacturers of substances
Importers who buy chemicals, raw materials from outside the EEA
Distributors who store and distribute chemicals and/or finished products
The representative who represents a non-EEA company selling chemicals and/or goods to the EEA
Manufacturer outside the EEA
Trader of very hazardous chemicals
Biocides supplier or user
The user of chemicals who mixes and uses them in industrial or professional activities
Compliance depends on the type of products you place on the market or use.
Difference between RoHS and REACH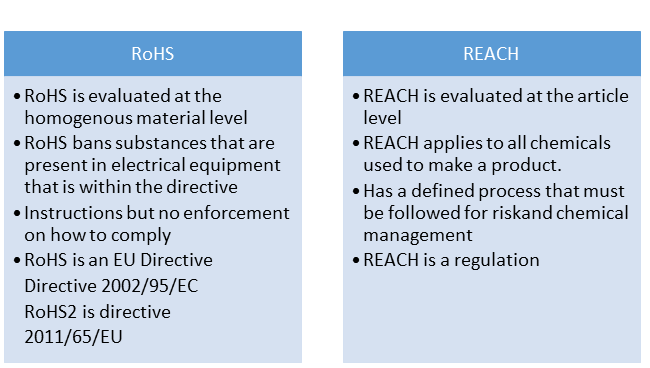 Attend the seminar Understanding REACH and RoHS Compliance & Protecting Revenues with Advanced Compliance to gain a deeper understanding of the specifics of REACH and RoHS regulations, examine case studies and learn from the mistakes of others. The seminar will draw out key developments and key dates (if applicable) with particular emphasis on requirements for US firms.
The course instructor Ms. Eisenhardt has over 20 years of experience in IT and Compliance Software Development, her former roles include: Executive Director of Environmental Programs, at Fair Factories Clearinghouse; Environmental Compliance Manager and Design for Environment programs at EMC Corporation; and Director of Product Management at PTC Corporation for Windchill Product Analytics - an environmental compliance software.