Why Data Integrity is important to the FDA Regulated Companies?
---
Data Integrity has become one of the hot topics during audits and inspections in the pharmaceutical industry. Why has this topic received so much attention?
For two vital reasons:
The pharmaceutical industry and regulatory agencies need accurate and reliable data to ensure safety, efficacy and quality of a product
It benefits the organization's business continuity decision making process.

Data Integrity Regulations Curb Increasing Data Integrity Violations
Data integrity fosters the trust between the company and the regulatory agencies. As a reflection of the increased focus of the regulatory bodies, the FDA released the draft guidance - "Data Integrity and Compliance With CGMP Guidance for Industry." The increasing trend in data integrity violations is stated within the guidance documents. It states

Not only does data integrity compliance safeguard the patient safety, but protects the organization from serious financial consequences of FDA's enforcement action such as facility shutdown, product recalls, import and/or distribution bans, delayed or denied drug approvals, substantial remediation costs, and loss of customers due to a damaged reputation.
How Data Integrity Compliance benefits the Organization
Data is the fuel of decision making, continuous improvement, quality, and demonstration of clinical value. Data is to an organization what fuel is to a car. If the fuel is contaminated, it damage the engine. Left unchecked, it can completely seize the engine. If the integrity of the data is at risk, it can damage the organization's reputation and can even lead to the extent of business shutdown.
In short, data must be complete, consistent, and accurate. It should be maintained to ensure accuracy and consistency over its entire life-cycle.
How can your organization ensure data integrity compliance?
Understanding the regulatory guidance for compliance
The regulatory bodies have published guidance documents. To be compliant, it is essential to gain a deep knowledge and understanding of the most recent Data Integrity related standards, guides, and regulations.
Standard references
The FDA's "ALOCA" framework can help your organization in achieving data integrity compliance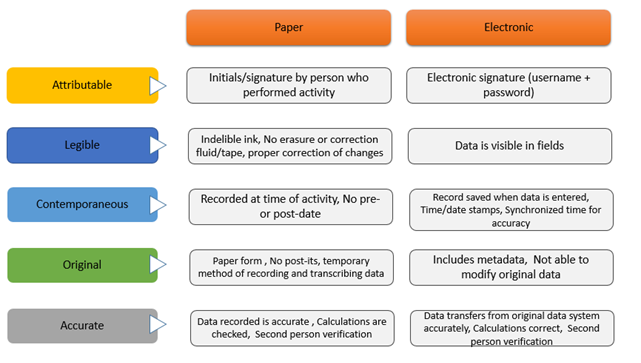 To understand the best practices with regard to generation, review, and archiving of data, and the evolving requirements for edata, and to have a meaningful grasp into the support systems for data integrity, attend the webinar 'Ten Steps to Data Integrity in Pharmaceutical and Biotech Labs' . The instructor Dr. Nanda Subbarao holds a Ph.D. in Bio-organic Chemistry. Her hands-on industrial experience covers stability and laboratory cGMP systems for both biologics and conventional drugs.