Information for Drug and Medical Device Companies - Navigating the Advertising and Promotions Challenges
---
The challenge of getting advertising and promotions right is growing. The bar is high for personnel in the advertising and promotions departments of the Drug and Medical Device Companies. Traditional medical marketing backgrounds and capabilities are necessary but no more enough for the organization's success. They need to acquire the skills to develop safe, effective and FDA-compliant advertising and promotions. They need to work together with R&D colleagues and gain an understanding of the science that underpins their work; they must comprehend the rules and regulations governing the industry almost as equivalent as their associates in the compliance and legal departments.

There are many intricacies involved in the advertising and promotions of drugs and medical devices. For e.g. there are FDA boundaries for Direct-to-Consumer advertising (DTC). They must be understood well to ensure compliant DTC.
Although all the intricacies aren't covered here, this article provides the steps required to navigate the advertising and promotional challenges and develop safe and effective advertising and promotions.

Understanding the legal framework

The first step is to understand the legal framework for advertising and promotions. The products' claims, promotions, and training programs must be medically accurate and in compliance with the Federal Drug Administration (FDA) standards and other regulations. To this end, the FDA reviews all marketing material and promotions.

There are so many elements surrounding the marketing and advertising of drug products. The jurisdiction depends on the type of product - drug or device, the nature of how it is sold, and the medium through the information is disseminated.

This section provides an overview of the legal framework.

The FDA

A broad authority is granted to the FDA over drugs and devices and their manufacturers' activities, including labeling and advertising. This authority is granted by the federal Food, Drug, and Cosmetic Act (FDCA) and its implementing regulations.

The Federal Trade Commission (FTC)

Bureau of Consumer Protection, Division of Advertising Practices




Prescription drugs:
Governed by Federal Food, Drug and Cosmetic Act (FDCA) and U.S. Food and Drug Administration (FDA)
In certain circumstances, the U.S Federal trade commission and individual states retain jurisdiction over aspects of prescription drug advertising
FDCA sets broad requirements and provides authority to the FDA to promulgate associated regulations.
The FDA regulations expands on the requirements set by FDCA, including details to the statutory framework.
Nonprescription drugs:
FDA regulates the labeling on non-prescription drugs or 'Over-the-counter' drugs
Advertising is regulated by the Federal Trade commission (FTC) with the exceptions of some OTC drugs approved under new drug applications.
The FTC has a broad authority to address deceptive or unfair advertising of OTC drug products (15 U.S.C B'B'52-57)
Medical Device:
The FDA regulate the labeling of all medical devices
The FDA regulates the advertising only of "restricted devices.
(21 U.S.C. B'B' 352(a), 352(q) and (r).) - Federal Food, Drug, and Cosmetic Act of 1938, as amended (FDCA)
FDA reviews the content and promotional activities.
Content
Statements on product use and prescribing information
Brief summary relating to side effects, contraindications, and effectiveness
Instructions for use
Clarity of messages
FDA reviews product labeling, advertising, and promotional activity
"Net impression" "False or Misleading" and "Substantial evidence"
Must not be "false or misleading"
In addition to words or statements, FDA also evaluates designs, images, format, and placement of text. FDA looks at the net impression - i.e., the message communicated by all elements of the piece as a whole.
Must focus not just on individual claims or presentations, but on the promotional piece as a whole. A promotional piece that conveys a deceptive net impression of the product could be misleading, even if individual claims or presentations are not misleading.
Claims must be within the scope of the approved labeling or within the scope of the marketing authorization - Claims must be supported by "substantial evidence." -Food, Drug, and Cosmetic Act (FDCA) B' 505(d)
Risks and benefits must be presented in a fair/balanced way: "Promotional pieces that fail to present a balanced view of the risks and benefits of a product are generally considered to be false or misleading and also generally fail to reveal material facts about the product being promoted"
Must present actual facts about the consequences of using the product under normal conditions
The Office of Prescription Drug Promotion (OPDP)
Prescription drug advertising and promotional labeling are evaluated by the office within CDER to make sure that they are not false or misleading. It regulates:
TV and radio advertisements
All written or printed prescription drug promotional materials (includes the internet)
Speaker program presentations
Sales representative presentations
The Center for Drug Evaluation and Research (CDER)
Provides advisory to pharmaceutical sponsors on the planned promotional materials
Reviews complaints about promotional violations
Initiates enforcement actions such as sending untitled/warning letters
Compares the product labels and promotional materials with the products to make sure that the regulatory requirements are met
Monitors promotional exhibits and activities by attending medical meetings and pharmaceutical conventions
Violations that are most commonly identified include
Omission or downplaying of risk
Overplaying the effectiveness
Promoting unapproved uses
Misleading
Form FDA-2253
Sponsors "shall submit specimens of mailing pieces and any other labeling or advertising devised for promotion of the drug product at the time of initial dissemination of the labeling and at the time of initial publication of the advertisement for a prescription drug product."
"Each submission is required to be accompanied by a completed transmittal Form FDA-2253 (Transmittal of Advertisements and Promotional Labeling for Drugs for Human Use)." - 21 CFR B' 314.81/p>
Bad Ad program:
Administered by OPDP, the 'Bad Ad program is an outreach program designed to educate healthcare providers about the role they can play in helping the agency make sure that prescription drug advertising and promotion is truthful and not misleading.'
Definition of labeling
"A device may not be manufactured, packaged, stored, labeled, distributed, or advertised in a manner that is inconsistent with any conditions to approval specified in the PMA approval order for the device."
"Failure to comply with any post-approval requirement constitutes a ground for withdrawal of approval of a PMA."- Premarket Application (PMA) regulation
"all labels and other written, printed, or graphic matters (1) upon any article or any of its containers or wrappers, or (2) accompanying such article "at any time while a device is held for sale after shipment, or delivery for shipment, in interstate commerce. - FFDCA
Advertising
Advertisements subject to section 502(n) of the act include advertisements in published journals, magazines, other periodicals, and newspapers, and advertisements broadcast through media such as radio, television, and telephone communication systems.
2) Brochures, booklets, mailing pieces, detailing pieces, file cards, bulletins, calendars, price lists, catalogs, house organs, letters, motion picture films, film strips, lantern slides, sound recordings, exhibits, literature, and reprints and similar pieces of printed, audio, or visual matter descriptive of a drug and references published (for example, the "Physicians Desk Reference") for use by medical practitioners, pharmacists, or nurses, containing drug information supplied by the manufacturer, packer, or distributor of the drug and which are disseminated by or on behalf of its manufacturer, packer, or distributor are hereby determined to be labeling as defined in section 201(m) of the act.
Section 201(n) states that if an article is alleged to be misbranded because the labeling or advertising is misleading, then in determining whether the labeling or advertising is misleading, there shall be taken into account (among other things) not only representations made or suggested by statement, word, design, device, or any combination thereof, but also the extent to which the labeling or advertising fails to reveal facts material in the light of such representations or material with respect to consequences which may result from the use of the article to which the labeling or advertising relates under the conditions of use prescribed in the labeling or advertising thereof or under such conditions of use as are customary or usual
Promotions
The term promotion has a broad interpretation. Generally issued by or on behalf of a Company, the promotion includes materials and/or communications that inform, solicit or make representations to the general public or the medical community. In some cases, statements may be considered as promotion even in the absence of the drug name.
Types of promotions include:
Print advertisements
TV advertisements
Company website
Certain communications at medical conventions or product meetings
Physician detailing session/sales calls
Booths
Direct-to-physician or consumer mailings
Brochures/pamphlets
Internet advertisements
Certain oral or written statements by company employees or agents
Develop and Review promotional material
Apply the knowledge gained from the regulatory framework and guidance to develop safe, effective, and compliant advertising and promotions. It involves communicating with cross-functional teams comprising medical, legal and regulatory experts before the development of content, formats, design and promotional activities.
Establish promotional review committees (PRC) comprising of cross-functional teams comprising of medical, legal and regulatory experts. The project managers must work in collaboration with the reviewers and key stakeholders from marketing and advertising agencies to corporate leadership to make sure everyone's voice is heard. The process involves 3 phases: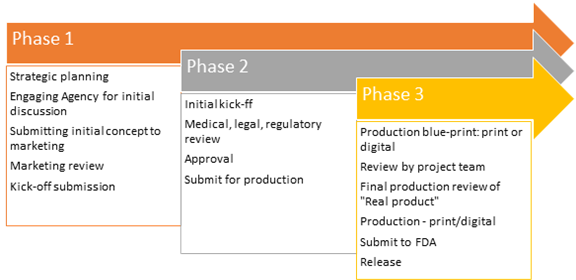 Create meaningful key performance indicators (KPI)
Develop a systematic process for evaluating with the right parameters to achieve the goal. From the beginning of the project, align all key stakeholders including marketing teams, reviewers, external agencies and leadership. Define KPIs clearly and in a quantifiable manner in line with the business goals.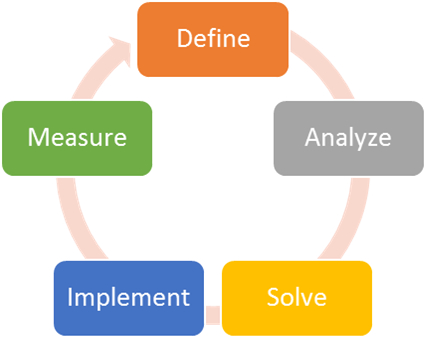 Examples of KPIs
Entire Project Duration
Duration by Project Type
Duration of Each Stage of the Process
Cycles/Churn at Each Stage
Reasons for Additional Cycles
Stakeholder (Internal/External) Accountability
Products Produced & Available in Inventory
Products Ordered
Measure and improve
Monitor KPIs periodically to properly assess their value. By enabling a comprehensive view of the KPIs, marketers, and reviewers can streamline project planning, improve inputs, simplify the review process, and produce accurate, relevant and effective marketing material.
Attend the webinar 'Ensuring Compliance with Advertising and Promotional Requirements for Drugs and Medical Devices' to understand the legal and regulatory duties, as well as key recent trends in enforcement activities by the Federal Government. The course will explore in detail what FDA requires of drug and device firms as well as recent current hot buttons in FDA enforcement activity for the advertising arena.
The course Director Michael A. Swit focuses on solving the legal challenges confronted by the pharmaceutical, medical device, and other life sciences industries in tackling the myriad of legal mandates enforced by the U.S. Food & Drug Administration. Mr. Swit has extensive experience counseling life sciences firms on the demands of compliance with FDA's statutory and regulatory requirements to develop and market safe and effective drugs, biologics, medical devices, IVDs and other products. He also has advised regulated firms on a wide range of FDA regulatory matters, including drug and device approvals and marketing/promotional claims, dietary supplement health claims and