Form 1099 - MSIC Compliance and MISC Due Diligence
In this webinar attendees will learn the latest updates for Form 1099-MISC, specific reporting requirements for various types of payments and payees, filing requirements, withholding requirements and reporting guidelines. It will cover filing due dates including the accelerated due dates for 1099-MISC Forms with an entry in box 7, and the safe harbor requirements for de minimis dollar amount errors. It will cover penalty provisions due diligence procedures, and exceptions to penalties including reasonable cause, common errors, and correction of errors.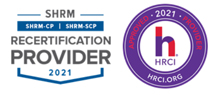 Course "Form 1099 - MSIC Compliance and MISC Due Diligence" has been pre-approved by SHRM as eligible for 1.5 credits and HRCI as eligible for 1.5 credits towards a participant's recertification upon full completion.
The use of this seal is not an endorsement by the HR Certification Institute of the quality of the program.
Why Should You Attend:
The IRS is actively targeting enforcement measures on accounts payable operations. Penalties for non-compliance are now indexed and increase each year. It is more important than ever that 1099 Forms be prepared correctly, filed and furnished timely, and that filers perform due diligence procedures to avoid or mitigate penalties.
In order to stay compliant, practitioners must know which form to use to report specific transactions, when forms must be filed or furnished to recipients in order to be on-time, which information to include and how to make sure it is accurate, how and when to make corrections, how to avoid or mitigate errors, whether a particular payee is subject to backup withholding, or transaction reporting, and the due diligence procedures that shield an issuer from penalties even when the forms contain incorrect information.
Learning Objectives:
Know when to furnish and file information returns under the new requirements
Understand the de minimus money amount error rules
Identify reportable payments and payees. Know when a 1099 is required
Be aware of common 1099 errors: Know how to avoid them and how to correct them
Understand backup withholding: What it is; When to start and when to stop; How to deposit and report
Know the due diligence procedures to avoid penalties for missing or incorrect payee tax ID numbers
Understand the procedures for "B" notices: When to issue and how to follow-up
Know when the payment card rules apply and how 1099 reporting is affected
Understand how to document independent contractor as reportable or non-reportable
Know the procedures and policies that establish "reasonable cause" and avoid penalties
Areas Covered in the Webinar:
Overview of information returns – Resources for compliance
Filing deadlines and affected returns
De minimis exception for money errors
Increases in penalties for non-compliance
Form 1099-MISC - Reportable payments and payees
Common 1099 errors – how to prevent them and how to correct them
Taxpayer identification number basics: Which number to use
Documentation that establishes reportable and non-reportable payees
TIN Solicitation & "B" Notices – when to issue and how to follow-up
Due diligence procedures avoid or mitigate penalties for missing or incorrect payee tax ID numbers
TIN Verification and using the IRS TIN verification system
Backup Withholding - What it is, When to start and when to stop, How to deposit and report
Procedures and policies that establish "reasonable cause" and avoid penalties
Who Will Benefit:
CFOs and controllers
Accounts payable and accounting managers
Accounts payable processing professionals
Employers and Business owners
Purchasing managers and professionals
Public accountants, CPAs and Enrolled Agents
Instructor Profile:

Patrick A Haggerty
Owner, Patrick A. Haggerty, Tax and Accounting Services
Patrick A. Haggerty is a tax practitioner, author, and educator. His work experience includes non-profit organization management, banking, manufacturing accounting, and tax practice. He began teaching accounting at the college level in 1988. He is licensed as an Enrolled Agent by the U. S. Treasury to represent tax payers at all administrative levels of the IRS and is a Certified Management Accountant. He has written numerous articles and a monthly question and answer column for payroll publications. In addition, he regularly develops and presents webinars and presentations on a variety of topics including payroll tax issues, FLSA compliance, and information return reporting.
Topic Background:
Form 1099-MISC presents a special set of reporting problems. It is used to report a number of types of payments with different requirements for each type of payment. In addition, the issuer must obtain correct tax identification information for a payee if a 1099 is required. Reporting entities must properly manage Form 1099-MISC requirements or face penalties for incorrect reporting.
Refund Policy
Registrants may cancel up to two working days prior to the course start date and will receive a letter of credit to be used towards a future course up to one year from date of issuance. ComplianceOnline would process/provide refund if the Live Webinar has been cancelled. The attendee could choose between the recorded version of the webinar or refund for any cancelled webinar. Refunds will not be given to participants who do not show up for the webinar. On-Demand Recordings can be requested in exchange.
Webinar may be cancelled due to lack of enrolment or unavoidable factors. Registrants will be notified 24hours in advance if a cancellation occurs. Substitutions can happen any time.
If you have any concern about the content of the webinar and not satisfied please contact us at below email or by call mentioning your feedback for resolution of the matter.
We respect feedback/opinions of our customers which enables us to improve our products and services. To contact us please email [email protected] call +1-888-717-2436 (Toll Free).
Product Reviews
This product hasn't received any reviews yet. Be the first to review this product! Write review