Goal Setting for Management Success
This session will give rise to the participant's understanding of how goal setting works and how it can be used in a management context. We will also discuss how to track goals for maximum efficiency and other webinars in this series will use the goal setting methodology as a foundation. The webinar will provide a brief description of the definition of SUCCESS and how the scientific goal setting process fits into that definition.
Purchase option for this webinar is currently unavailable. Please contact our Customer Care for more info.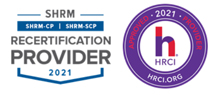 Course "Goal Setting for Management Success" has been pre-approved by SHRM as eligible for 1 credits and HRCI as eligible for 1 credits towards a participant's recertification upon full completion.
The use of this seal is not an endorsement by the HR Certification Institute of the quality of the program.
Why Should You Attend:
In this webinar, you will learn a practical, proven process for setting goals in business as well as personal. This is an easy system to implement and teach to your employees and will generate massive results when used properly.
The participants will be able to set, track and accomplish meaningful goals that will assist them in career advancement and success.
This webinar is fast paced, fun and full of useful examples assisting the participant in installing goal setting as modern management technique and behavioral modification tool for enhanced success in their career.
Areas Covered in the Webinar:
What is SUCCESS
How to define SUCCESS
What does success have to do with the goal setting process
Does goal setting fit into a management structure?
What is the underling theory of setting goals?
How to track goals
Are some goals un-trackable? And how to change that.
Examples of goal setting in action
Who Will Benefit:
HR Professionals
Training Professionals
Senior Vice President
Vice President
Managing Director
Regional Vice President
Project Managers
Directors
Chief Learning Officer
All C suit titles
Instructor Profile:

Biagio Sciacca
CEO, Intelligent Motivation Inc
Professor Biagio Sciacca, known to his friends as Bill, has one passion; it is to assist organizations in having its employees become as excited about the company's mission and goals as the executives who designed them. His presentations are solidly backed research presented in a dynamic, readily accessible, and easily discernible format that is conducive for any level of your organization, from boardroom to boiler room.
The information, delivered in a captivating, informative, and vibrant fashion, will reenergize your workforce, revitalize your corporate culture, and reinvigorate the dedication to your company's vision and mission. Bill's philosophy on presenting his information is simple.
Refund Policy
Registrants may cancel up to two working days prior to the course start date and will receive a letter of credit to be used towards a future course up to one year from date of issuance. ComplianceOnline would process/provide refund if the Live Webinar has been cancelled. The attendee could choose between the recorded version of the webinar or refund for any cancelled webinar. Refunds will not be given to participants who do not show up for the webinar. On-Demand Recordings can be requested in exchange.
Webinar may be cancelled due to lack of enrolment or unavoidable factors. Registrants will be notified 24hours in advance if a cancellation occurs. Substitutions can happen any time.
If you have any concern about the content of the webinar and not satisfied please contact us at below email or by call mentioning your feedback for resolution of the matter.
We respect feedback/opinions of our customers which enables us to improve our products and services. To contact us please email [email protected] call +1-888-717-2436 (Toll Free).
Product Reviews
This product hasn't received any reviews yet. Be the first to review this product! Write review