Preventing Harassment, Abusive Behavior, Bullying and Discrimination in the workplace (for staff)
Instructor:
ArLyne Diamond
Product ID:
706319
Training Level:
Basic to Intermediate
It only takes two people to have a behavior reported as either sexual harassment, bullying, or discrimination. Thus, we strongly recommend that you provide training to all employees at least annually no matter how many you consider your head count. This course is mandatory for managers and supervisors in companies having 50 or 15 or more employees. In California it has now changed to five (5) or more and other states will follow.
Purchase option for this webinar is currently unavailable. Please contact our Customer Care for more info.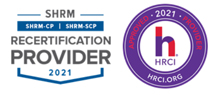 Course "The Importance of Documentation for Supervisors and Managers" has been pre-approved by SHRM as eligible for 2 credits and HRCI as eligible for 2 credits towards a participant's recertification upon full completion.
The use of this seal is not an endorsement by the HR Certification Institute of the quality of the program.
Why Should You Attend:
You should attend this course to:
Discover the laws governing workplace protections from harassment, bullying and discrimination in the workplace
Identify the specific requirements of the number of employees and what constitutes an employee under the law for this purpose and how often you need to offer the training
Explore the many examples of behaviors that need to be analyzed and make your own decisions regarding them
Identify things such as adverse treatment and adverse impact
Discover types of harassment, bullying and discrimination and what you can and cannot allow in the workplace
Recognize the more subtle forms of harassment, bullying and discrimination ( such as hostile work environment and third party harassment) and learn how to respond to them
Identify ways to investigate, sanction and offer remedies stopping all inappropriate behaviors
The definition of employee has been greatly enlarged to include contractors, part-time workers, and some others. Training of supervisors and managers is required at least every two years.
Areas Covered in the Webinar:
We cover the laws and examples of abuse, bullying, discrimination, harassment (sexual and otherwise) and the rights of the victim.
Finally, we offer information about handling complaints including how to treat the accused and possible remedies for the victim.
Many examples of behaviors that could be construed as either appropriate or inappropriate - depending on the point of view of those involved will be offered as well as examples of clear inappropriate behaviors. In addition to harassment and discrimination we define and discuss abusive behaviors - bullying, teasing, exploitation.
We not only discuss these in detail but also help you understand the nuances and protections for people who gender identify differently from what is specified on their birth certificate.
Who Will Benefit:
HR Professionals
Training Professionals
Senior Vice President
Vice President
Managing Director
Regional Vice President
Project Managers
Directors
Chief Learning Officer
Supervisors, Managers, and Leaders of businesses/government agencies of all kinds
All staff - because it only takes 2 people to cause a problem
Those that are mandated by law to provide the training
Anyone trying to stay current with the "climate"
All industries - non-profits - associations and employees of government agencies
Free Materials:
Reference documents
Rule documents or guidance
Checklist
SOP template
Easy fill in forms
Articles
Instructor Profile:

ArLyne Diamond
Founder and President, Diamond Associates
ArLyne Diamond, Ph.D. is an internationally recognized Leadership, Management, Professional Development and O-D consultant specializing in people and processes in the workplace. Multifaceted, Dr. Diamond has extensive experience in a wide range of disciplines (business, education, management, marketing, business ownership, psychology - and some economics and law as well.) This enables her to see things from a variety of angles and to cleave to the essence of a problem quickly, offering her clients creative and practical solutions.
As the President and Founder of her consulting firm, Diamond Associates, which was established in 1981, Dr. Diamond's clients range from boards of directors and upper management to support staff in many industries, both public and private. This includes small business and professional practices, corporations, associations, service/charity organizations and government agencies (including police and fire.) She works with individuals, teams and large groups. Dr. Diamond trains Boards of Directors and teaches several courses to board members and those striving for board appointments.
She is well known for her skill in large and small group process, including workshops in strategic planning, change management, conflict resolution, system streamlining, communication, management of people and projects, as well as board of directors development, committee and team training.
Her executive consulting/coaching and mentoring of individuals includes helping new CEOs grow into their position and learn how to create and work with executive teams, stakeholders, and others in their organization.
Dr. Diamond taught a wide range of MBA university courses in Business, Organizational Development, Quality, Change Management, Persuasion/ Negotiation, Marketing and Leadership and others. She also taught a series of Psychology courses to graduate and undergraduate students.
Refund Policy
Registrants may cancel up to two working days prior to the course start date and will receive a letter of credit to be used towards a future course up to one year from date of issuance. ComplianceOnline would process/provide refund if the Live Webinar has been cancelled. The attendee could choose between the recorded version of the webinar or refund for any cancelled webinar. Refunds will not be given to participants who do not show up for the webinar. On-Demand Recordings can be requested in exchange.
Webinar may be cancelled due to lack of enrolment or unavoidable factors. Registrants will be notified 24hours in advance if a cancellation occurs. Substitutions can happen any time.
If you have any concern about the content of the webinar and not satisfied please contact us at below email or by call mentioning your feedback for resolution of the matter.
We respect feedback/opinions of our customers which enables us to improve our products and services. To contact us please email [email protected] call +1-888-717-2436 (Toll Free).
Product Reviews
This product hasn't received any reviews yet. Be the first to review this product! Write review