How to Conduct an Internal Harassment and Bullying Investigation to Determine Facts and Minimize Liability
This webinar undertakes to explain the process of internal harassment and bullying investigation. Participants will learn how to handle harassment complaints and conduct the investigation to determine facts and minimize liability by analysing evidences, drawing conclusions, writing the formal report outlining the investigation and taking corrective actions where necessary.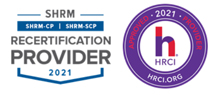 Course "How to Conduct an Internal Harassment and Bullying Investigation to Determine Facts and Minimize Liability" has been pre-approved by SHRM as eligible for 2 credits and HRCI as eligible for 2 credits towards a participant's recertification upon full completion.
The use of this seal is not an endorsement by the HR Certification Institute of the quality of the program.
Why Should You Attend:
The EEOC requires that employers receiving a complaint, or otherwise learning of alleged harassment in the workplace, to "investigate promptly and thoroughly…take immediate and appropriate corrective action by doing whatever is necessary to end the harassment, make the victim whole by restoring lost employment benefits or opportunities, and prevent the misconduct from recurring".
That's a tall order to ensure a just and fair handling of a harassment complaint - an essential order that all organizations are required, by law, to follow. The investigation process is, perhaps, the most critical element in dealing with harassment.
This training program helps in identifying the critical components of harassment/bullying investigation in order to determine correct facts and reducing liabilities.
Areas Covered in the Webinar:
To determine if an investigation is necessary
To discuss the steps of an investigation
To explore the intricacies of interviewing the accuser, accused and witnesses
To differentiate between a formal and informal investigative procedures
To determine credibility of all interviewees
To draw conclusions following an investigation
To list necessary elements in writing the formal report outlining the investigation
Who Will Benefit:
Human resources professionals
HR training manager
Investigative officers
Managers
Supervisors
Team leads
Directors
Department Head
Instructor Profile:

Dr. Susan Strauss
Workplace and Education Harassment and Bullying Consultant, Strauss Consulting
Dr. Susan Strauss is a national and international speaker, trainer and consultant. Her specialty areas include management/leadership development, organization development, communication, and harassment and bullying. She is an expert witness for discrimination and harassment lawsuits. She trains and consults with business, education, healthcare, law, and government organizations from both the public and private sector.
Dr. Strauss has authored over 30 book chapters, books, and articles in professional journals. She has been featured on 20/20, CBS Evening News, and other television and radio programs as well as interviewed for newspaper and journal articles.
She has her doctorate in organizational leadership, is a registered nurse with a bachelor's degree in psychology and human services, a master's degree in community health, and professional certificate in training and development.
Refund Policy
Registrants may cancel up to two working days prior to the course start date and will receive a letter of credit to be used towards a future course up to one year from date of issuance. ComplianceOnline would process/provide refund if the Live Webinar has been cancelled. The attendee could choose between the recorded version of the webinar or refund for any cancelled webinar. Refunds will not be given to participants who do not show up for the webinar. On-Demand Recordings can be requested in exchange.
Webinar may be cancelled due to lack of enrolment or unavoidable factors. Registrants will be notified 24hours in advance if a cancellation occurs. Substitutions can happen any time.
If you have any concern about the content of the webinar and not satisfied please contact us at below email or by call mentioning your feedback for resolution of the matter.
We respect feedback/opinions of our customers which enables us to improve our products and services. To contact us please email customercare@complianceonline.com call +1-888-717-2436 (Toll Free).
Product Reviews
This product hasn't received any reviews yet. Be the first to review this product! Write review