Protecting Your Brand during a Layoff or RIF: Best Practices for Planning, Notifications and Moving Forward
In this webinar, learn how to properly and ethically communicate with affected workers and with those employees who will be staying with the company post-RIF (i.e., the layoff survivors).
Purchase option for this webinar is currently unavailable. Please contact our Customer Care for more info.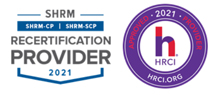 Course "Protecting Your Brand during a Layoff or RIF: Best Practices for Planning, Notifications and Moving Forward" has been pre-approved by SHRM as eligible for 1 credits and HRCI as eligible for 1 credits towards a participant's recertification upon full completion.
The use of this seal is not an endorsement by the HR Certification Institute of the quality of the program.
Why Should You Attend:
Taking steps to ensure that layoff notifications and post-notification communication is properly the best way to keep a difficult situation from being worse than it has to be for everyone involved, as well as to protect the brand and image of the organization as a whole.
A reduction in workforce (RIF) is definitely not a situation that any manager, business owner or HR professional wants to face, but the reality is that these circumstances do occur. HR professionals, managers and leaders who will be involved in the process of planning and implementing layoff notifications must be well-trained in advance. They must know how to properly and ethically communicate with affected workers and with those employees who will be staying with the company post-RIF (i.e., the layoff survivors).
The way layoff notifications are handled will have a significant and direct impact on the entire organization, including both the people who are directly affected (meaning their positions have been eliminated) and the individuals who will be staying with your organization the layoff survivors as the company moves forward. Further, the organization's overall brand can also be affected both in terms of how the company is perceived as an employer and as a provider of goods or services.
Simply put, there are right and wrong ways to communicate in RIF's circumstances, and involved supervisors and HR professionals must be properly trained in advance. Failure to do so can result in harm to the individuals affected as well as the brand and image of the organization itself. Proper planning is key implementation.
Supervisors, HR professionals and others who will be involved in notifying affected workers must be trained on how RIF's notification conversations should be structured and they also need know how to apply what they learned in the real world. Company leaders must also be trained on what to expect in terms of the impact that downsizing will have on layoff survivors so they'll know what to expect and be able to lead effectively following notification.
Learning Objectives:
Keys to effective leadership leading up to, during and following layoff notifications
Best practices for layoff notification conversations, including timing, content and delivery
Example "best practice" notification conversations to use as a guide for scripting your situation
What to expect in terms of responses, questions and reactions from affected workers so you can draft sample responses ahead of time
Communicating with remaining employees in affected departments as well as other areas within the organization
Managerial considerations regarding layoff survivor emotions, morale, productivity and team structure
Leading effectively during what is sure to be a turbulent time in the organization
Who Will Benefit:
Managers
Supervisors
Executives
HR Professionals
Employee relations professionals
Risk management professionals
Compliance professionals
Business owners
Instructor Profile:

Mary Gormandy White
Director, MTI Business Solutions
Mary Gormandy White, M.A., SHRM-SCP, SPHR is managing director of MTI Business Solutions a leading Gulf Coast corporate training/talent development firm working with clients throughout the U.S. as an Everything DiSC and Five Behaviors of a Cohesive Team Authorized Partner. She specializes in training, assessment and consulting services focused on building better workplaces through developing skills related to HR, management, leadership, workplace relationships, communication, team building customer service and more.
Mary holds graduate and undergraduate degrees in Communication and her certifications include Senior Professional in Human Resources (SPHR), SHRM Senior Certified Professional (SHRM-SCP) and Everything DiSC Certified Trainer/Accredited Workplace Facilitator. Mary's professional background includes extensive experience in management, HR, instructional design and more. She is a frequent keynote speaker at conferences and association meetings nationwide.
Refund Policy
Registrants may cancel up to two working days prior to the course start date and will receive a letter of credit to be used towards a future course up to one year from date of issuance. ComplianceOnline would process/provide refund if the Live Webinar has been cancelled. The attendee could choose between the recorded version of the webinar or refund for any cancelled webinar. Refunds will not be given to participants who do not show up for the webinar. On-Demand Recordings can be requested in exchange.
Webinar may be cancelled due to lack of enrolment or unavoidable factors. Registrants will be notified 24hours in advance if a cancellation occurs. Substitutions can happen any time.
If you have any concern about the content of the webinar and not satisfied please contact us at below email or by call mentioning your feedback for resolution of the matter.
We respect feedback/opinions of our customers which enables us to improve our products and services. To contact us please email [email protected] call +1-888-717-2436 (Toll Free).
Product Reviews
This product hasn't received any reviews yet. Be the first to review this product! Write review