Leave in the Time of COVID: Navigating Employee Leave Under FFCRA, FMLA, ADA and Workers' Comp
In addition to the FMLA and the ADA, now we have the Families First Coronavirus Response Act (FFCRA), mandating paid leave for many employees for COVID-related reasons. In this webinar, we will discuss key, hot-button compliance issues and share some Best Practices for managing a workforce while staying in compliance with the FFCRA, the FMLA, ADA, and Workers' Comp.
Purchase option for this webinar is currently unavailable. Please contact our Customer Care for more info.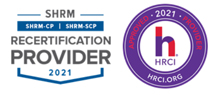 Course "Leave in the Time of COVID: Navigating Employee Leave Under FFCRA, FMLA, ADA and Workers' Comp" has been pre-approved by SHRM as eligible for 1.5 credits and HRCI as eligible for 1.5 credits towards a participant's recertification upon full completion.
The use of this seal is not an endorsement by the HR Certification Institute of the quality of the program.
Why Should You Attend:
The COVID-19 pandemic has changed so much of the world as we knew it. With such an infectious disease, the employee has either been sick or caring for family members who are – or have had to deal with school and child care closings, or so many other issues arising out of COVID. Employees have needed to take time off to deal with these many challenges. In turn, employers have the challenge of running their business and managing employee leave during such turbulent times.
Even more simple leave requests can be complex and nuanced, posing challenges to even the most seasoned Leave Administrators. The possibility of costly, drawn-out litigation, only adds to the stress and pressure. Add to that: most employees making leave requests will be eligible for protection under the FMLA, ADA, and, now, the Families First Coronavirus Response Act (FFCRA) among other laws. How does an employer untangle that web? This webinar will explore that and other questions many employers have been asking.
Areas Covered in the Webinar:
FMLA, ADA, FFCRA and Workers' Comp Basics
Where FMLA, ADA, FFCRA and Workers' Comp overlap, and where/how they differ;
Calculation of pay during paid time off under the FFCRA
How to request and document leave under the FFCRA
Understanding some of the key provisions in the DOL's 5 rounds of guidance in the wake of the FFCRA
What it means to be "unable" to work or telework
Whether or not intermittent leave under the FFCRA's Emergency Paid Sick Leave and Emergency FMLA provisions is allowed
Who Will Benefit:
HR Directors,
all HR Practitioners,
CEO's, Business Owners,
Senior Managers,
Leave Administrators,
Benefits Administrators,
CFO's,
Controllers,
Payroll/Compensation Officers,
In-House Counsel
Instructor Profile:

Janette Levey Frisch
Employment and HR Attorney, The Emplawyerologist Firm
Janette Levey Frisch is an attorney with more than 20 years' legal experience. She works with employers on most employment law issues to ensure that employers are in the best position possible to avoid litigation, audits, employee relations problems, and the attendant, often exorbitant costs. She authors the firm's weekly blog, where she discusses issues impacting employers today. She has written articles on many different employment law issues for many publications, including EEO Insight, Staffing Industry Review, @Law, and Chief Legal Officer.
Ms. Frisch has also spoken and trained on topics, such as criminal background checks in the hiring process, joint employment, severance arrangements, pre-employment screening among many others. She is licensed in New Jersey and New York. In addition, she serves as a Legal Wellness Professional to employers outside New Jersey and New York on almost all federal employment law issues, to enable employees to address workplace challenges before they escalate to litigation or costly audits.
Ms. Frisch is also a contributor to the recently released book, "Hiring Greatness: How to Recruit Your Dream Team and Crush the Competition," published by John Wiley and Sons, and authored by David E. Perry and Mark J. Haluska.
Janette serves as a Task Force Member of the Institute for Workplace Violence Prevention, an interdisciplinary think tank, dedicated to providing holistic, proactive solutions to employers serious about promoting a safe workplace.

Refund Policy
Registrants may cancel up to two working days prior to the course start date and will receive a letter of credit to be used towards a future course up to one year from date of issuance. ComplianceOnline would process/provide refund if the Live Webinar has been cancelled. The attendee could choose between the recorded version of the webinar or refund for any cancelled webinar. Refunds will not be given to participants who do not show up for the webinar. On-Demand Recordings can be requested in exchange.
Webinar may be cancelled due to lack of enrolment or unavoidable factors. Registrants will be notified 24hours in advance if a cancellation occurs. Substitutions can happen any time.
If you have any concern about the content of the webinar and not satisfied please contact us at below email or by call mentioning your feedback for resolution of the matter.
We respect feedback/opinions of our customers which enables us to improve our products and services. To contact us please email cust[email protected] call +1-888-717-2436 (Toll Free).
Product Reviews
This product hasn't received any reviews yet. Be the first to review this product! Write review