Holy Smoke! An Employer's Guide to Medical Marijuana in the Workplace
15
July 2021
Thursday
10:00 AM PDT | 01:00 PM EDT
Duration: 90 Min
In this webinar, we will explore the challenges employers now face in managing employee marijuana use. We will, also discuss applicable laws (both statutes and cases) addressing this subject, analyze recent court cases. The laws, of course vary by state. You will receive an overview of where many of the different states are currently holding with respect to medical and recreational marijuana and employer's rights and obligations.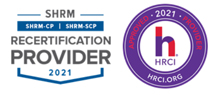 Course "Holy Smoke! An Employer's Guide to Medical Marijuana in the Workplace" has been pre-approved by SHRM as eligible for 1.5 credits and HRCI as eligible for 1.5 credits towards a participant's recertification upon full completion.
The use of this seal is not an endorsement by the HR Certification Institute of the quality of the program.
Why Should You Attend:
Many states have now legalized marijuana use (for both recreational and medicinal purposes). Yet, under federal law, marijuana use and possession remains illegal, leaving employers in a quandary. Regardless of legalization in many states, National Institute of Health (NIH) studies still show links between marijuana use and increased risk of accidents and injuries. Employers remain legally obligated to provide their employees a safe workplace and, where applicable to keep the public safe from any accidents or injuries that could result from an employee's drug use.
What's an employer to do? Can you still conduct pre-employment, post-accident or random drug screens? Should you? Can you still implement a drug-free workplace policy? What if you are an employer with a "zero tolerance" drug use policy? Must you now do away with it? Do you have to hire someone who tests positive for marijuana? Can you terminate an employee who does? If so, how?
Some employers are now in a difficult position in that they must look past a positive drug test unless they can show that an employee is impaired due to marijuana use during work hours. Since urine-based drug tests do not actually measure impairment, and there is currently very little guidance from courts in those states, employers are left wondering how they are supposed to meet such a standard.
Areas Covered in the Webinar:
State laws regarding Medical and Recreational Marijuana
Conflicting Federal laws
Discussion of some State/Local Laws
Inquiring about legal drug use
Alcohol, Drugs and Disabilities
Fitness for Duty and the Direct Threat
Workplace policies
Case examples, case studies
Who Will Benefit:
CEO
Founder
Senior managers,
VP HR
HR Director
HR Manager
HR Generalist,
Safety Director
Safety Officers
All managers
Instructor Profile:

Janette Levey Frisch
Employment and HR Attorney, The Emplawyerologist Firm
Janette Levey Frisch is an attorney with more than 20 years' legal experience. She works with employers on most employment law issues to ensure that employers are in the best position possible to avoid litigation, audits, employee relations problems, and the attendant, often exorbitant costs. She authors the firm's weekly blog, where she discusses issues impacting employers today. She has written articles on many different employment law issues for many publications, including EEO Insight, Staffing Industry Review, @Law, and Chief Legal Officer.
Ms. Frisch has also spoken and trained on topics, such as criminal background checks in the hiring process, joint employment, severance arrangements, pre-employment screening among many others. She is licensed in New Jersey and New York. In addition, she serves as a Legal Wellness Professional to employers outside New Jersey and New York on almost all federal employment law issues, to enable employees to address workplace challenges before they escalate to litigation or costly audits.
Ms. Frisch is also a contributor to the recently released book, "Hiring Greatness: How to Recruit Your Dream Team and Crush the Competition," published by John Wiley and Sons, and authored by David E. Perry and Mark J. Haluska.
Janette serves as a Task Force Member of the Institute for Workplace Violence Prevention, an interdisciplinary think tank, dedicated to providing holistic, proactive solutions to employers serious about promoting a safe workplace.
Refund Policy
Registrants may cancel up to two working days prior to the course start date and will receive a letter of credit to be used towards a future course up to one year from date of issuance. ComplianceOnline would process/provide refund if the Live Webinar has been cancelled. The attendee could choose between the recorded version of the webinar or refund for any cancelled webinar. Refunds will not be given to participants who do not show up for the webinar. On-Demand Recordings can be requested in exchange.
Webinar may be cancelled due to lack of enrolment or unavoidable factors. Registrants will be notified 24hours in advance if a cancellation occurs. Substitutions can happen any time.
If you have any concern about the content of the webinar and not satisfied please contact us at below email or by call mentioning your feedback for resolution of the matter.
We respect feedback/opinions of our customers which enables us to improve our products and services. To contact us please email [email protected] call +1-888-717-2436 (Toll Free).
Product Reviews
This product hasn't received any reviews yet. Be the first to review this product! Write review