Outstanding Leadership Through Social Intelligence
In this HR compliance webinar attendees will learn the best practices for using social intelligence in leadership contexts and the case studies on effective use of social intelligence-based strategies and provides clear take-aways to help you become an outstanding leader.
Purchase option for this webinar is currently unavailable. Please contact our Customer Care for more info.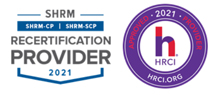 Course "Outstanding Leadership Through Social Intelligence" has been pre-approved by SHRM as eligible for 1-credit and HRCI as eligible for 1-credit towards a participant's recertification upon full completion.
The use of this seal is not an endorsement by the HR Certification Institute of the quality of the program.
Why Should You Attend:
You can become a truly outstanding leader through developing your social intelligence, the strategic ability to evaluate and influence other people's emotions and behaviors. Social intelligence skills will determine your success in cultivating valuable relationships, improving teamwork, managing conflicts, exhibiting executive presence, and guiding stakeholders to achieving organizational objectives.
Attending this webinar is obligatory for anyone who wants to develop their ability to advance employee motivation and engagement, facilitating higher performance, productivity, and retention, and reducing discord, tensions, and hostility.
Learning Objectives:
Identify where your leadership skills can most benefit from improving your social intelligence
Learn best practices for using social intelligence in leadership contexts
Discover how truly outstanding leaders use social intelligence to achieve their leadership goals
Adapt social intelligence-informed strategies from these leaders into your own leadership toolkit
Empower others in your organization to improve their leadership through social intelligence
Areas Covered in the Webinar:
Why leaders in the increasingly disrupted future cannot afford to rely on traditional modes of leadership
Why leaders of the future need to pursue socially intelligent leadership to succeed
What does it mean to be a socially intelligent leader, and how this differs from traditional images of leadership
The extensive behavioral economics research on social intelligence, and the implications for leaders
Case studies of effective socially intelligent leadership
Why traditional leadership advice of going with your gut and trusting your intuitions often leads to disastrous results
Where and when should we trust our gut, and when we should not
Specific social intelligence techniques that you can deploy from anywhere in your organization
Strategies for empowering others in your organization to improve their leadership through social intelligence
Who Will Benefit:
CEOs (Chief Executive Officers)
CFOs (Chief Financial Officers)
COOs (Chief Operating Officers)
CCOs (Chief Compliance Officers)
CROs (Chief Risk Officers)
CTOs (Chief Technology Officers)
CIOs (Chief Information Officers)
CSOs (Chief Security Officers)
CAOs (Chief Audit Officers)
Leaders
Executives
Vice Presidents
Hiring Managers
Key Line Executives
Key Line Managers
Supervisors
HR Personnel
HR Supervisors
Senior Managers
Mid-Level Managers
Foremen
Department Heads
Trainers
Owners
Principles
Consultants
Presidents
Board Members
Company / Business Owners
Senior Risk Management and Operational Risk Officers
Quality Assurance Managers
Compliance Directors
Compliance Managers
Audit Managers
ERM (Enterprise Risk Management) Leaders
Instructor Profile:

Gleb Tsipursky
CEO, Disaster Avoidance Experts LLC
Known as the Disaster Avoidance Expert, Dr. Gleb Tsipursky has over 20 years of experience empowering professionals and organizations to avoid business disasters by addressing potential threats, maximize unexpected opportunities, and resolve persistent personnel problems. The author of the national bestseller on avoiding disasters, The Truth Seeker's Handbook: A Science-Based Guide, Gleb also published over 400 articles and was featured in over 350 interviews, including in Fast Company, CBS News, Time, Scientific American, Psychology Today, The Conversation, Business Insider, Government Executive, Inc. Magazine, and many other venues. Gleb serves as the CEO of the boutique consulting firm Disaster Avoidance Experts, which uses a proprietary methodology based on cutting-edge research to help clients maximize their bottom line. He also has a strong research and teaching background in behavioral science with over 15 years in academia, including 7 years as a professor at the Ohio State University.


Refund Policy
Registrants may cancel up to two working days prior to the course start date and will receive a letter of credit to be used towards a future course up to one year from date of issuance. ComplianceOnline would process/provide refund if the Live Webinar has been cancelled. The attendee could choose between the recorded version of the webinar or refund for any cancelled webinar. Refunds will not be given to participants who do not show up for the webinar. On-Demand Recordings can be requested in exchange.
Webinar may be cancelled due to lack of enrolment or unavoidable factors. Registrants will be notified 24hours in advance if a cancellation occurs. Substitutions can happen any time.
If you have any concern about the content of the webinar and not satisfied please contact us at below email or by call mentioning your feedback for resolution of the matter.
We respect feedback/opinions of our customers which enables us to improve our products and services. To contact us please email customercare@complianceonline.com call +1-888-717-2436 (Toll Free).
Product Reviews
This product hasn't received any reviews yet. Be the first to review this product! Write review