Valuing and Implementing Social Media Etiquette Today
Instructor:
Cristina Cain
Product ID:
705867
Training Level:
Intermediate
This webinar will help you in creating Social Media strategy for your business at all level of management. You will learn Social Media Guidelines, Social Media Do's and Don'ts, Social Media Policy, Reputation Management and how to avoid Social Media Mishaps.
Purchase option for this webinar is currently unavailable. Please contact our Customer Care for more info.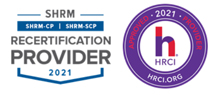 Course "Valuing and Implementing Social Media Etiquette Today" has been pre-approved by SHRM as eligible for 1 credits and HRCI as eligible for 1 credits towards a participant's recertification upon full completion.
The use of this seal is not an endorsement by the HR Certification Institute of the quality of the program.
Why Should You Attend:
The expanse of Social Media has gone well beyond it's intended borders and has now infiltrated the workplace, and how we conduct business on a "day to day" basis. Being well versed in Social Media Etiquette is no longer optional but mandatory.
Not only can a business fail, it can suffer from a damaged reputation by social media mishaps. The concern is now valid pertaining to employees alike who are terminated as result of their NOT being well versed in Social Media Etiquette. Laying down the Do's & Don'ts of Social media is no longer optional but essential, not only the "right" thing to do, but the "smart" thing to do.
Areas Covered in the Webinar:
Leadership Etiquette from the TOP down
Be careful what you post it lives on beyond delete
If you have nothing nice to say don't tweet it
Create a social media policy
Social-media can violate federal labor laws who knew?
Social Media Stats
It's OK to NOT Conn
Who Will Benefit:
Employers/Employees
Human Resources Professionals
Staff Handling Employment Issues
Public Relations
HR Consultants
Instructor Profile:

Cristina Cain
International Speaker, Cain and Cain Public Relations Boutique
Cristina Cain - Publicist| Author|Media Coach|International Speaker, is Partner of Cain & Cain Public Relations Boutique. She has 10 years+ in the field of human resource Management and is a philanthropist who believes charity should be implemented within the marketplace. Cristina has been called "a Bold Voice" A TV/Radio Personality and Best selling Author. Her daring and thought provoking Social Media platforms has dubbed her a thought leader. It has earned her respect for addressing the elephant while creating solutions!
Refund Policy
Registrants may cancel up to two working days prior to the course start date and will receive a letter of credit to be used towards a future course up to one year from date of issuance. ComplianceOnline would process/provide refund if the Live Webinar has been cancelled. The attendee could choose between the recorded version of the webinar or refund for any cancelled webinar. Refunds will not be given to participants who do not show up for the webinar. On-Demand Recordings can be requested in exchange.
Webinar may be cancelled due to lack of enrolment or unavoidable factors. Registrants will be notified 24hours in advance if a cancellation occurs. Substitutions can happen any time.
If you have any concern about the content of the webinar and not satisfied please contact us at below email or by call mentioning your feedback for resolution of the matter.
We respect feedback/opinions of our customers which enables us to improve our products and services. To contact us please email [email protected] call +1-888-717-2436 (Toll Free).
Product Reviews
This product hasn't received any reviews yet. Be the first to review this product! Write review