Thriving Under Pressure: Emotional Self Control
This HR compliance webinar will teach you a systematic process for developing "emotional self-control". It will help you approach your life with more discipline and will help you learn how to make better choices.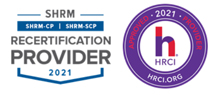 Course "Thriving Under Pressure: Emotional Self Control" has been pre-approved by SHRM as eligible for 1.5-credit and HRCI as eligible for 1.5-credit towards a participant's recertification upon full completion.
The use of this seal is not an endorsement by the HR Certification Institute of the quality of the program.
Why Should You Attend:
All of us have experienced unwanted emotions at work – either with our coworkers, our boss, or ourselves. While having emotions is normal, it's what we do with them that can lead to problems – with our relationships, our productivity and our well-being.
Learning Objectives:
Identify and control YOUR emotional hot buttons
Stop getting so worked up over little things
Stay centered in pressure situations
Stop avoiding conflict
Graceful "exit lines"
Safe ways to blow off steam
Areas Covered in the Webinar:
Identify the people or situations that cause us to "lose it" emotionally
Review the 7 emotional states of change
Learn the components of your emotional system
Review the 7 emotional patterns that cause most of what troubles us
Identify and control YOUR emotional hot buttons
Discuss importance of journaling
Discuss physiological symptoms
Discuss graceful "exit lines" for group specific scenarios
Learn formula for how to confront a difficult person
Who Will Benefit:
Employees
Managers / Supervisors
Existing Managers wanting to enhance their leadership skills
Future management candidates
Human Resources Professionals
Anyone with a desire to improve how they manage their emotions
Instructor Profile:

Barbara Khozam
Founder, Barbara Khozam Speaking and Consulting
As the founder of Barbara Khozam Speaking and Consulting, Barbara is an internationally recognized speaker and trainer having delivered over 1700 presentations to 75,000 people in ten countries on Customer Service, Leadership, and Communication. Her audiences include employees of Xerox, Symantec, Verizon, and the FBI to name a few. Known for her "High Energy/High Impact" delivery, outrageous wit, and ability to tackle real issues posed by her audience, she has been the recipient of 27 awards for Sales Achievement & Outstanding Trainer Ratings.
Barbara is the author of How Organizations Deliver BAD Customer Service (And Strategies that Turn it Around) and the co-author of The Power of the Platform, and Executive Etiquette Power.
In 2014 Barbara was the 14th woman in the world to be honored by Toastmasters International with their elite Accredited Speaker designation for "outstanding platform professional speaking." Only 81 have earned the award in 145 countries.

Refund Policy
Registrants may cancel up to two working days prior to the course start date and will receive a letter of credit to be used towards a future course up to one year from date of issuance. ComplianceOnline would process/provide refund if the Live Webinar has been cancelled. The attendee could choose between the recorded version of the webinar or refund for any cancelled webinar. Refunds will not be given to participants who do not show up for the webinar. On-Demand Recordings can be requested in exchange.
Webinar may be cancelled due to lack of enrolment or unavoidable factors. Registrants will be notified 24hours in advance if a cancellation occurs. Substitutions can happen any time.
If you have any concern about the content of the webinar and not satisfied please contact us at below email or by call mentioning your feedback for resolution of the matter.
We respect feedback/opinions of our customers which enables us to improve our products and services. To contact us please email [email protected] call +1-888-717-2436 (Toll Free).
Product Reviews
This product hasn't received any reviews yet. Be the first to review this product! Write review