Form W-2 for 2019: All You Need to Know
This training program will discuss various aspects of the IRS Form W-2 for 2019. The webinar will cover requirements for completing and filing the form including a box by box explanation. Best practices for completing and reconciling the form, and handling duplicate requests from employees will also be covered. The webinar training will further look at when to use the correction Form W-2c and the latest requirements for the Affordable Health Care Act as it relates to reporting requirements on the form.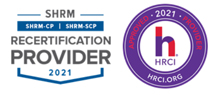 Course "Form W-2 for 2019: All You Need to Know" has been pre-approved by SHRM as eligible for 1.5 credits and HRCI as eligible for 1.5 credits towards a participant's recertification upon full completion.
The use of this seal is not an endorsement by the HR Certification Institute of the quality of the program.
Why Should You Attend:
Each year the Form W-2 is reissued by the IRS and 2019 is no exception.
So what is new for this year and what changes are in place for upcoming years?
Do I reissue writing corrected statement on the top of the form or do I need to complete a Form W-2c?
The evitable request for duplicate copies of the form: what is the best practice for handling these requests?
Must the form be a paper version of the form or can it be electronic and can I charge a fee for such a request?
In order to understand how to process Form W-2 correctly, it is also important to understand what the IRS expects to be submitted within each of the boxes on the form. This webinar will review those requirements box by box, paying special attention to known hot spots to watch out for, such as payments made by sources other than payroll including accounts payable.
This course will highlight best practices, developed over the years to collect this data in the most efficient manner possible, which each payroll department must implement. Despite careful planning, things can go wrong and when an incorrect Form W-2 is issued, the decision on how to correct the form poses various other questions too. This course will present strategies for the same.
Areas Covered in the Webinar:
Understanding the 2019 requirements for the Form W-2 including:
Changes to the Form W-2 for 2019 including the latest on the new verification code in box 9
Line by line completion of the Form W-2
Reconciliation of Form W-2 to Form 941-best practices on when and why it must be done
Electronic delivery of W-2s to employees—what is required to set up the program
When to use the Form W-2c and when to correct the W-2 itself
Penalties for incorrect information have double and how that makes it imperative to verify employee names and social security number with the SSA data base
Who Will Benefit:
Payroll Executives/Managers/Administrators/Professionals/Practitioners/Entry Level Personnel
Human Resources Executives/Managers/Administrators
Accounting Personnel
Business Owners/Executive Officers/Operations and Departmental Managers
Lawmakers
Attorneys/Legal Professionals
Any individual or entity that must deal with the complexities and requirements of Payroll compliance issues
Instructor Profile:

Vicki M. Lambert
President and Academic Director, The Payroll Advisor
Vicki M. Lambert, CPP, is President and Academic Director of The Payroll Advisor™, a firm specializing in payroll education and training. The company's website www.thepayrolladvisor.com offers a payroll news service which keeps payroll professionals up-to-date on the latest rules and regulations.
With over 35 years of hands-on experience in all facets of payroll functions as well as over 20 years as a trainer and author, Ms. Lambert has become the most sought-after and respected voice in the practice and management of payroll issues. She has conducted open market training seminars on payroll issues across the United States that have been attended by executives and professionals from some of the most prestigious firms in business today.
Topic Background:
Gathering the data for Form W-2 begins when the first payroll is run for 2019 and ends when it is reconciled after the last processing of the year. But there is more to ensuring that this document is correct and corresponds to all IRS and Social Security Administration (SSA) regulations than just crossing your fingers and hoping all the wages processed through payroll got into the right box. You even run the risk of having the Form W-2 rejected by the SSA.
Submitting the form has changed over the years. Starting out and continuing as a paper form has been the norm. However, in recent years, technology has permitted payroll departments to begin submitting this form to employees electronically. But if and only if certain conditions are met including a full disclosure statement that must be signed by the employee.
Refund Policy
Registrants may cancel up to two working days prior to the course start date and will receive a letter of credit to be used towards a future course up to one year from date of issuance. ComplianceOnline would process/provide refund if the Live Webinar has been cancelled. The attendee could choose between the recorded version of the webinar or refund for any cancelled webinar. Refunds will not be given to participants who do not show up for the webinar. On-Demand Recordings can be requested in exchange.
Webinar may be cancelled due to lack of enrolment or unavoidable factors. Registrants will be notified 24hours in advance if a cancellation occurs. Substitutions can happen any time.
If you have any concern about the content of the webinar and not satisfied please contact us at below email or by call mentioning your feedback for resolution of the matter.
We respect feedback/opinions of our customers which enables us to improve our products and services. To contact us please email customercare@complianceonline.com call +1-888-717-2436 (Toll Free).
Product Reviews
This product hasn't received any reviews yet. Be the first to review this product! Write review