Form W-4 for 2019: Best Practice and Compliance Requirements
This webinar covers the IRS Form W-4 for 2019 including the requirements for completing the form properly, handling non-resident aliens, state equivalent forms, record retention and processing the form electronically instead of on paper. We also cover the changes to the 2019 form caused by the Tax Cuts and Jobs Act and give information on the related anticipated changes to Form W-4 for 2020. We will also discuss best practices for processing more efficiently within the department.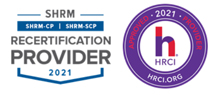 Course "Form W-4 for 2019: Best Practice and Compliance Requirements" has been pre-approved by SHRM as eligible for 1.5 credits and HRCI as eligible for 1.5 credits towards a participant's recertification upon full completion.
The use of this seal is not an endorsement by the HR Certification Institute of the quality of the program.
Why Should You Attend:
Questions arise in processing the forms almost daily in a payroll department. Is it a valid form? If not, what should payroll do to correct the problem? Can the employee request a flat dollar amount on the form? Can the form designate a percentage of wages for taxes? These are the types of questions that must be answered to process the form completely and correctly. And it isn't just the federal form that payroll must process; many states have their own version of the form or use the federal form for state tax withholding.
Attend this 90 minute presentation to better understand the function and requirements of the Form W-4 and its relationship to the payroll process. This information will also allow you to identify and correct problems and errors in completing and processing the Form W-4 which will enable your payroll department to operate more efficiently and effectively.
*We will also preview the completely revamped and still in draft Form W-4 for 2019!*
Areas Covered in the Webinar:
Changes to the form for 2019
The effective date of new and revised Form W-4 information
Effective methods for handling incomplete or improperly completed forms
When you must send Form W-4 to the IRS—it's not what you think!
Effective strategies for streamlining your processing procedures you can use right now
How to withhold federal taxes in the absence of a valid Form W-4
The difference between an invalid form and a "questionable" one
The record retention requirements for Form W-4
How to make employee verification part of your Form W-4 process
Tips on setting up an electronic system for Form W-4
Proper handling of IRS lock-in letters
State equivalent forms versus Form W-4
When an employee must submit a new form versus when they may submit a revised form
How to deal with visas and Form W-4
Who Will Benefit:
Payroll Executives/Managers/Administrators/Professionals/Practitioners/Entry Level Personnel
Human Resources Executives/Managers/Administrators
Accounting Personnel
Business Owners/Executive Officers/Operations and Departmental Managers
Lawmakers
Attorneys/Legal Professionals
Any individual or entity that must deal with the complexities and requirements of Payroll compliance issues
Instructor Profile:

Vicki M. Lambert
President and Academic Director, The Payroll Advisor
Vicki M. Lambert, CPP, is President and Academic Director of The Payroll Advisor™, a firm specializing in payroll education and training. The company's website www.thepayrolladvisor.com offers a payroll news service which keeps payroll professionals up-to-date on the latest rules and regulations.
With over 35 years of hands-on experience in all facets of payroll functions as well as over 20 years as a trainer and author, Ms. Lambert has become the most sought-after and respected voice in the practice and management of payroll issues. She has conducted open market training seminars on payroll issues across the United States that have been attended by executives and professionals from some of the most prestigious firms in business today.
Topic Background:
The importance of Form W-4 is fundamental to the payroll department. Most payroll functions from beginning to end rely on the information provided on the form. It is the foundation for the taxation of an employee's paycheck as well as the required IRS form. Failure to handle the form correctly and completely can open the door to serious problems not only in properly withholding from the employee's gross wages but its ramifications could extend beyond the regulations and affect payroll customer service or employee morale. It can even lead to costly expenditures of time and budget resources to correct non-compliance consequences.


Refund Policy
Registrants may cancel up to two working days prior to the course start date and will receive a letter of credit to be used towards a future course up to one year from date of issuance. ComplianceOnline would process/provide refund if the Live Webinar has been cancelled. The attendee could choose between the recorded version of the webinar or refund for any cancelled webinar. Refunds will not be given to participants who do not show up for the webinar. On-Demand Recordings can be requested in exchange.
Webinar may be cancelled due to lack of enrolment or unavoidable factors. Registrants will be notified 24hours in advance if a cancellation occurs. Substitutions can happen any time.
If you have any concern about the content of the webinar and not satisfied please contact us at below email or by call mentioning your feedback for resolution of the matter.
We respect feedback/opinions of our customers which enables us to improve our products and services. To contact us please email customercare@complianceonline.com call +1-888-717-2436 (Toll Free).
Product Reviews
This product hasn't received any reviews yet. Be the first to review this product! Write review