The Business Case for LGBT Inclusion in the Workplace: Navigating Policies, Procedures, Practices and Bathrooms
This training program will examine LGBT perceptions and stereotypes and help understand the business case for LGBT inclusion in the workforce. It will also establish gender transition guidelines and list organization best practices to minimize discrimination.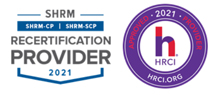 Course "The Business Case for LGBT Inclusion in the Workplace: Navigating Policies, Procedures, Practices and Bathrooms" has been pre-approved by SHRM as eligible for 1 credits and HRCI as eligible for 1 credits towards a participant's recertification upon full completion.
The use of this seal is not an endorsement by the HR Certification Institute of the quality of the program.
Why Should You Attend:
How does your business go about recruiting the LGBT community?
Do any of your advertising and marketing practices target LGBT consumers?
Do you know how to assist a transgendered employee in their gender transition process at work?
And what about those bathrooms—how are you addressing this issue?
Heterosexism – the cultural expectation that everyone is, should be, or would prefer to be heterosexual - is the established norm of the workplace; a commonplace bias in American institutions. This bias gets played out in both overt and covert behaviors which in turn negatively impact the organizational culture. However, there have been organizational successes in diminishing the biases. There is an opportunity for your organization to create strategies to ensure LGBT inclusion in your workforce.
This webinar will address these questions and discuss workplace norms that can help your organization develop LGBT supportive policies and practices. It will also discuss international LGBT considerations and offer guidelines for transitioning of a transgender employee.
Learning Objectives:
To examine LGBT perceptions and stereotypes
To discover the business case for LGBT inclusion in the workforce
To describe the impact on LGBT employees and the workplace when they fear being who they are at work
To discuss transgender
To examine gender transition guidelines
To identify organization practices to minimize discrimination
To discuss the outcome of LGBT supportive policies and practices
To develop organization and individual strategies for GLB inclusion into the workforce
Areas Covered in the Webinar:
The Implicit Association Test (online)
Recruitment and retention
Heterosexism assumptions
International LGBT considerations
Marketing and advertising
Restroom access for transgender employees
Responding to negative reactions to LGBT inclusion
Workplace dress codes, transgender employees, and gender non-conforming employees
Who Will Benefit:
This webinar is for all industries, including:
CEO
COO
CFO
VP of HR
All HR directors, managers, and generalists
Supervisors
Managers
Director of risk management
Instructor Profile:

Dr. Susan Strauss
Workplace and Education Harassment and Bullying Consultant, Strauss Consulting
Susan Strauss is a national and international speaker, trainer, consultant and a recognized expert on workplace and school harassment and bullying. She conducts harassment and bullying investigations and functions as an expert witness in harassment and bullying lawsuits. Her clients are from business, education, healthcare, law, and government organizations from both the public and private sector.
Dr. Strauss has conducted research, written over 30 books, book chapters, and journal articles on harassment, bullying, and related topics. She has been featured on 20/20, CBS Evening News and other television and radio programs as well as interviewed for newspaper and journal articles such as Harvard Education Newsletter, Lawyers Weekly, and the Times of London.
She is the recipient of the Excellence in Educational Equity Award from the Minnesota Department of Education for her work in sexual harassment in education. She has spoken about sexual harassment at international conferences in Botswana, Egypt, Thailand, and the U.S. She consulted with the Israeli Ministry of Education, as well as with educators from Israel, England, Australia, St. Martin, Bali, Beirut, and Canada. She traveled to Poland and conducted research on sex discrimination and sexual harassment in Polish workplaces with Minnesota Advocates for Human Rights.
Dr. Strauss has a doctorate in organizational leadership. She is a registered nurse, has a bachelor's degree in human services and counseling, a master's degree in community health, and professional certificate in training and development. She has been involved in the harassment and bullying arena since 1985.
Topic Background:
Workplaces have made progress towards LGBT equality yet LGBT workers still go to work every day with fear that they might lose their jobs because of who they are. There is no federal law protecting the LGBT community from workplace discrimination and harassment. There is confusion among organizations as to whether the federal civil rights law Title VII protects gay, lesbian, and bisexual (GLB) employees. The EEOC and several courts clearly have stated that GLB employees are protected by Title VII however other courts have disagreed. Recently, the EEOC has filed its first two sexual orientation lawsuits. These two cases demonstrate the EEOC's commitment to moving forward to protect GLB employees from discrimination under Title VII.
Transgender employees are protected under the Civil Rights Act Title VII because their discrimination is "because of sex" yet discrimination lawsuits continue to arise as to what bathroom and locker room transgender employees can use while at work. Roughly 90% of transgender and 40% of GLB employees experience workplace discrimination according to some surveys.

Refund Policy
Registrants may cancel up to two working days prior to the course start date and will receive a letter of credit to be used towards a future course up to one year from date of issuance. ComplianceOnline would process/provide refund if the Live Webinar has been cancelled. The attendee could choose between the recorded version of the webinar or refund for any cancelled webinar. Refunds will not be given to participants who do not show up for the webinar. On-Demand Recordings can be requested in exchange.
Webinar may be cancelled due to lack of enrolment or unavoidable factors. Registrants will be notified 24hours in advance if a cancellation occurs. Substitutions can happen any time.
If you have any concern about the content of the webinar and not satisfied please contact us at below email or by call mentioning your feedback for resolution of the matter.
We respect feedback/opinions of our customers which enables us to improve our products and services. To contact us please email customercare@complianceonline.com call +1-888-717-2436 (Toll Free).
Product Reviews
This product hasn't received any reviews yet. Be the first to review this product! Write review