Independent Contractor vs. Employee: What Difference Does It Make?
This webinar will discuss the distinction between independent contractors and employees and the factors used by various federal agencies, including the IRS and the Department of Labor, to determine whether someone is truly a contractor. Attendees will also learn about the potential negative consequences, such as tax penalties and liquidated damages, of misclassifying an employee as a contractor.
Purchase option for this webinar is currently unavailable. Please contact our Customer Care for more info.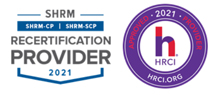 Course "Independent Contractor vs. Employee: What Difference Does It Make?" has been pre-approved by SHRM as eligible for 1.5 credits and HRCI as eligible for 1.5 credits towards a participant's recertification upon full completion.
The use of this seal is not an endorsement by the HR Certification Institute of the quality of the program.
Why Should You Attend:
Federal and state authorities have been vigorously examining independent contractor arrangements to see whether workers are actually misclassified employees entitled to certain employment law protections and tax treatment. Are you confident that all of the workers labeled as contractors would satisfy the legal tests used by those authorities? This webinar will instruct you about those tests and how they've been applied to distinguish between contractors and employees.
It is important for businesses to understand what makes a worker truly an independent contractor as opposed to an employee. Employees are entitled to legal protections and benefits not available to contractors. Plus, employers must pay specific payroll taxes for employees which are not required for contractors. Federal and state authorities are keenly interested in making sure that employers have properly classified their workers.
This webinar will teach you the legal distinction between employees and contractors as well as the factors federal and state authorities use to determine who is truly a contractor. You will also learn about recent trends in states such as California and New Jersey to make it harder for employers to establish contractor status.
Areas Covered in the Webinar:
Basic legal distinction between independent contractors and employees
Perceived benefits of labeling workers as independent contractors instead of employees
Which laws do not apply to independent contractors, including

Fair Labor Standards Act
Family and Medical Leave Act
Title VII of the Civil Rights Act of 1964

Why federal and state authorities are so interested in ensuring workers are properly classified
Consequences of misclassifying an employee as a contractor

Potential tax penalties
Unpaid wages / overtime and liquidated damages

Why "Independent Contractor Agreements" are not determinative of a worker's status
Common law test of employee vs. independent contractor
Factors applied by various federal agencies to determine contractor status, including:

Department of Labor
Internal Revenue Service
National Labor Relations Board

California and New Jersey's efforts to apply stricter tests to make it harder to establish contractor status
Status of independent contractors in the gig economy
Who Will Benefit:
Human Resources (CHRO, Vice President, Director, Manager, Generalist)
Hiring Manager
Finance (CFO, Vice President, Director, Manager)
Controller
Business Owners / Executive Officers / Operations and Departmental Managers
General Manager / Plant Manager
Instructor Profile:

Rebecca Jacobs
Training Consultant and Employment Law Attorney, Rebecca Jacobs LLC
Rebecca Jacobs is a Training Consultant and Employment Law Attorney with Rebecca Jacobs LLC. Collaborating with her clients, she develops and presents customized employee training on topics such as harassment prevention, bystander intervention, and discrimination avoidance. She also trains managers on numerous matters, including family and medical leave and disability accommodation requests.
Since 2006, Rebecca has been an adjunct lecturer for the Department of Management and Human Resources at the Ohio State University's Max M. Fisher College of Business. Rebecca teaches the "Contemporary Employment Practices and the Law" class and has recently expanded her teaching to include "Contemporary Employment Practices and the Law II."
Rebecca has been an employment law attorney for over 20 years and tried a number of cases in federal and state courts, including oral argument before the Sixth Circuit Court of Appeals. She has counseled clients on numerous employment law matters and has prepared employee policies and handbooks. In January, 2019, Columbus CEO magazine quoted Rebecca in "Employment Law: Making it Official with Love Contracts."
Rebecca holds a Juris Doctorate degree from Vanderbilt University School of Law and a Bachelor of Arts degree from the University of California, Santa Cruz. She is admitted to practice law in Ohio and licensed (inactive) in California.
Refund Policy
Registrants may cancel up to two working days prior to the course start date and will receive a letter of credit to be used towards a future course up to one year from date of issuance. ComplianceOnline would process/provide refund if the Live Webinar has been cancelled. The attendee could choose between the recorded version of the webinar or refund for any cancelled webinar. Refunds will not be given to participants who do not show up for the webinar. On-Demand Recordings can be requested in exchange.
Webinar may be cancelled due to lack of enrolment or unavoidable factors. Registrants will be notified 24hours in advance if a cancellation occurs. Substitutions can happen any time.
If you have any concern about the content of the webinar and not satisfied please contact us at below email or by call mentioning your feedback for resolution of the matter.
We respect feedback/opinions of our customers which enables us to improve our products and services. To contact us please email [email protected] call +1-888-717-2436 (Toll Free).
Product Reviews
This product hasn't received any reviews yet. Be the first to review this product! Write review