Introduction to the Ishikawa Fishbone Diagram
Instructor:
Daniel T Bloom
Product ID:
706641
Training Level:
Intermediate
Part of Karou Ishikawa's Seven Tools of Quality, it is used specifically to identify the causes of problems facing an organization and to use the brainstorming tool to discover solutions to those problems. This webinar explores the seven tools with an emphasis on how to construct a fishbone diagram for your organization.
Purchase option for this webinar is currently unavailable. Please contact our Customer Care for more info.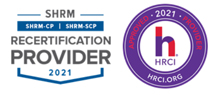 Course "Introduction to the Ishikawa Fishbone Diagram" has been pre-approved by SHRM as eligible for 1 credits and HRCI as eligible for 1 credits towards a participant's recertification upon full completion.
The use of this seal is not an endorsement by the HR Certification Institute of the quality of the program.
Why Should You Attend:
Part of your responsibility as an active team member within your organization is to assist in identifying problems, causes and the effects of those causes n your processes. This webinar will show you how to use a simple method for determining not only the cause but how the changes in causes may change the nature of the problems being experienced by the organization. You will also learn about the full seven tools of quality and their roles in process improvement om your organization.
Areas Covered in the Webinar:
Types of Causes
Ishikawa Tools of Quality
The Fishbone Diagram
Constructing a Fishbone Diagram
The 5 Why's
Who Will Benefit:
C-Level executives
Managers
Supervisors
Stakeholders
Front-Line Employees
Cross-Functional Teams
Instructor Profile:

Daniel T Bloom
CEO, Daniel Bloom and Associates Inc
Daniel T. Bloom is a well-respected author, speaker and HR strategist, who during his career has worked as a contingency executive recruiter, member of the internal HR staff of a Fortune 1000 corporation, an HR Consultant and a Corporate Relocation Director for several real estate firms.
He is an active participant within the HR social Media scene maintaining blogs since 2006 and has written over 40 articles, which have appeared online and in print; as well as published six books, five of them with Productivity Press.
He is dual certified as a Senior Professional in Human Resources by the Human Resources Certification Institute and as a Six Sigma Black Belt through the Applied Technology Program at St. Petersburg College.
He is the Founder and Chief Executive Officer of Daniel Bloom and Associates, Inc., a human resource s and change management consulting firm delivering and array of services to the Fortune 1000, Small to Medium sized Enterprises and state, local and federal governmental agencies. The firm is dedicated to delivering evidence-based solutions empowering organizational change in the HR community.
Refund Policy
Registrants may cancel up to two working days prior to the course start date and will receive a letter of credit to be used towards a future course up to one year from date of issuance. ComplianceOnline would process/provide refund if the Live Webinar has been cancelled. The attendee could choose between the recorded version of the webinar or refund for any cancelled webinar. Refunds will not be given to participants who do not show up for the webinar. On-Demand Recordings can be requested in exchange.
Webinar may be cancelled due to lack of enrolment or unavoidable factors. Registrants will be notified 24hours in advance if a cancellation occurs. Substitutions can happen any time.
If you have any concern about the content of the webinar and not satisfied please contact us at below email or by call mentioning your feedback for resolution of the matter.
We respect feedback/opinions of our customers which enables us to improve our products and services. To contact us please email [email protected] call +1-888-717-2436 (Toll Free).
Product Reviews
This product hasn't received any reviews yet. Be the first to review this product! Write review