Pregnancy Accommodation - PDA, ADA, and FMLA. How to Manage Requests for Light Duty, Leave, Transfer, and More
It is important to know what obligations an employer may be required to provide pregnant employees. It's also important to know not just what an employer is required to do, but how to treat employees, including how an employer is required to structure and handle situations as they arise. This webinar will discuss how supervisors can interpret their obligations correctly, how to administer an employer's accountabilities in the correct manner. Understand what are the provisions where employees are also protected from retaliation when requests, even complaints are made regarding an employer's treatment of a pregnant employee or in regards to an employer not fulfilling their obligations towards an employee correctly.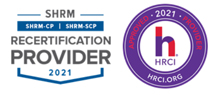 Course "The Importance of Documentation for Supervisors and Managers" has been pre-approved by SHRM as eligible for 1.5 credits and HRCI as eligible for 1.5 credits towards a participant's recertification upon full completion.
The use of this seal is not an endorsement by the HR Certification Institute of the quality of the program.
Why Should You Attend:
Today, employees who are pregnant or new parents have many protections and rights in the workplace. If a woman is temporarily unable to perform her job due to a medical condition related to pregnancy or childbirth, the employer must treat her situation in the same way as it treats any other temporarily disabled employee. Additionally, impairments resulting from pregnancy may even be disabilities under the Americans with Disabilities Act (ADA). Barring an undue hardship, an employer may have to provide a reasonable accommodation.
It is also unlawful to harass a woman because of pregnancy, childbirth, or a medical condition related to pregnancy or childbirth and harassment for pregnancy related conditions is not always as obvious. Pregnant employees may also have rights under the Family and Medical Leave Act (FMLA). Hence It's critical that an employer have a full understanding of ALL their obligations towards pregnant employees. Including not retaliating towards employees who seek to avail themselves of their rightfully afforded protections.
Attend this webinar to understand all the provisions of Pregnancy with respect to Pregnancy Discrimination Act, Pregnancy and the Americans with Disabilities Act, Pregnancy and the FMLA, what are employer's duty in relations to accommodation, leave and assignments, safety and how to educate and monitor manager so that the complaints can be avoided and you create better workplace for pregnant employees.
Areas Covered in the Webinar:
The Pregnancy Discrimination Act - what the PDA requires of employers.
Discrimination and Harassment of pregnant employees
Pregnancy and the Americans with Disabilities Act - what the ADA requires of employers.
Pregnancy and the FMLA - what the FMLA requires of employers.
FMLA hot spots regarding pregnant woman and new parents
Who is a parent under FMLA?
What an employer must do, can do and can't do regarding
Light duty
Accommodations
Alternative assignments
Disability leave
Unpaid leave
Safety issues and pregnant employees.
How to educate and then monitor particularly uncooperative managers.
Retaliation towards pregnant employees – prevention, detection and protection.
Who Will Benefit:
Plant Managers and Upper Management
HR Directors, Managers, Generalists and Associates
Safety Managers and Associates
Small Business Owners
Regulatory Compliance Managers and Associates
Instructor Profile:

Teri Morning
Founder and President, Hindsight Human Resources
Teri Morning, MBA, MS, specializes in solving company "people problems." She is the founder and president of Hindsight Human Resources. www.Hindsightcloud.com. Teri also sources HR software solutions for incident tracking, employee relations, safety (Incident Tracker), compensation (Compease) and performance management (Performance Pro). Twenty+ years human resource and training experience in a variety of fields, including retail, distribution, architectural, engineering, consulting, manufacturing (union), public sector and both profit and non-profit companies. She has enjoyed consulting with employers on their problems and trained managers and employees for over 20 years, meeting and working with employees from all types of businesses. In addition to a MBA, Teri has a Master's degree in human resource development with a specialization in conflict management. She was certified by the state of Indiana in mediation skills, and is currently certified in project management and it management and qualified as a Myers Briggs practitioner. She has held the PHR, SPHR, SPHR-CA and SHRM-SCP certifications.