Beyond Handbooks, Benefits, and Photo IDs: The Role of HR and Management in New Employee Onboarding
This training program will discuss a new employee's role in his/her orientation and difference between orientation to the organization and orientation to the department. The program will also explain gap analysis, force field analysis, and SWOT analysis in assessing your organization's onboarding requirements.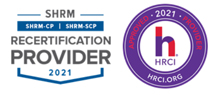 Course "The Importance of Documentation for Supervisors and Managers" has been pre-approved by SHRM as eligible for 1.5 credits and HRCI as eligible for 1.5 credits towards a participant's recertification upon full completion.
The use of this seal is not an endorsement by the HR Certification Institute of the quality of the program.
Why Should You Attend:
Whether you call it onboarding, induction, enculturation, or new employee orientation (NEO), the process used to welcome and train your new employees while capturing their excitement of a new job and reducing their new job jitters is critical to their success. NEO is not a one day event, but rather a process that begins after their acceptance of the job and extends through the first year of their employment. Studies show that the new arrival's primary concerns are three things--my job, my boss, and my coworkers. Dealing with new employee jitters and uncertainties is a high priority in orientation programs. How long this psychological mayhem lasts may depend a great deal on employee orientation. It is estimated that 50% to 60% of new hires quit within the first seven months of their employment.
This webinar will emphasize how a comprehensive onboarding process plays a pivotal role in catalyzing your new hire's engagement into their new role, responsibilities, and the organization. This process can help new recruits reach productivity a full two months sooner, they are likely to be tenured, function as a team member quicker, less likely to quit, and more likely to be an active member of the organization. All of this equates to huge financial savings for the organization.
Learning Objectives:
Legal issues surrounding dress and appearance in the workplace
Specific elements of a dress and appearance policy
Prevention tactics to ensure employees are judged by their performance and not on stereotypes
To provide checklists to use during phases of the onboarding process
To highlight the important role of the "buddy"
Areas Covered in the Webinar:
Identifying HR, the supervisor, and the buddy's roles in welcoming and training the new employee
Discussion on the new employee's role in his/her orientation
Differentiating between the orientation to the organization and the orientation to the department
Explaining gap analysis, force field analysis, and SWOT analysis in assessing your organization's onboarding requirements
Assessing, designing, and developing, implementing, and evaluating your department's NEO strategy
Who Will Benefit:
Human resources generalists
Directors
Managers of all departments
Mentors
HR Managers
Supervisors
Controllers
Instructor Profile:

Dr. Susan Strauss
Workplace and Education Harassment and Bullying Consultant, Strauss Consulting
Dr. Susan Strauss is a national and international speaker, trainer and consultant. Her specialty areas include management/leadership development, organization development, communication, and harassment and bullying. She is an expert witness for discrimination and harassment lawsuits. She trains and consults with business, education, healthcare, law, and government organizations from both the public and private sector.
Dr. Strauss has authored over 30 book chapters, books, and articles in professional journals. She has been featured on 20/20, CBS Evening News, and other television and radio programs as well as interviewed for newspaper and journal articles.
She has her doctorate in organizational leadership, is a registered nurse with a bachelor's degree in psychology and human services, a master's degree in community health, and professional certificate in training and development.
Refund Policy
Registrants may cancel up to two working days prior to the course start date and will receive a letter of credit to be used towards a future course up to one year from date of issuance. ComplianceOnline would process/provide refund if the Live Webinar has been cancelled. The attendee could choose between the recorded version of the webinar or refund for any cancelled webinar. Refunds will not be given to participants who do not show up for the webinar. On-Demand Recordings can be requested in exchange.
Webinar may be cancelled due to lack of enrolment or unavoidable factors. Registrants will be notified 24hours in advance if a cancellation occurs. Substitutions can happen any time.
If you have any concern about the content of the webinar and not satisfied please contact us at below email or by call mentioning your feedback for resolution of the matter.
We respect feedback/opinions of our customers which enables us to improve our products and services. To contact us please email customercare@complianceonline.com call +1-888-717-2436 (Toll Free).
Product Reviews Write review
I really enjoyed this session - it was a topic that I wanted to learn more about and it was excellent. The speaker was very knowledgeable with a lot of fantastic ideas. Slides were full of useful information and take-away that I can use in the future. - Concentric Energy Advisors, Director of Human Resources
- Jessica Musumarra