Managing Unemployment Insurance Costs
This training program will provide an update of key federal and state unemployment issues. Participants will gain an understanding of the critical issues affecting their individual UI accounts and develop methods to control UI costs and manage other related liabilities.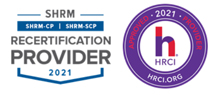 Course "Managing Unemployment Insurance Costs" has been pre-approved by SHRM as eligible for 1.5 credits and HRCI as eligible for 1.5 credits towards a participant's recertification upon full completion.
The use of this seal is not an endorsement by the HR Certification Institute of the quality of the program.
Why Should You Attend:
Employer paid unemployment insurance taxes and costs, while lower now than they were a few years ago, still represent a potentially significant employment liability. And as state taxable wage bases increase, higher UI tax liabilities are expected. Importantly, higher tax liabilities will have an ongoing impact on employers' liabilities and profitability.
This webinar provides an update of federal and state UI issues, assesses the risks and costs associated with UI taxes and benefits, and discusses effective UI tax management and cost control techniques. Additionally, the webinar discusses key employment practices and liabilities affected by UI cost control techniques.
Areas Covered in the Webinar:
Update on federal and state UI program
Risks and costs of UI
Key UI program management metrics
Strategic and operational UI issues
Financial UI cost controls issues
UI benefits cost control issues
HR management cost control issues
The effect on strategic and operational management
How independent contractors affect your employment practices
Who Will Benefit:
HR managers
Payroll managers
UI Specialists
Operations managers
CFOs
Risk managers
External and Internal Auditors
Consultants
Instructor Profile:

Ronald Adler
CEO, Laurdan Associates Inc
Ronald Adler is the president-CEO of Laurdan Associates, Inc., a veteran-owned, human resource management consulting firm in Rockville, Md., specializing in HR audits, employment practices risk management, benchmarking and HR metrics, strategic HR, employee surveys, and unemployment insurance issues. Mr. Adler has more than 42 years of HR consulting experience working with U.S. and international firms, small businesses and non-profits, insurance companies and brokers, and employer organizations. Mr. Adler is a consulting expert on work force, employment practices, and unemployment insurance issues to Bloomberg BNA, HR Magazine, and other publications and newspapers across the country. His research findings have been used by the Federal Reserve Board, the Equal Employment Opportunity Commission (EEOC), the National Conference of State Legislatures, the National Association of Manufacturers, the National Federation of Independent Business, insurers, and international organizations.
Mr. Adler is the developer of the Employment-Labor Law Audit™ (ELLA®), the nation's leading HR auditing and employment practices risk assessment tool, and is a frequent lecturer and author on HR management and workplace issues. As an adjunct professor at Villanova University, Mr. Adler teaches graduate courses on HR auditing. He is also a certified instructor on employment practices and insurance issues for The CPCU Society, has conducted continuing professional education courses for the American Institute of Certified Public Accountants on "Assessing Employment and Personnel Policies," and has conducted continuing professional education courses for SHRM, the Institute of Internal Auditors, and the Institute of Management Consultants.
As a member of the Society for Human Resource Management (SHRM), Mr. Adler has served as a subject matter expert (SME) to SHRM on HR metrics and formerly served on SHRM's Human Capital Measurement/HR Metrics Special Expertise Panel. He has also served as a consulting expert on workplace issues to SHRM's legislative staff, has contributed materials for The SHRM Academy and the SHRM Learning System, and has represented SHRM in meetings with the EEOC.
Mr. Adler has also served as an appointee to the State of Maryland Legislative UI Committee. Additionally, he belongs to the Institute of Internal Auditors, chaired the Maryland Chamber of Commerce's UI Subcommittee and served as a member of the U.S. Chamber of Commerce's Labor Relations Committee.
Mr. Adler holds a bachelor's degree in finance from the University of Maryland and an M.B.A. degree from Southern Illinois University.
Topic Background:
For some organizations unemployment insurance (UI) taxes are a nuisance; for others UI taxes are a significant cost; and increasingly for most employers, UI claims increasingly represent a liability that sets the stage for significant other liabilities. As a result, there is a heightened interest in effective UI cost management techniques and an increasing desire to understand how unemployment decisions affect other objectives.
Refund Policy
Registrants may cancel up to two working days prior to the course start date and will receive a letter of credit to be used towards a future course up to one year from date of issuance. ComplianceOnline would process/provide refund if the Live Webinar has been cancelled. The attendee could choose between the recorded version of the webinar or refund for any cancelled webinar. Refunds will not be given to participants who do not show up for the webinar. On-Demand Recordings can be requested in exchange.
Webinar may be cancelled due to lack of enrolment or unavoidable factors. Registrants will be notified 24hours in advance if a cancellation occurs. Substitutions can happen any time.
If you have any concern about the content of the webinar and not satisfied please contact us at below email or by call mentioning your feedback for resolution of the matter.
We respect feedback/opinions of our customers which enables us to improve our products and services. To contact us please email customercare@complianceonline.com call +1-888-717-2436 (Toll Free).
Product Reviews
This product hasn't received any reviews yet. Be the first to review this product! Write review