Your Employees Are Organizing A Union
Instructor:
Gerry McLaughlin
Product ID:
705837
Training Level:
Basic to Intermediate
This course will delve into the 20+ Initial Warning Signs of Union Organizing, What you Can Do and What you Cannot Do, Guidelines of Good Management, Dangers of Signing The Authorization Card, The NLRB Election, Unfair Labor Practices committed by Managers. The information presented in this workshop will save costs, and time for your organization as Managers will be more informed and be prepared to react to their employees concerns and questions, as they strive to remain Union Free.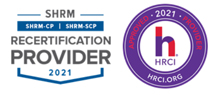 Course "Your Employees Are Organizing A Union" has been pre-approved by SHRM as eligible for 1 credits and HRCI as eligible for 1 credits towards a participant's recertification upon full completion.
The use of this seal is not an endorsement by the HR Certification Institute of the quality of the program.
Why Should You Attend:
Managers and Supervisors are taken to task every day in managing their Non represented employees. It is important for them to learn the Initial warning signs of Union Organizing long before a Union gets the appropriate number of signed Authorization Cards and the NLRB Conducts a secret Election. Learn here the best Election is the one……that is never held.
Attend this webinar to understand the Initial Warning Signs of Union Organizing and how to respond appropriately to employee concerns and questions. We will discuss how to identify the "whys " or logic behind the actions they do and what they believe in. How to communicate effectively to your employees as to How the Union Organizer is the only one who gains if this workforce is unionized. Your employees will understand that "nothing" happens at a bargaining table unless Management Agrees to it.
You will understand what you cannot do as per law, know the intricacies of an NLRB Election, what you managers may commit which might fall under Unfair Labor Practices and how to avoid it. Learn the Guidelines of Good Management outlining the Tips, tactics and techniques so that a Union Organizing Campaign is NOT an Annual Event ! Yes an NLRB election CAN be held every 12 months!
Areas Covered in the Webinar:
Initial Warning signs of Union Organizing
What You Can Do and What You Cannot Do
What A Unions Can Do and What A Unions Cannot Do
The dangers of your employees signing an Authorization Card
Unfair Labor Practices your managers May Commit
The NLRB Election and its intricacies
Tips, Tactics and Techniques of Union Organizing
Guidelines Of Good Management
Who Will Benefit:
Managers
Supervisors Directors
Human Resources and Labor Relations personnel
Potential Supervisors
Anyone with an oversight responsibility of non-Represented employees
Instructor Profile:

Gerry McLaughlin
Consulting Labor Negotiations Employee Relations, Gerry McLaughlin Consulting LLC
Gerry McLaughlin Ms. IR, is the author of "Negotiating The Labor Agreement" His experience covers 40 years of successfully negotiating over 500+ labor contracts in varied industries as Executive Director and Vice President for Fortune 100 Companies, and in areas, such as, but not limited to, Manufacturing, Distribution, Telecom, Retail, Healthcare & Senior Care, Food services, Housekeeping & Facilities.
Gerry has negotiated with over 20 National and Local Unions, trained 1000's of Managers in "Managing a Union Workplace", Collective Bargaining as well as Union Avoidance and Employee Relations issues.
Refund Policy
Registrants may cancel up to two working days prior to the course start date and will receive a letter of credit to be used towards a future course up to one year from date of issuance. ComplianceOnline would process/provide refund if the Live Webinar has been cancelled. The attendee could choose between the recorded version of the webinar or refund for any cancelled webinar. Refunds will not be given to participants who do not show up for the webinar. On-Demand Recordings can be requested in exchange.
Webinar may be cancelled due to lack of enrolment or unavoidable factors. Registrants will be notified 24hours in advance if a cancellation occurs. Substitutions can happen any time.
If you have any concern about the content of the webinar and not satisfied please contact us at below email or by call mentioning your feedback for resolution of the matter.
We respect feedback/opinions of our customers which enables us to improve our products and services. To contact us please email [email protected] call +1-888-717-2436 (Toll Free).
Product Reviews
This product hasn't received any reviews yet. Be the first to review this product! Write review