Action Steps to a Better Work Environment
In this HR compliance webinar attendees will learn the real, tangible, and actionable steps to building a better workplace culture.
Purchase option for this webinar is currently unavailable. Please contact our Customer Care for more info.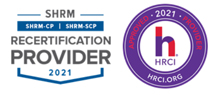 Course "Action Steps to a Better Work Environment" has been pre-approved by SHRM as eligible for 1-credit and HRCI as eligible for 1-credit towards a participant's recertification upon full completion.
The use of this seal is not an endorsement by the HR Certification Institute of the quality of the program.
Why Should You Attend:
Culture change isn't easy. It takes time and effort to transform your work environment into a place where employees are happy, thriving, and working towards organizational goals. But it's worth it. A positive culture results in engaged employees which means higher productivity, better financial performance, and less turnover. Sounds pretty cool, right? In this webinar, I will be providing you with tangible items for culture change. You will literally be able to take these items and implement them in your organization. This way you can take strides towards building a positive work environment.
Successful companies have one thing in common: Happy and engaged employees. And it makes perfect sense – happy and engaged employees are committed and passionate about the work they do, resulting in higher performance and lower turnover rate. Yet many companies fail to realize a positive healthy workplace culture. Why? Because it seems elusive, hard to measure, and hard to prove ROI.
Areas Covered in the Webinar:
Constructing and sending out an employee feedback survey
Obtaining employee buy-in and trust
How to create an action committee
Developing your vision, mission, and core values
Turning your core values into core competencies
Onboarding new hires the right way
Challenges in culture change
Who Will Benefit:
Human resources
Small business owners
EAPs (Employee Assistance Professionals)
Business consultants
Finance
Risk management
Safety
Corporate training
Union reps
Instructor Profile:

Catherine Mattice Zundel
President, Civility Partners LLC
Catherine Mattice Zundel, MA, SPHR, SHRM-SCP is President of consulting and training firm, Civility Partners, and has been successfully providing programs in building positive workplaces since 2007. Her clients include Chevron, the American Red Cross, the military, several universities and hospitals, government agencies, small businesses and nonprofits. She has spoken around the world on the topic of workplace bullying and positive workplaces, has published in a variety of trade magazines, and has appeared on NPR, FOX, NBC, and ABC as an expert, as well as in USA Today, Inc Magazine, Huffington Post, and Entrepreneur Magazine. Catherine is Past-President of the Association for Talent Development (ATD), San Diego Chapter, and current President of the National Workplace Bullying Coalition. Her book, BACK OFF! Your Kick-Ass Guide to Ending Bullying at Work, was hailed by Ken Blanchard as, "the most comprehensive and valuable handbook on the topic."
Refund Policy
Registrants may cancel up to two working days prior to the course start date and will receive a letter of credit to be used towards a future course up to one year from date of issuance. ComplianceOnline would process/provide refund if the Live Webinar has been cancelled. The attendee could choose between the recorded version of the webinar or refund for any cancelled webinar. Refunds will not be given to participants who do not show up for the webinar. On-Demand Recordings can be requested in exchange.
Webinar may be cancelled due to lack of enrolment or unavoidable factors. Registrants will be notified 24hours in advance if a cancellation occurs. Substitutions can happen any time.
If you have any concern about the content of the webinar and not satisfied please contact us at below email or by call mentioning your feedback for resolution of the matter.
We respect feedback/opinions of our customers which enables us to improve our products and services. To contact us please email [email protected] call +1-888-717-2436 (Toll Free).
Product Reviews
This product hasn't received any reviews yet. Be the first to review this product! Write review