Using the ADDIE Model to Create Harassment Prevention Training That Actually Prevents Harassment
In this hr compliance webinar attendees will learn how to use ADDIE Model to design and deliver training that teaches behaviors you do want from employees or says something about culture to prevents harassment in workplace.
Purchase option for this webinar is currently unavailable. Please contact our Customer Care for more info.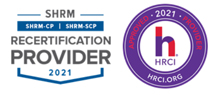 Course "Using the ADDIE Model to Create Harassment Prevention Training That Actually Prevents Harassment" has been pre-approved by SHRM as eligible for 1-credit and HRCI as eligible for 1-credit towards a participant's recertification upon full completion.
The use of this seal is not an endorsement by the HR Certification Institute of the quality of the program.
Why Should You Attend:
#MeToo makes it clear harassment prevention training does not actually prevent harassment - and that's because it's too focused on compliance and corrective action, rather than actually preventing harassment. Enter trusty ol' ADDIE, that suggests we first analyze the behavior we want, and then develop training around that. Take a step back from the training you're doing and learn how to develop and deliver training that actually prevents harassment.
Learning Objectives:
In this presentation, attendees will learn:
Evaluate your current harassment prevention training against behaviors needed to prevent harassment, such as respect and assertiveness
Use the ADDIE Model to design and deliver training that teaches the behaviors you do want from employees, rather than those you don't
Use the ADDIE Model to design and deliver training that solidifies a "see something, say something culture"
Implement additional pieces that must be in place to support accountability for the training, such as a healthy workplace policy and coaching for those crossing the line
Who Will Benefit:
HR Managers
HR Directors
HR Administrators
VP's of Human Resources
EAP's
Business Owners
Leaders, Directors, Managers and Supervisors
Employee Relations
Instructor Profile:

Catherine Mattice Zundel
President, Civility Partners LLC
Catherine Mattice Zundel, MA, SPHR, SHRM-SCP is President of consulting and training firm, Civility Partners, and has been successfully providing programs in building positive workplaces since 2007. Her clients include Chevron, the American Red Cross, the military, several universities and hospitals, government agencies, small businesses and nonprofits. She has spoken around the world on the topic of workplace bullying and positive workplaces, has published in a variety of trade magazines, and has appeared on NPR, FOX, NBC, and ABC as an expert, as well as in USA Today, Inc Magazine, Huffington Post, and Entrepreneur Magazine. Catherine is Past-President of the Association for Talent Development (ATD), San Diego Chapter, and current President of the National Workplace Bullying Coalition. Her book, BACK OFF! Your Kick-Ass Guide to Ending Bullying at Work, was hailed by Ken Blanchard as, "the most comprehensive and valuable handbook on the topic."
Topic Background:
Often times, sexual harassment training checks the compliance box and then stops there. While it may protect your organization from legal ramifications, it may not be enough to actually influence proper behavior. You have to include training and hand's on exercises around how employees should be treating each other on a daily basis. By using the ADDIE model, you can develop a training that meets all your needs. From analysis all the way to evaluation, the model will ensure that you are maximizing employee training to actually prevent harassment.
Refund Policy
Registrants may cancel up to two working days prior to the course start date and will receive a letter of credit to be used towards a future course up to one year from date of issuance. ComplianceOnline would process/provide refund if the Live Webinar has been cancelled. The attendee could choose between the recorded version of the webinar or refund for any cancelled webinar. Refunds will not be given to participants who do not show up for the webinar. On-Demand Recordings can be requested in exchange.
Webinar may be cancelled due to lack of enrolment or unavoidable factors. Registrants will be notified 24hours in advance if a cancellation occurs. Substitutions can happen any time.
If you have any concern about the content of the webinar and not satisfied please contact us at below email or by call mentioning your feedback for resolution of the matter.
We respect feedback/opinions of our customers which enables us to improve our products and services. To contact us please email [email protected] call +1-888-717-2436 (Toll Free).
Product Reviews
This product hasn't received any reviews yet. Be the first to review this product! Write review