Hiring, Promotion and Compensation Decisions: Does AI Improve Outcomes, Create Risk, or Both?
In this webinar, HR and Recruiters will understand and would be able to take action to maximize the value of artificial intelligence. This training will apply to most areas of HR, it will specifically focus on cycle of recruitment, promotion and compensation and benefits.
Purchase option for this webinar is currently unavailable. Please contact our Customer Care for more info.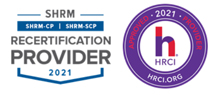 Course "Hiring, Promotion and Compensation Decisions: Does AI Improve Outcomes, Create Risk, or Both?" has been pre-approved by SHRM as eligible for 1-credit and HRCI as eligible for 1-credit towards a participant's recertification upon full completion.
The use of this seal is not an endorsement by the HR Certification Institute of the quality of the program.
Why Should You Attend:
Attend this webinar to learn how Artificial Intelligence (A.I.) will change everything from recruitment to compensations, in every business.
Areas Covered in the Webinar:
Attendees will learn:
What's new in artificial Intelligence in 2019
Aids to recruitment
Innovations profiling of personality using OCEAN
The end of testing
90% of the interviewing process will be A.I. driven
A.I. Fore succession planning and promotion
Less subjective and bias free – how A.I. will change performance appraisal
Advantages of A.I. for a bias free and transparent system for paying bonus and compensation
Legal requirement and restriction on A.I
Who Will Benefit:
Recruiters
HR Managers
Compensation and benefits managers
Succession Planers
Workforce planners
Instructor Profile:

Tony Miller
CEO, Tony Miller.Com
Tony Miller PhD, adjunct Professor, BSc, MBA, FCIPD, FinstAM, MRSH, MBPS, MAPS, FILM. He is a productivity consultant and has worked in 36 different countries. He is the author of 20 books, four of which are published by the Financial Times. In addition he has written two books on performance, which have been specifically written for the Asian market and published in Mandarin Chinese.
His latest two books on recruitment for talent and on which this program is based was published in 2017/8.
In America he was employed as an HR Consultant for a very large and successful company. Responsible for all the decisions on downsizing, recruitment and staff assimilation. Based in San Francisco, California has the toughest and most regulated HR law in the world. During the project, psychometric testing and employee profiling were successfully introduced as well as a significant amount of work on re-profiling the organization.

Refund Policy
Registrants may cancel up to two working days prior to the course start date and will receive a letter of credit to be used towards a future course up to one year from date of issuance. ComplianceOnline would process/provide refund if the Live Webinar has been cancelled. The attendee could choose between the recorded version of the webinar or refund for any cancelled webinar. Refunds will not be given to participants who do not show up for the webinar. On-Demand Recordings can be requested in exchange.
Webinar may be cancelled due to lack of enrolment or unavoidable factors. Registrants will be notified 24hours in advance if a cancellation occurs. Substitutions can happen any time.
If you have any concern about the content of the webinar and not satisfied please contact us at below email or by call mentioning your feedback for resolution of the matter.
We respect feedback/opinions of our customers which enables us to improve our products and services. To contact us please email [email protected] call +1-888-717-2436 (Toll Free).
Product Reviews
This product hasn't received any reviews yet. Be the first to review this product! Write review