California GIG Worker Protections: Regulating the Relationships between Organizations & Their GIG Workers
California Assembly Bill 5 (AB5), popularly known as the "Gig Worker" bill, is legislation that was signed into law by Governor Gavin Newson in September 2019 and went into effect on January 1, 2020. AB5 requires companies that hire independent contractors to reclassify them as employees, with few exceptions. Newson argued that when workers are misclassified as independent contractors rather than as employees, they lose basic benefits such as minimum wage, paid sick days, and health insurance.
Purchase option for this webinar is currently unavailable. Please contact our Customer Care for more info.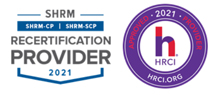 Course "California GIG Worker Protections: Regulating the Relationships between Organizations & Their GIG Workers" has been pre-approved by SHRM as eligible for 1.25 credits and HRCI as eligible for 1.25 credits towards a participant's recertification upon full completion.
The use of this seal is not an endorsement by the HR Certification Institute of the quality of the program.
Why Should You Attend:
The labor law extends wage and benefit protections to approximately one million California workers and extends employee classification status to gig workers. This law puts tough restrictions on who can be classified as independent contractors or freelancers rather than employees. Companies utilizing independent contractors need to decide whether to hire them as employees. Although the law affects companies of all sizes and out-of-state businesses that use California contractors, it has a greater impact on the many small businesses that hire independent contractors because of limited staffing budgets. Employers are required to utilize a three-prong test to prove workers are independent contractors, not employees.
California law (AB5) changed the rules for how employers determine whether a worker is an employee or independent contractor. This distinction is important because independent contractors are not entitled to most of the protections and benefits that employees get. This includes a minimum wage, overtime pay, unemployment insurance, workers' compensation insurance, and paid family leave.
AB5 did not magically convert all California independent contractors into employees on January 1, 2020. It is up to each business that hires workers in California to determine whether a worker is exempt from AB5. Additionally, employers need to determine if the nonexempt workers it has already classified as independent contractors should be reclassified as employees. Participation in this webinar will assist participants in making those decisions and thereby avoiding the consequences of non-compliance.
Areas Covered in the Webinar:
Navigating the Gig economy
Understanding California Assembly Bill 5 (AB5) & Proposition 22
Definition of Gig Workers
The ABC and Borello tests
Pros and Cons of AB5
Exemptions to AB5
Workers with multiple employment classifications
Consequences of noncompliance
Who Will Benefit:
Senior Leadership
Human Resources Professionals
Compliance Professionals
Operations Professionals
Recruiting Professionals
Managers & Supervisors
Team Leaders
Gig workers
Instructor Profile:
Diane L. Dee
President, Advantage HR Consulting
Diane L. Dee, President of Advantage HR Consulting, has over 25 years of experience in the Human Resources arena. Diane's background includes experience in HR consulting and administration in corporate, government, consulting and pro bono environments. Diane founded Advantage HR Consulting in early 2016. Under Diane's leadership, Advantage HR provides comprehensive, cost-effective Human Resources solutions for small to mid-sized firms in the greater Chicagoland area. Additionally, Diane conducts webinars on a wide-variety of HR topics for various training firms across the country.
Diane holds a Master Certificate in Human Resources from Cornell University's School of Industrial and Labor Relations and has attained SPHR, SHRM-SCP, sHRBP and HRPM® certification.
Diane is a member of the National Association of Women Business Owners and the Society for Human Resource Management. Additionally, Diane performs pro bono work through the Taproot Foundation assisting non-profit clients by integrating their Human Resources goals with their corporate strategies.
Topic Background:
Employers are required under Federal immigration law to verify the identity and employment eligibility of new employees by reviewing acceptable documents provided by the employee and then completing an Employment Eligibility Verification form, commonly known as Form I-9.