Best in Class Wage and Hour Compliance: The Federal Labor Standards Act (FLSA)
Instructor:
Diane L Dee
Product ID:
705548
Training Level:
Intermediate
This webinar will provide a comprehensive understanding of the provisions of the FLSA. You will learn the proper calculation of overtime pay, gain an understanding of what is considered hours worked, what to do when state and federal laws differ, when employees must be compensated for training, travel time, meal breaks, and on-call status.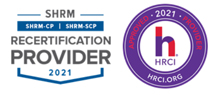 Course "The Importance of Documentation for Supervisors and Managers" has been pre-approved by SHRM as eligible for 1.5 credits and HRCI as eligible for 1.5 credits towards a participant's recertification upon full completion.
The use of this seal is not an endorsement by the HR Certification Institute of the quality of the program.
Why Should You Attend:
The Fair Labor Standards Act (FLSA), commonly referred to as the Wage and Hour Act, was passed in 1938 and since then has been amended many times. The major provisions of the FLSA are concerned with minimum wage rates and overtime payments, child labor, and equal pay.
The US Department of Labor, Wage & Hour Division, oversees federal labor laws. Additionally, State DOLs administer state labor laws. Failure to comply with Wage & Hour laws may result in the employer paying the employee back wages, damages, penalties, attorney fees and court costs, plus the prospect of civil and criminal penalties from federal and/or state governments. Therefore, Wage & Hour compliance is of the utmost importance.
Learning Objectives:
Gain a solid understanding of the provisions of the Fair Labor Standards Act
Assist your employer in being compliant with the provisions of the Act
Learn how to compute overtime pay
Understand the definition of 'hours worked'
When must an employer compensate employees for training, travel time, meal breaks, and on-call status
Areas Covered in the Webinar:
Provisions of the Federal Labor Standards Act
Three tests to determine if an employee is exempt from the FLSA
Six exemptions under the FLSA
Computing overtime pay
Timeliness of overtime payments
Treatment of meal breaks, travel, training, on-call time and outside sales under the FLSA
Minimum wage requirements
Equal Pay
Child Labor
Importance of accurate record keeping
Posting requirements
Who Will Benefit:
Human Resources Professionals
HR Managers
HR Administrator
HR Staff
Small Business Owners
Non-Profit Administrators
General Managers
Office Managers
Payroll Professionals
Lawmakers
Attorneys
Accounting Professionals
Labor Unions
Professors, Instructors, Trainers
Instructor Profile:
Diane L Dee
President, Advantage HR Consulting
Diane L. Dee, President of Advantage HR Consulting, has over 25 years of experience in the Human Resources arena. Diane's background includes experience in HR consulting and administration in corporate, government, consulting and pro bono environments. Diane founded Advantage HR Consulting in early 2016. Under Diane's leadership, Advantage HR provides comprehensive, cost-effective Human Resources solutions for small to mid-sized firms in the greater Chicagoland area. Additionally, Diane conducts webinars on a wide-variety of HR topics for various training firms across the country.
Diane holds a Master Certificate in Human Resources from Cornell University's School of Industrial and Labor Relations and has attained SPHR, SHRM-SCP, sHRBP and HRPM® certification.
Diane is a member of the National Association of Women Business Owners and the Society for Human Resource Management. Additionally, Diane performs probono work through the Taproot Foundation assisting non-profit clients by integrating their Human Resources goals with their corporate strategies.


Refund Policy
Registrants may cancel up to two working days prior to the course start date and will receive a letter of credit to be used towards a future course up to one year from date of issuance. ComplianceOnline would process/provide refund if the Live Webinar has been cancelled. The attendee could choose between the recorded version of the webinar or refund for any cancelled webinar. Refunds will not be given to participants who do not show up for the webinar. On-Demand Recordings can be requested in exchange.
Webinar may be cancelled due to lack of enrolment or unavoidable factors. Registrants will be notified 24hours in advance if a cancellation occurs. Substitutions can happen any time.
If you have any concern about the content of the webinar and not satisfied please contact us at below email or by call mentioning your feedback for resolution of the matter.
We respect feedback/opinions of our customers which enables us to improve our products and services. To contact us please email customercare@complianceonline.com call +1-888-717-2436 (Toll Free).
Product Reviews
This product hasn't received any reviews yet. Be the first to review this product! Write review