Do's & Don'ts of Documenting Employee Performance
Instructor:
Diane L Dee
Product ID:
705839
Training Level:
Intermediate
This HR documentation best practices webinar will discuss what, when and how to document employee's performance review, what types of documents can be created, the terminologies (subjective vs objective) to use, the best practices of creation and usage in cases of providing effective feedback and manage employee rebuttals. Understand the role of documentation in investigation and lawsuits.
Purchase option for this webinar is currently unavailable. Please contact our Customer Care for more info.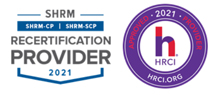 Course "Do's & Don'ts of Documenting Employee Performance" has been pre-approved by SHRM as eligible for 1 credits and HRCI as eligible for 1 credits towards a participant's recertification upon full completion.
The use of this seal is not an endorsement by the HR Certification Institute of the quality of the program.
Why Should You Attend:
Documenting employee behavior and performance is critical because memories aren't perfect. Lack or absence of solid documentation is the single most common mistake employers make when handling discipline or terminations. What if you need to justify an employment decision or termination long after it occurs? Not properly documenting can hurt you in unemployment compensation disputes, workers' compensation cases, and other legal matters. Good records, on the other hand, can mean the difference between winning and losing a lawsuit.
Attend this HR good documentation practice webinar to maximize the effectiveness of your performance review process by understanding which performance events to document, how to document performance, best practices of preparation and maintenance of documentation. You will also learn various types of performance documentation, terminologies to use, how to provide effective performance feedback, how to handle employee rebuttals etc.
Areas Covered in the Webinar:
Why, What, When and How to document performance
Analyzing discipline problems
Various types of performance documentation
Creating bulletproof documentation
Subjective vs. Objective terminology in performance documentation
Pitfalls to avoid when assessing performance
Providing effective performance feedback
Handling employee rebuttals
Documentation best practices and guidelines
Employee documentation's role in investigations and lawsuits
The formal appraisal process
Conducting investigations
Who Will Benefit:
HR professionals
Talent development professionals
Managers
Leaders
Executives
Business owners
Supervisors
Team Leaders
Project Managers
Instructor Profile:
Diane L. Dee
President, Advantage HR Consulting
Diane L. Dee, President of Advantage HR Consulting, has over 25 years of experience in the Human Resources arena. Diane's background includes experience in HR consulting and administration in corporate, government, consulting and pro bono environments. Diane founded Advantage HR Consulting in early 2016. Under Diane's leadership, Advantage HR provides comprehensive, cost-effective Human Resources solutions for small to mid-sized firms in the greater Chicagoland area. Additionally, Diane conducts webinars on a wide-variety of HR topics for various training firms across the country.
Diane holds a Master Certificate in Human Resources from Cornell University's School of Industrial and Labor Relations and has attained SPHR, SHRM-SCP, sHRBP and HRPM® certification.
Diane is a member of the National Association of Women Business Owners and the Society for Human Resource Management. Additionally, Diane performs pro bono work through the Taproot Foundation assisting non-profit clients by integrating their Human Resources goals with their corporate strategies.

Refund Policy
Registrants may cancel up to two working days prior to the course start date and will receive a letter of credit to be used towards a future course up to one year from date of issuance. ComplianceOnline would process/provide refund if the Live Webinar has been cancelled. The attendee could choose between the recorded version of the webinar or refund for any cancelled webinar. Refunds will not be given to participants who do not show up for the webinar. On-Demand Recordings can be requested in exchange.
Webinar may be cancelled due to lack of enrolment or unavoidable factors. Registrants will be notified 24hours in advance if a cancellation occurs. Substitutions can happen any time.
If you have any concern about the content of the webinar and not satisfied please contact us at below email or by call mentioning your feedback for resolution of the matter.
We respect feedback/opinions of our customers which enables us to improve our products and services. To contact us please email [email protected] call +1-888-717-2436 (Toll Free).
Product Reviews
This product hasn't received any reviews yet. Be the first to review this product! Write review