Employment Laws and Regulations for 2020: Employers Should Prepare for Regulations that will impact them - Ignorance is No Excuse for Non-Compliance
Attend this webinar to learn about workplace laws that will impact employers. Managing these laws will determine how Employers will survive strict fines and penalties and create a robust risk management strategy for their workplace.
Purchase option for this webinar is currently unavailable. Please contact our Customer Care for more info.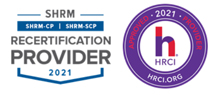 Course "Employment Laws and Regulations for 2020: Employers Should Prepare for Regulations that will impact them - Ignorance is No Excuse for Non-Compliance" has been pre-approved by SHRM as eligible for 1.5 credits and HRCI as eligible for 1.5 credits towards a participant's recertification upon full completion.
The use of this seal is not an endorsement by the HR Certification Institute of the quality of the program.
Why Should You Attend:
Employers with single state and multi-state locations are more than ever at risk for non-compliance of regulations unless they develop a process to coordinate workplace required posters, new hire communication required, wage increases, transgender re-stroom obligations, paid leave regulations per state, regulations and requirements for terminated employees and regulations for federal contractors.
Here are just some of the workplace regulation topics impacted between 2018-2020. How many of these issues are you aware have regulations tied to them?
Paid/Unpaid Leave
Transgender Restroom Requirements and Gender Equity and Expression Guidelines
Pay Equity and Pay Discrimination
Criminal Background Checks and New Decision Matrix Requirement
Immigration Changes and How Your Workplace Responds to Trump's Immigration Restrictions
Sexual Harassment, Workplace Harassment and Violence in the Workplace
Marijuana and the Challenges posed by Drug and Sub-stance Abuse Testing
Leave of Absence Challenges with American with Disabili-ties Act (ADA)
Wellness Programs
New EEOC Guidance on Domestic Violence, Sexual As-sault and Stalking Leave
Parental Leave
Paid Sick Leave
Wage Deduction Restrictions
Federal Contractors New Regulations
Reasonable Accommodations Requirements
More Federal, State and Local Regulations…………….
Employers must get prepared for all the employment regulations scheduled to be effective January 1, 2019, 2020 and beyond. The Department of Labor (DOL) has increased their efforts to audit companies who have not updated their policies & workplace regulations. Not only are the many new workplace laws that will impact Employers, but also those laws that were effective in 2017-2018 but Employers were not aware.
Areas Covered in the Webinar:
Learn how regulatory agencies develop their enforcement priorities so you can prepare more effectively
Learn which regulatory agency enforces the workplace regulation in your state
Federal regulations are still a focus for Employers. Ensure you have all Federal regulations in compliance
See what regulations can impact your budget if you do not comply
Learn how policy development can save thousands of dollars
Develop a tracking process to confirm all the regulation which impact your organization
Manage multi-state poster compliance and workplace compliance
Learn what workplace regulation trends are impacting laws developed by Employer and Employee Centric States
Learn which local laws and ordinances supersedes the Federal and state laws
Learn how remote employees can be a headache or an effective way to manage regulations
Learn how checklists and free tools can be part of your strategic risk management plan
Learn which free resources are available to mitigate work-place compliance
Much, much more best practices and compliance alerts…………….
Who Will Benefit:
Business Owners, Company Leadership and Board of Directors (CFO, COO, CEO)
Federal Contractors
Department Heads
Human resources professionals
Compliance professionals
Payroll professionals
Managers/Supervisors & new and potential Managers
Office Managers responsible for HR responsibilities
Person responsible for Affirmative Action Plan (AAP) and Equal Employment Opportunity Commission (EEOC)
Instructor Profile:

Margie Pacheco Faulk
Sr HR Consultant, HR Compliance Solutions
Margie Faulk, PHR, SHRM-CP HR Compliance Solutions, LLC-Compliance Advisor/Speaker/Trainer, is a senior level human resources professional with over 14 years of HR management and compliance experience. A current Compliance Officer for HR Compliance Solutions, Margie has worked as an HR and Compliance advisor for major corporations and small businesses in the small, large, private, public and Non-profit sectors. Margie is bilingual (Spanish) fluent and Bi-cultural.
Margie's focus has expanded to Global Workplace Compliance in International, multi-state, multi-National, state and local workplace compliance which includes workplace compliance in other countries like the UK, Canada, France, Brazil, China, Africa, Mexico and India, just to name a few.
Margie has created and presented seminars/webinars for many compliance institutes. These national training providers, offer compliance training to HR professionals, business owners and companies interested in having their company compliant with workplace and industry regulations. Margie holds professional human resources certification (PHR) from the HR Certification Institution (HRCI) and SHRM-CP certification from Society for Human Resources Management. Margie is a member of the Society of Corporate Compliance & Ethics (SCCE).
Refund Policy
Registrants may cancel up to two working days prior to the course start date and will receive a letter of credit to be used towards a future course up to one year from date of issuance. ComplianceOnline would process/provide refund if the Live Webinar has been cancelled. The attendee could choose between the recorded version of the webinar or refund for any cancelled webinar. Refunds will not be given to participants who do not show up for the webinar. On-Demand Recordings can be requested in exchange.
Webinar may be cancelled due to lack of enrolment or unavoidable factors. Registrants will be notified 24hours in advance if a cancellation occurs. Substitutions can happen any time.
If you have any concern about the content of the webinar and not satisfied please contact us at below email or by call mentioning your feedback for resolution of the matter.
We respect feedback/opinions of our customers which enables us to improve our products and services. To contact us please email [email protected] call +1-888-717-2436 (Toll Free).
Product Reviews
This product hasn't received any reviews yet. Be the first to review this product! Write review