Leaders Guide to the Families First Coronavirus Response Act (FFCRA) & Coronavirus Aid, Relief, and Economic Security (CARES) Act -- Impact on Business and Employees
Now that the New Family First Coronavirus Response Act (FFCRA) and Coronavirus Aid, Relief, and Economic Security (CARES Act) is in place it is critical for Employers and Leaders to be knowledgeable about the impact and the compliance consequences. Although there are many updates provided by many different resources, it is imperative that Employers and Leaders count on the experts to explain health resources and compliance experts to assist them with the regulations since they are happening and changing daily. Moreover, as Employers mistakenly shut down training costs, they are doing a disservice to the company and to their employees. Research has proven that compliance training is the lowest cost/high value risk management Strategy. Training Leaders has provided a huge resource on how companies can prepare for the transition during and after the COVID_19 Pandemic.
Purchase option for this webinar is currently unavailable. Please contact our Customer Care for more info.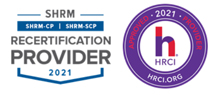 Course "Leaders Guide to the Families First Coronavirus Response Act (FFCRA) & Coronavirus Aid, Relief, and Economic Security (CARES) Act -- Impact on Business and Employees" has been pre-approved by SHRM as eligible for 1 credits and HRCI as eligible for 1 credits towards a participant's recertification upon full completion.
The use of this seal is not an endorsement by the HR Certification Institute of the quality of the program.
Why Should You Attend:
This training will teach all attendees the critical information needed to mitigate all the requirements to stay afloat and to communicate effectively to employees to ensure accurate information on health, safety, paid leave and other resources offered to survive this crisis.
There are so many competing resources that can impact how communication is handled and most of the communication is life threatening for businesses and employees. Let's count on the HR and Compliance subject matter experts (SME) to provide the Employers and employees with the necessary communication needed. Most HR professionals are in need of accurate, timely and relevant information to ensure the continuation of a safe workplace.
Participants will learn valuable information to maintain their businesses and employees during this crisis. Employers are obligated to provide a workplace environment that safe and free from hazards. Participants will be able to lead their employers and their employees through this crisis and gain valuable skills.
Learning Objectives:
What are the requirements for the FFCRA and the impact in the workplace?
How can the CARES Act assist businesses to provide the much-needed services to stay afloat and manage the employees' rights?
What are each of the factors that make an employee eligible for leave under the FFCRA?
What is the actual rate of pay that is calculated for eligibility?
How much leave is granted for those employees caring for a family member who is quarantined?
How can you apply for lave under the FFCRA?
What happens when your employer reduces your hours?
What is the cash breakdown under the CARES Act?
How is unemployment benefits impacted?
How is the healthcare industry impacted by their share of the relief packet?
Learn how small businesses will be able to survive under the CARES Act.
Will the self-employed, freelancers, independent contractors receive what they need to survive?
Who Will Benefit:
All Employers
Business Owners
Company Leadership
Compliance professionals
Payroll Administrators
HR Professionals
Compliance Professionals
Managers/Supervisors
Employers in all industries
Small Business Owners
All Employers
Large Business Owners
Company Leadership
HR professionals
Instructor Profile:

Margie Pacheco Faulk
Sr HR Consultant, HR Compliance Solutions
Margie Faulk, PHR, SHRM-CP HR Compliance Solutions, LLC-Compliance Advisor/Speaker/Trainer, is a senior level human resources professional with over 14 years of HR management and compliance experience. A current Compliance Officer for HR Compliance Solutions, Margie has worked as an HR and Compliance advisor for major corporations and small businesses in the small, large, private, public and Non-profit sectors. Margie is bilingual (Spanish) fluent and Bi-cultural.
Margie's focus has expanded to Global Workplace Compliance in International, multi-state, multi-National, state and local workplace compliance which includes workplace compliance in other countries like the UK, Canada, France, Brazil, China, Africa, Mexico and India, just to name a few.
Margie has created and presented seminars/webinars for many compliance institutes. These national training providers, offer compliance training to HR professionals, business owners and companies interested in having their company compliant with workplace and industry regulations. Margie holds professional human resources certification (PHR) from the HR Certification Institution (HRCI) and SHRM-CP certification from Society for Human Resources Management. Margie is a member of the Society of Corporate Compliance & Ethics (SCCE).
Refund Policy
Registrants may cancel up to two working days prior to the course start date and will receive a letter of credit to be used towards a future course up to one year from date of issuance. ComplianceOnline would process/provide refund if the Live Webinar has been cancelled. The attendee could choose between the recorded version of the webinar or refund for any cancelled webinar. Refunds will not be given to participants who do not show up for the webinar. On-Demand Recordings can be requested in exchange.
Webinar may be cancelled due to lack of enrolment or unavoidable factors. Registrants will be notified 24hours in advance if a cancellation occurs. Substitutions can happen any time.
If you have any concern about the content of the webinar and not satisfied please contact us at below email or by call mentioning your feedback for resolution of the matter.
We respect feedback/opinions of our customers which enables us to improve our products and services. To contact us please email [email protected] call +1-888-717-2436 (Toll Free).
Product Reviews
This product hasn't received any reviews yet. Be the first to review this product! Write review