FLSA Exempt Level Changes
This webinar reviews how organizations should draft and implement policies and procedures. Many organizations are well intentioned with policies and procedures, draft the information but never implement. Hold your organization accountable for drafting, implementing and communicating policies and procedures.
Purchase option for this webinar is currently unavailable. Please contact our Customer Care for more info.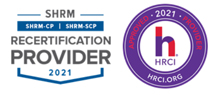 Course "FLSA Exempt Level Changes" has been pre-approved by SHRM as eligible for 1 credits and HRCI as eligible for 1 credits towards a participant's recertification upon full completion.
The use of this seal is not an endorsement by the HR Certification Institute of the quality of the program.
Why Should You Attend:
In this webinar, we will discuss
Gain an understanding policies and procedures
Know federal, state and local laws
Employee communication
Tips and tricks to understand t
FLSA Best Practices
Unemployment
Exempt vs. Non-Exempt
Areas Covered in the Webinar:
Legal Information
Plans and Plan Execution
Frequently Asked Questions
State Legislation
DBL, PFL, PTO
Evolving Legislation
Correcting Mistakes
Why it is important for your business
Impact and cost for an organization
Upcoming or potential changes.
Who Will Benefit:
Human Resources Professionals
Small Business Owners
Non-Profit Administrators
General Managers
Office Managers
Payroll Professionals
Lawmakers
Attorneys
Accounting Professionals
Consultants
Labor Unions
Professors, Instructors and Trainers
Instructor Profile:

Matthew W Burr
Human Resources Consultant, Burr Consulting LLC
Matthew Burr has over eleven years of experience working in the human resources field, starting his career as an industrial relations intern at Kennedy Valve Manufacturing to most recently founding and managing a human resource consulting company: Burr Consulting, LLC. Mr. Burr is an adjunct professor at Elmira College, teaching organizational behavior and human resources management. He is also a SHRM Certification Exam Instructor and co-teaches the SHRM Exam Prep Course at Elmira College. He works as a trainer at both Tompkins Cortland Community College and Corning Community College. He is also an on-call mediator and fact-finder through the Public Employment Relations Board in New York State.
Mr. Burr has previous publications at the Cornell HR Review and Business Insider. He has an associate's degree in business administration from Tompkins Cortland Community College, a bachelor of science degree from Elmira College, a master's degree from the University of Illinois School of Labor and Employment Relations in Human Resources & Industrial Relations, a Lean Six Sigma Green Belt certification, both the SPHR and SHRM-SCP. He is currently working towards a master's degree in business administration through Syracuse University.
Refund Policy
Registrants may cancel up to two working days prior to the course start date and will receive a letter of credit to be used towards a future course up to one year from date of issuance. ComplianceOnline would process/provide refund if the Live Webinar has been cancelled. The attendee could choose between the recorded version of the webinar or refund for any cancelled webinar. Refunds will not be given to participants who do not show up for the webinar. On-Demand Recordings can be requested in exchange.
Webinar may be cancelled due to lack of enrolment or unavoidable factors. Registrants will be notified 24hours in advance if a cancellation occurs. Substitutions can happen any time.
If you have any concern about the content of the webinar and not satisfied please contact us at below email or by call mentioning your feedback for resolution of the matter.
We respect feedback/opinions of our customers which enables us to improve our products and services. To contact us please email [email protected] call +1-888-717-2436 (Toll Free).
Product Reviews
This product hasn't received any reviews yet. Be the first to review this product! Write review