The Family & Medical Leave Act, California Family Rights Act & Pregnancy Disability Leave: Managing Employee Leave & Possible Abuse
In the state of California, employers often struggle with abuse and fraud of protected leaves of absence as those granted by the Family & Medical Leave Act (FMLA), the California Family Rights Act (CFRA), and the Pregnancy Disability Leave Act (PDL). Employers feel uncertain how they can avoid complex leave of absence issues while protecting their own financial and business needs. The overlap between these pieces of legislation is often confusing and seemingly complicated. All three pieces of legislation provide ways in which an employer can identify an employee's need for leave while vigilantly remaining alert to potential leave abuse.
Purchase option for this webinar is currently unavailable. Please contact our Customer Care for more info.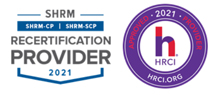 Course "The Family & Medical Leave Act, California Family Rights Act & Pregnancy Disability Leave: Managing Employee Leave & Possible Abuse" has been pre-approved by SHRM as eligible for 1 credits and HRCI as eligible for 1 credits towards a participant's recertification upon full completion.
The use of this seal is not an endorsement by the HR Certification Institute of the quality of the program.
Why Should You Attend:
Employers need to be savvy about what they can and cannot do with respect to FMLA, CFRA, and PDL while at the same time remaining compliant. Attendance at this webinar will help clear up the confusion and will assist participants in gaining the confidence they need to administer these leaves while remaining vigilant to incidents of abuse and fraud. Additionally, this webinar will help employers confidently move forward with necessary employment actions.
Learning Objectives:
Understanding the provisions and differences of the FMLA, CFRA, and PDL
Recognizing how the FMLA, CFRA and PDL intersect and interact in California
Successfully navigating the overlap between the FMLA, CFRA and PDL
Can FMLA, CFRA and PDL run concurrently?
Clarify what you can request/require from employees
When may an employer communicate with the employee's health care provider?
Steps to take when an employee fails to return from FMLA/CFRA/PDL
Responding to red flags: frequent time off before and after weekends, social media posts, etc.
What information employers may request/require from employees
Properly documenting the transition from one leave type to the next
Disciplining employees who have submitted fraudulent medical documentation, have abused their leave, or who were already underperforming before they requested leave
Denying leave based on non-compliance with medical certification requests
"Curing" vague or ambiguous medical documentation
Documenting requests for leave and how company policies and communication can assist in cases of abuse
Who Will Benefit:
Senior Leadership
Human Resources Directors, Managers & Representatives
Operations Professionals
Compliance Professionals
Managers & Supervisors
Employees
Instructor Profile:
Diane L. Dee
President, Advantage HR Consulting
Diane L. Dee, President of Advantage HR Consulting, has over 25 years of experience in the Human Resources arena. Diane's background includes experience in HR consulting and administration in corporate, government, consulting and pro bono environments. Diane founded Advantage HR Consulting in early 2016. Under Diane's leadership, Advantage HR provides comprehensive, cost-effective Human Resources solutions for small to mid-sized firms in the greater Chicagoland area. Additionally, Diane conducts webinars on a wide-variety of HR topics for various training firms across the country.
Diane holds a Master Certificate in Human Resources from Cornell University's School of Industrial and Labor Relations and has attained SPHR, SHRM-SCP, sHRBP and HRPM® certification.
Diane is a member of the National Association of Women Business Owners and the Society for Human Resource Management. Additionally, Diane performs pro bono work through the Taproot Foundation assisting non-profit clients by integrating their Human Resources goals with their corporate strategies.
Refund Policy
Registrants may cancel up to two working days prior to the course start date and will receive a letter of credit to be used towards a future course up to one year from date of issuance. ComplianceOnline would process/provide refund if the Live Webinar has been cancelled. The attendee could choose between the recorded version of the webinar or refund for any cancelled webinar. Refunds will not be given to participants who do not show up for the webinar. On-Demand Recordings can be requested in exchange.
Webinar may be cancelled due to lack of enrolment or unavoidable factors. Registrants will be notified 24hours in advance if a cancellation occurs. Substitutions can happen any time.
If you have any concern about the content of the webinar and not satisfied please contact us at below email or by call mentioning your feedback for resolution of the matter.
We respect feedback/opinions of our customers which enables us to improve our products and services. To contact us please email [email protected] call +1-888-717-2436 (Toll Free).
Product Reviews
This product hasn't received any reviews yet. Be the first to review this product! Write review