Toll Free: +1-888-717-2436
CART
0
Food Safety Compliance

Browse By:

Offerings

Resources
Food Safety Regulations Training, Compliance, Best Practices and Standards
Food safety regulations and compliance based webinars, in-person seminars, standards and best practices. Learn from renowned experts about regulations affecting food safety - FDA's New Food Safety Law, Food Safety Management System, Foreign Material Contamination, Good Laboratory Practices for Food Manufacturing, Microbiological Foodborne Threat, etc.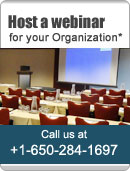 Testimonials
This is my first experience with ComplianceOnline and I would definitely attend other seminars.
-Business System Analyst
It was well organized event by ComplianceOnline with good subject matter and knowledgeable instructor.
-Director of Operations and Quality

Case Study
Learn how companies managed their compliance challenges

White Paper
Download White Papers high- lighting current and future GRC challenges and solutions

Advertising
Info
Learn how your company can promote products and services to ComplianceOnline user base