How to Implement Criminal Background Checks without Violating Current "Ban the Box" Regulations
This webinar on Ban the box initiative and background check will discuss the restrictions as per ban the box initiatives and how to navigate regulations. What are EEOC guidelines of background checks and how to create processes, policies and use tools to mitigate ban the box regulations. It will also give best practices of managing third party administrators or vendors performing background checks on your behalf.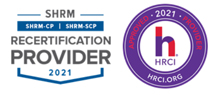 Course "How to Implement Criminal Background Checks without Violating Current "Ban the Box" Regulations" has been pre-approved by SHRM as eligible for 1.5 credits and HRCI as eligible for 1.5 credits towards a participant's recertification upon full completion.
The use of this seal is not an endorsement by the HR Certification Institute of the quality of the program.
Why Should You Attend:
Close to 90% of employers conduct background checks on some segment of their employees/job applicants. Conducting background checks is a normal part of business especially if you want to have a safe work environment and hire quality employees, and avoid negligent hiring claims. Employers need to balance their concerns for hiring quality employees with compliance of fair hiring practices.
The "Ban the Box" initiative was started by a group of formally incarcerated individuals and their families in 2004. However, the first state to follow a "Ban the Box" concept was Hawaii in 1998. " Ban the Box" defined is a ban or removal of the check box in an application for employment where a candidate is asked, if they have ever been convicted of a crime at the onset of the application process. The goal of this campaign is to have applicant/candidates assessed based on the ability to do the job and not based on any prior criminal history to level the playing field for the formerly incarcerated who have served their time.
It is critical for employers to be aware of which states have established laws eliminating this initiative which can impact them and have them at risk of violating the Title VII. Yes, employers can be sued!
The objective of this course is to prepare employers in navigating the "Ban the Box" initiative by balancing the needs of the business with compliance of the regulations. The course will identify the process in selecting candidates based on the employee's experience and qualification instead of prejudging them based on their conviction. In addition, employers will have the opportunity to see what states require employers to adhere to the guidelines.
Areas Covered in the Webinar:
What are the clear reasons for "Ban the Box" and how was it started
What are the restrictions with "Ban the Box" and how can employers navigate the regulations
Where in the applicant/candidate selection process is it ok to ask about criminal history?
Implementing criminal background checks that will meet the "Ban the Box" initiatives and guidelines
What steps can you take to ensure you are not charged with negligent hiring
Provide an understanding of the EEOC guidelines and goals when it comes to background check screening
How to ensure you are not violating the "Ban the Box" initiative by integrating appropriate policies and procedures that meet the regulation guidelines
What tools are there to mitigate "Ban the Box" regulations
How to manage Third Party Administrators (TPA) or Vendors who are performing background screening services to ensure they are compliant
Who Will Benefit:
All Employers
Business Owners
Company Leadership
Small business owners
Managers/Supervisors
Compliance professionals
HR professionals
Instructor Profile:

Margie Pacheco Faulk
Sr HR Consultant, HR Compliance Solutions
HR Compliance Solutions, LLC-Compliance Officer, Margie Faulk, PHR, SHRM-CP-is a senior level human resources professional with over 14 years of HR management and compliance experience. A current Compliance Officer for HR Compliance Solutions, Margie has worked as an HR and Compliance advisor for major corporations and small businesses in the small, large, private, public and Non-profit sectors. This includes Federal Contracting in the defense, military, anti-Terrorism and Apache Helicopter Training Simulations with Federal Acquisition Regulations (FAR), Federal Sentencing Guidelines (FSG) and Office of Federal Contract Compliance Program (OFCCP). Margie is bilingual (Spanish) fluent and Bi-cultural.
Margie's focus has expanded to Global Workplace Compliance in International, multi-state, multi-National, state and local workplace compliance which includes workplace compliance in other countries like the UK, Canada, France, Brazil, China, Africa, Mexico and India, just to name a few.
Margie has created and presented seminars/webinars for many compliance institutes. These national training providers, offer compliance training to HR professionals, business owners and companies interested in having their company compliant with workplace and industry regulations.
This year, Margie was selected by Alan Collins, former Vice President of Human Resources at PepsiCo, a renowned author of 8 books on HR Prosperity & Success, and founder of "Success in HR", to be part of his Mastermind Your Way to Success in HR, "Expert Interview Series based on her successful Webinars/Seminars on HR Compliance."
Margie holds professional human resources certification (PHR) from the HR Certification Institution (HRCI) and SHRM-CP certification from Society for Human Resources Management. Margie is a member of the Society of Corporate Compliance & Ethics (SCCE).

Refund Policy
Registrants may cancel up to two working days prior to the course start date and will receive a letter of credit to be used towards a future course up to one year from date of issuance. ComplianceOnline would process/provide refund if the Live Webinar has been cancelled. The attendee could choose between the recorded version of the webinar or refund for any cancelled webinar. Refunds will not be given to participants who do not show up for the webinar. On-Demand Recordings can be requested in exchange.
Webinar may be cancelled due to lack of enrolment or unavoidable factors. Registrants will be notified 24hours in advance if a cancellation occurs. Substitutions can happen any time.
If you have any concern about the content of the webinar and not satisfied please contact us at below email or by call mentioning your feedback for resolution of the matter.
We respect feedback/opinions of our customers which enables us to improve our products and services. To contact us please email customercare@complianceonline.com call +1-888-717-2436 (Toll Free).
Product Reviews
This product hasn't received any reviews yet. Be the first to review this product! Write review