Immigration Issues - Implications for HR and Insurance Professionals
Attend this webinar to understand the current and ongoing Form I-9 issues for HR and insurance professionals. Understand Immigration compliance and get key suggestions for minimizing risks.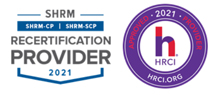 Course "Immigration Issues - Implications for HR and Insurance Professionals" has been pre-approved by SHRM as eligible for 1.5 credits and HRCI as eligible for 1.5 credits towards a participant's recertification upon full completion.
The use of this seal is not an endorsement by the HR Certification Institute of the quality of the program.
Why Should You Attend:
From management's perspective, immigration compliance is typically a compliance issue. Does the organization properly complete I-9 Forms? Does it follow the rules concerning the supporting documents it accepts? Does it ensure timeliness of form completion? Does it properly retain, store, and destroy these forms? Does it comply with the non-discrimination rules in Form I-9 decision making? The Federal government recently issued a new Form I-9 that must now be completed. Is your organization using the new Form?
Unfortunately, many organizations are still completing Form I-9 incorrectly; as a result, they represent significant liabilities. This webinar discusses the current and ongoing Form I-9 issues for HR and insurance professionals and provides key suggestions for minimizing risks.
Organizations must manage strategic, operational, and compliance immigration priorities. As a business priority, the hallmark of successful organizations is their ability to respond to and satisfy an increasingly diverse and global marketplace…this requires an increasingly diverse work force. As a human capital priority, surveys of CEOs and other business leaders cite the growing skills gaps as an impediment for future growth - and they see immigration as a method of bridging that gap. And as a compliance priority, the federal and state governments continue to commit resources on ensuring employers comply with "the rules."
Thus, the risks and consequences for ineffective and mismanaged immigration policies are reduced revenue, lost business opportunities, and an adverse impact on talent management. The risks and consequences for noncompliance with the law include civil penalties, debarment, and criminal prosecution of company executives - including HR directors.
Learning Objectives:
Understand the organization's need for managing immigration compliance issues
Understand the positive and negative effect that immigration issues have on attracting and retaining top performers, key employees, and critical skills
Gain knowledge of immigration policy and practices
Gain an understanding of immigration compliance issues
Areas Covered in the Webinar:
The new administration's critical issues
Key Issues of the new I-9 Form
Understanding key immigration issues and priorities
Identify and assess immigration issue-related risks
Utilize immigration audit techniques and tools
Audit compliance with I-9 Form and E-Verify requirements
Monitor continuous immigration compliance
Who Will Benefit:
HR professionals
Internal Immigration managers
Risk managers
Internal auditors
Compliance managers
Instructor Profile:

Ronald Adler
CEO, Laurdan Associates Inc
Ronald Adler is the president-CEO of Laurdan Associates, Inc., a veteran-owned, human resource management consulting firm in Rockville, Md., specializing in HR audits, employment practices risk management, benchmarking and HR metrics, strategic HR, employee surveys, and unemployment insurance issues. Mr. Adler has more than 42 years of HR consulting experience working with U.S. and international firms, small businesses and non-profits, insurance companies and brokers, and employer organizations. Mr. Adler is a consulting expert on work force, employment practices, and unemployment insurance issues to Bloomberg BNA, HR Magazine, and other publications and newspapers across the country. His research findings have been used by the Federal Reserve Board, the Equal Employment Opportunity Commission (EEOC), the National Conference of State Legislatures, the National Association of Manufacturers, the National Federation of Independent Business, insurers, and international organizations.
Mr. Adler is the developer of the Employment-Labor Law Audit™ (ELLA®), the nation's leading HR auditing and employment practices risk assessment tool, and is a frequent lecturer and author on HR management and workplace issues. As an adjunct professor at Villanova University, Mr. Adler teaches graduate courses on HR auditing. He is also a certified instructor on employment practices and insurance issues for The CPCU Society, has conducted continuing professional education courses for the American Institute of Certified Public Accountants on "Assessing Employment and Personnel Policies," and has conducted continuing professional education courses for SHRM, the Institute of Internal Auditors, and the Institute of Management Consultants.
As a member of the Society for Human Resource Management (SHRM), Mr. Adler has served as a subject matter expert (SME) to SHRM on HR metrics and formerly served on SHRM's Human Capital Measurement/HR Metrics Special Expertise Panel. He has also served as a consulting expert on workplace issues to SHRM's legislative staff, has contributed materials for The SHRM Academy and the SHRM Learning System, and has represented SHRM in meetings with the EEOC.
Mr. Adler has also served as an appointee to the State of Maryland Legislative UI Committee. Additionally, he belongs to the Institute of Internal Auditors, chaired the Maryland Chamber of Commerce's UI Subcommittee and served as a member of the U.S. Chamber of Commerce's Labor Relations Committee.
Mr. Adler holds a bachelor's degree in finance from the University of Maryland and an M.B.A. degree from Southern Illinois University.
Refund Policy
Registrants may cancel up to two working days prior to the course start date and will receive a letter of credit to be used towards a future course up to one year from date of issuance. ComplianceOnline would process/provide refund if the Live Webinar has been cancelled. The attendee could choose between the recorded version of the webinar or refund for any cancelled webinar. Refunds will not be given to participants who do not show up for the webinar. On-Demand Recordings can be requested in exchange.
Webinar may be cancelled due to lack of enrolment or unavoidable factors. Registrants will be notified 24hours in advance if a cancellation occurs. Substitutions can happen any time.
If you have any concern about the content of the webinar and not satisfied please contact us at below email or by call mentioning your feedback for resolution of the matter.
We respect feedback/opinions of our customers which enables us to improve our products and services. To contact us please email [email protected] call +1-888-717-2436 (Toll Free).
Product Reviews
This product hasn't received any reviews yet. Be the first to review this product! Write review