Leading with Influence: HR's Superpower
Instructor:
Holly Burkett
Product ID:
706626
Training Level:
Basic to Advanced
During difficult times, it's never been more important for HR leaders to effectively inspire, persuade, and engage others. Join this interactive webinar to discover best practices for increasing your influence to move individuals, teams, and stakeholders towards common goals and shared commitments. Compare your influencing approaches to those used by highly influential leaders.
Purchase option for this webinar is currently unavailable. Please contact our Customer Care for more info.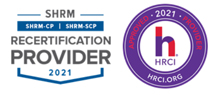 Course "Leading with Influence: HR's Superpower" has been pre-approved by SHRM as eligible for 1 credits and HRCI as eligible for 1 credits towards a participant's recertification upon full completion.
The use of this seal is not an endorsement by the HR Certification Institute of the quality of the program.
Why Should You Attend:
The ability to influence is an essential leadership skill and a core competency needed in every role. It is not possible to move others towards action without influencing skills.
Those that have the most impact as an influencer do not rely on a position or title for their influence. They build groups of people that can carry their message to others. The message can carry far and wide when influence is utilized effectively. In today's world, there are many opportunities, as well as challenges, for HR to influence individuals and groups. Influence must be continuously honed and demonstrated through relationships built upon trust, credibility, and authenticity.
Areas Covered in the Webinar:
Defining Influence
Leadership. Power, and Influence
Sources of Influence
Key Elements of Influence
Three Ways to Influence
The Psychology of Persuasion
The Role of Relationships and Connections
Best Practices from Highly Influential People
Leading with Influence: Implications for HR
Who Will Benefit:
HR Professionals (General Managers, Recruiters, Talent Developers, Performance Managers, Legal and Compliance, Risk Managers)
HR Consultants (Internal / External Business Partners)
OD Practitioners (Change Managers)
Talent Development Professionals (Coaches, Career Development, L&D)
Instructor Profile:

Holly Burkett
Principal, Evaluation Works
Holly Burkett, PhD, SPHR is Principal of Evaluation Works, a performance consultancy in Davis, CA. For over 20 years, she has helped diverse public and private sector organizations improve the impact, and sustainable value, of initiatives focused upon strategic culture change, talent management, leadership development, succession planning, coaching and career development, and performance improvement. She is passionate about developing resilient learning and performance capabilities that create high engagement and operational excellence. Formerly with Apple Computer, sample clients include: the International Union Against Tuberculosis and Lung Disease; Chevron; Intel; the State Bar of California; the California Public Employees Retirement System (CalPERS); the UC Davis Talent Management Center; the National Park Service; and the National Security Agency (NSA), among others.
A certified Senior Professional in Human Resources (SPHR), a certified ROI professional, and a Prosci® certified change practitioner, she is a sought-after speaker, coach, workshop leader, and international facilitator. She has served as an exam developer for HRCI certification exams for over 10 years and a CLO (Chief Learning Officer) Learning Elite judge for exemplar learning organizations. She teaches "Talent Development" at UC Davis Continuing and Professional Education, serves as Adjunct Faculty for Drexel University's Human Resource Graduate Studies program, and is on the Advisory Board for the "Organizational Performance and Workplace Learning" program at Boise State University. An accomplished change leader, performance consultant, talent builder, and measurement expert, the World HRD Congress recognized Holly's contributions to the field with the 2017 Global Training and Development Leadership Award. The award is granted to individuals with a record of achievement in strategic perspective, future orientation, training effectiveness and innovation, integrity, and thought leadership.
Refund Policy
Registrants may cancel up to two working days prior to the course start date and will receive a letter of credit to be used towards a future course up to one year from date of issuance. ComplianceOnline would process/provide refund if the Live Webinar has been cancelled. The attendee could choose between the recorded version of the webinar or refund for any cancelled webinar. Refunds will not be given to participants who do not show up for the webinar. On-Demand Recordings can be requested in exchange.
Webinar may be cancelled due to lack of enrolment or unavoidable factors. Registrants will be notified 24hours in advance if a cancellation occurs. Substitutions can happen any time.
If you have any concern about the content of the webinar and not satisfied please contact us at below email or by call mentioning your feedback for resolution of the matter.
We respect feedback/opinions of our customers which enables us to improve our products and services. To contact us please email [email protected] call +1-888-717-2436 (Toll Free).
Product Reviews
This product hasn't received any reviews yet. Be the first to review this product! Write review