Legally Terminating an Employee
In this hr compliance webinar participant will learn to recognize the business issues that arise from a termination of an employee and how best to address them. Also attendees will learn the basic employment laws at the federal and state level regarding termination of employees.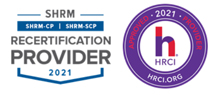 Course "Legally Terminating an Employee" has been pre-approved by SHRM as eligible for 1.5 credits and HRCI as eligible for 1.5 credits towards a participant's recertification upon full completion.
The use of this seal is not an endorsement by the HR Certification Institute of the quality of the program.
Why Should You Attend:
Although terminating employees is one of the more unpleasant aspects of business management and ownership it is sometime absolutely necessary. When necessary it should be performed in the most professional and ethical manner possible. Following proper procedures in terminating an employee not only softens the blow to the employee, but can protect the business from potential litigation arising from the termination. The decision to terminate an employee sets into motion a series of duties the employer must handle responsibly in order to afford the most legal protection to the business.
Learning Objectives:
Determining the Type of Employee Being Terminated (At-Will, Government, Contract).
Review of the Company Termination Policy
Understanding Federal & State Laws Related to Wrongful Termination
Documenting the Employee File to Prepare for Termination
How to Inform the Employee of the Termination Decision
Severance Pay, Waivers of Legal Rights and Unemployment Claims
Areas Covered in the Webinar:
Type of Employees and the Issues They Present
Employee Termination Policies
Risk Analysis
Lay-offs vs. Discharge for Cause
When Is It Illegal to Fire An Employee?
Documenting Performance Issues
Conducting the Legal Review
Informing the Employee
The Final Paycheck
Severance Pay and Unemployment Claims
Who Will Benefit:
Business Owners/Operators
HR/Personnel Managers
Department or Unit Managers
Any Manager or Employee with the responsibility of terminating other employees
Instructor Profile:

Melvin K Patterson
Founder, HR Employee Relations
Melvin K. Patterson, an attorney licensed to practice before all state and federal courts in California, was General Counsel to the Cedrus Group, a family of international financial services firms with offices around the globe. He is a member of the Labor & Employment Section of the California State Bar and has been admitted to the United States District Court for the Northern District of California as well as the United States Ninth Circuit Court of Appeal. Mr. Patterson is experienced in Labor and Employment litigation and transactional matters in the U.S., Asia and the U.K. He has designed internal business policies, procedures and management structures, as well as inter-corporate relationships and has been a business owner himself.
Mr. Patterson is an experienced trial litigator who has handled numerous business and commercial matters for over 20 years on behalf of an elite clientele around the world. He has defended clients in matters brought against companies by employees, relating to commercial business agreements and government regulatory matters.
Mr. Patterson holds a Doctor of Jurisprudence degree from the John F. Kennedy University School of Law, as well as a Certificate in Strategic Human Resource Management from Cornell University. He has also earned the American Jurisprudence Award, completed specialized training in Assessing Economic Damages, Forensic Discovery and Preservation of Electronic Evidence and Data.
Mr. Patterson was nominated to the National Dean's List and has been a speaker before such groups as the Asian Pacific American Law Students Association, is a past contributing editor to California Motions In Limine (The Rutter Group) and has been a columnist for the "The Docket", the news and information journal of the San Mateo County Bar Ass'n. He has a knowledge of Korean, Japanese and Spanish languages.
Refund Policy
Registrants may cancel up to two working days prior to the course start date and will receive a letter of credit to be used towards a future course up to one year from date of issuance. ComplianceOnline would process/provide refund if the Live Webinar has been cancelled. The attendee could choose between the recorded version of the webinar or refund for any cancelled webinar. Refunds will not be given to participants who do not show up for the webinar. On-Demand Recordings can be requested in exchange.
Webinar may be cancelled due to lack of enrolment or unavoidable factors. Registrants will be notified 24hours in advance if a cancellation occurs. Substitutions can happen any time.
If you have any concern about the content of the webinar and not satisfied please contact us at below email or by call mentioning your feedback for resolution of the matter.
We respect feedback/opinions of our customers which enables us to improve our products and services. To contact us please email [email protected] call +1-888-717-2436 (Toll Free).
Product Reviews Write review
presenter was very easy to understand and covered topics that are relevant
- Anonymous